Career Spotlight — Nurse Administrator
Career Spotlight — Nurse Administrator
Career Spotlight — Nurse Administrator
Nurse administrators spend their days working throughout the healthcare landscape, blending business acumen with bedside manner. They are leaders who oversee the nursing staff, ensure policy compliance, and manage the facility's finances. At the same time, they also safeguard patient outcomes and innovate for the future of healthcare.
Nurse administrators work in fast-paced and dynamic environments and must be skilled at financial management and human resources. As advanced practice registered nurses (APRNs), they have strong academic backgrounds and extensive experience with patient care. Nurse administrators often act as representatives of their medical facilities to develop community contacts and outreach.
Nurse administrators go by several titles, including:
Head nurse
Nurse executive
Nurse manager
Director of nursing
Patientcare director
Chiefnursing officer (CNO)
Vice president
Chief executive officer
The American Organization of Nurse Executives (AONE) believes nursing executives should have a diverse skill set, including strong communication, business, and leadership skills.
Maryville University's online Master of Health Administration (MHA) prepares APRNs for high-level nursing positions, including nurse administrators. The MHA degree program has a variety of concentrations, which allows students to determine the best path for their career goals. The program helps prepare students to run successful healthcare organizations.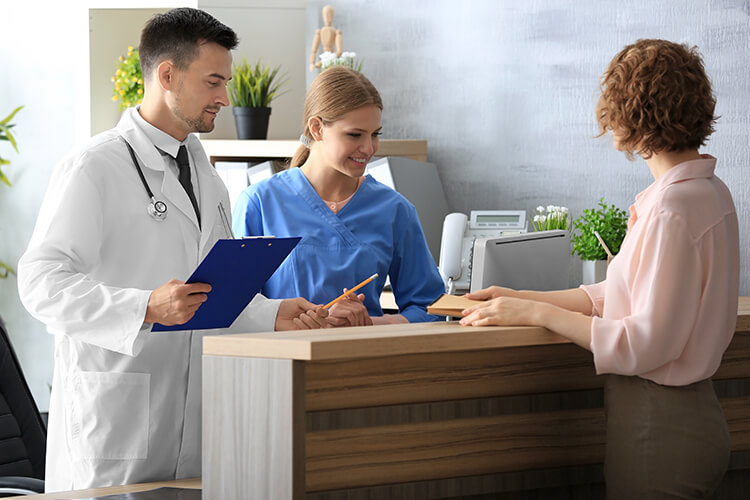 Nurse administrator expectations
The National Academy of Medicine (NAM), formerly called the Institute of Medicine, produced a landmark report in 2010 (with certain parts updated in ) that advocated for nurses to play a leading role in the future of healthcare. The report, "The Future of Nursing: Leading Change, Advancing Health," found nurses must adhere to the following guidelines to be successful change leaders:
Practice to the fullest extent of their training, education, and licensure
Achieve higher levels of education through improved academic systems
Work as full partners with other medical professionals to reshape U.S. healthcare
Assist in better workforce planning and policymaking
At the same time, the AONE believes nurse administrators must be adaptable so they can function in various realms, including administrative, social services, human resources, clinical research, and quality control. The organization developed a list of expectations that should be common among nurse administrators:
Effective communication — The ability to encourage diversity and involvement in the community, and building collaborative relationships, both in and out of the medical setting.
Experience and knowledge of healthcare — A broad understanding of clinical nursing, healthcare policy, case management, patient safety, risk management, and performance metrics.
Strong leadership skills — The ability to build loyalty and commitment through proven leadership, embrace lifelong learning, accept mentorship from colleagues, and establish a vision for system-wide patient care.
Professionalism — A strong moral compass and professional accountability.
Business skills — A background in financial management, human resources, information technology (IT), strategic management, and business research.
The Impact of Nurses in Administration
Every day for a nurse administrator is different due to the diverse expectations of the job. The administrative duties include screening and selecting nursing staff, scheduling shifts, nurse evaluations, and, in some cases, addressing labor union issues.
Nurse administrators may also oversee medical records to ensure they comply with the Health Insurance Portability and Accountability Act (HIPAA), which protects medical information from public view. In addition, nurse administrators are typically involved in the overall budgetary process for the nursing department, and, potentially, the whole medical facility.
Nurse administrators can be influencers in patient care, clinical outcomes and the overall practice of nursing. Strong nurse administrators are vital to nurse retention and the stability of healthcare systems, the Journal of Nursing Administration found.
"They are positioned to convey a vision for a preferred future that inspires creativity and makes meaning of the continuous change and uncertainty that characterizes healthcare reform and quality improvement," Journal of Nursing Administration researchers said.
Throughout the COVID-19 pandemic, nurse administrators have provided material support to frontline nurses in a time of extreme crisis. An article from MedPage Today highlights the reality that nurse administrators face every day as their staff struggles to cope with working conditions created by the pandemic. In the article, Eloise Cathcart, MSN, RN, FAAN, director of the nursing administration program at New York University Rory Meyers College of Nursing, offers valuable insight.
"Healthcare workers are especially vulnerable to a virus like COVID-19," Cathcart writes. "While fear is a natural response, it has to be managed and overcome. Like an officer on a battleground, the nursing leader's behavior and demeanor exerts a powerful influence on the esprit de corps."
Nurse administrator education
All nurse administrators are registered nurses who have wide-ranging experience in the nursing field and advanced education, including master's and, in some cases, doctoral degrees. APRNs begin nurse administrator education with backgrounds in bedside care, including diagnosing and treating patients, and have experience in management and administration.
Health administration degree programs are intended to prepare APRNs for the challenging work as a nurse administrator. Quality programs follow curriculum guidelines based on expectations from the American College of Healthcare Executives (ACHE). Maryville University's online MHA program includes healthcare coursework that focuses on human resources, organizational behavior, risk management, policy, marketing, and financial management.
Nurse administrator salary and job outlook
According to the U.S. Bureau of Labor Statistics, the median wage for a nurse administrator in 2019 was $100,980. The projected growth in the field through 2029 is 32%, which is much faster than most occupations.
The American Association of Colleges of Nursing (AACN) expects a shortfall of about 1 million nurses by 2022. Further complicating the problem is the aging of the population (the last of the baby boomer generation was born in 1964 and will turn 65 in 2029) as well as the challenges that result from systemic changes to the U.S. health insurance system.
The Department of Labor has noted that qualified nurse administrators are perfectly positioned to assume leadership roles across the United States.
"In addition to rising employment demand, the need to replace managers who retire over the next decade will result in some openings," the Department of Labor said. "Candidates with a master's degree in health administration or a related field, as well as knowledge of healthcare IT systems, will likely have the best prospects."
Maryville University's Master of Health Administration
Maryville University's online Master of Health Administration helps prepare students for careers in healthcare management. The program offers four concentrations — Data Management, Healthcare Strategies, Population Management, and Senior Services — as well as a General MHA degree. Contact Maryville University to learn more.
Sources
American Organization for Nursing Leadership, "Nurse Administrator Competencies"
Bureau of Labor Statistics, "Medical and Health Services Managers"
MedPage Today, "Nursing Leaders in a Time of Crisis"
National Library of Medicine, "Assessing the professional development needs of experienced nurse executive leaders"
The National Academies of Press, "The Future of Nursing"
National Academy of Medicine – The Future of Nursing 2020-2030
Be Brave
Bring us your ambition and we'll guide you along a personalized path to a quality education that's designed to change your life.