7 High-Paying Careers in Accounting
7 High-Paying Careers in Accounting
7 High-Paying Careers in Accounting

An advanced degree in accounting can prepare graduates for a wide range of high-level career opportunities in the financial sector. Those wondering, "What can I do with a master's in accounting?" might be interested to learn more about the management roles that could become available to those who hold this advanced degree.
From risk analyst to chief financial officer (CFO), discover seven high-paying careers in accounting that professionals with a master's degree in the field can consider.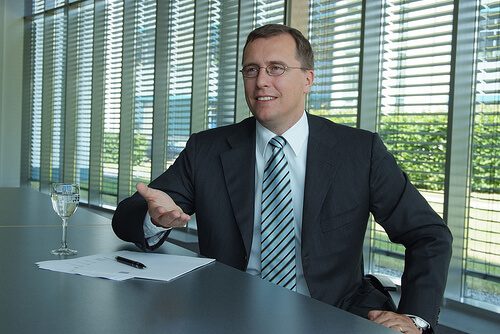 1. Controller
Accountants who have a master's degree and extensive budgeting experience might consider pursuing a controller position. This high-level role includes important tasks such as preparing operating budgets, collecting and consolidating an organization's financial data, establishing budgeting schedules, and summarizing budget trends. Controllers also manage financial reports, work alongside auditors to confirm correct reporting standards, and complete essential public financial filings, although the latter is only necessary for publicly traded companies. According to Investopedia, controllers also have insight into legislation that might affect taxation, relevant risk management, and permitting and licensing.
Most controllers report directly to the CFO and might work alongside the treasurer and other executives. Controllers might manage staff, recruit new employees, and train staff members.
Along with a master's in accounting, many controllers hold a CPA license or a related certificate. Many also have 10 or more years of accounting experience before taking on this managerial role.
Controller Salary
According to 2020 data from PayScale, financial controllers earn an average annual salary of about $83,000.
2. Chief Financial Officer
Small and large companies alike need CFOs to manage finances and ensure that the organization adheres to a strategic plan. Writing for Entrepreneur, Mary Ellen Biery explains that CFOs might have a diverse range of daily tasks, but all fulfill four primary responsibilities. First, CFOs make sure that the organization's financial records are accurate, organized, and up to date. Second, these executives prepare forecasts and manage access to financial data, ensuring that key decision-makers have the information they need to meet objectives.
Next, CFOs oversee various compliance issues for a company, including filing taxes and staying current on payments. CFOs of publicly held companies often have many more responsibilities in this regard, as they must issue dividends, disclose information to shareholders, and counteract fraud. CFOs also have important roles in assisting executives and other high-level colleagues, especially those who need financial insight prior to making important decisions. Although not all CFOs serve critical strategic roles, those who manage finances for forward-thinking organizations often do.
Chief Financial Officer Salary
CFOs earn an average annual salary of about $133,000, according to 2020 data from PayScale.
3. Senior Financial Analyst
Senior financial analysts offer expert-level guidance to businesses and individuals facing important investment decisions. These professionals assess and recommend both individual investments and collections known as portfolios. They also analyze historical and current financial data to determine market trends. In addition, senior financial analysts might assess companies themselves, analyzing organizations' financial statements to understand their overall values and evaluating management and executive teams.
Professionals in these advanced careers in accounting typically fall into one of two types. Buy-side analysts work for investment companies, which might include mutual funds, insurance companies, hedge funds, and some nonprofit organizations with sizable endowments. In contrast, sell-side analysts typically advise agents who sell investments. Many senior financial analysts specialize in particular investment types or those from certain regions. These analysts can often provide informed advice backed by years of experience.
In addition to a master's degree in accounting, many senior financial analysts also obtain licenses from the Financial Industry Regulatory Authority (FINRA). Most also possess excellent analytical, decision-making, and communication skills, along with strong attention to detail.
Senior Financial Analyst Salary
Financial analysts earned a median annual salary of $85,660 in 2018, according to the U.S. Bureau of Labor Statistics (BLS).
4. Certified Public Accountant
Certified public accountants (CPAs) handle taxation matters for firms of all sizes and assist organizations with managing money. They might also help companies decide on financial goals and establish strategies to help them achieve those objectives. In addition, CPAs might offer assurance services and annual report auditing along with forensic accounting services. Some CPAs specialize in high-demand niches, such as international or environmental accounting. To focus on these areas, CPAs might need several years of specialized experience.
Professionals pursuing careers in accounting must first complete 150 semester hours of college coursework before obtaining CPA licensure. Many accountants opt to earn a master's degree in accounting and CPA licensure at the same time, as doing so might introduce many career possibilities.
Certified Public Accountant Salary
According to the BLS, accountants and auditors earned a median annual salary of $70,500 in 2018.
5. Forensic Accountant
Accounting professionals with an interest in investigative work and research might consider pursuing forensic accounting positions. According to the Forensic CPA Society, these professionals are often responsible for responding to fraud, negligence, or mismanagement concerns at a moment's notice. They investigate anticipated or actual financial disputes and related litigation, and their work might be used in court cases. In fact, many forensic accountants provide expert evidence in court.
As the Forensic CPA Society explains, professionals in these careers in accounting work in two distinct areas. Many forensic accountants conduct investigations into suspected fraud or theft, and they must combine their accounting experience with their legal knowledge. Forensic accountants also provide litigation support, which includes resolving disputes before they go to court or providing testimony in a court setting.
Forensic Accountant Salary
Forensic accountants earn an average annual salary of about $68,000, according to 2020 data from PayScale.
6. Risk Analyst
As specialized financial analysts, risk analysts pay close attention to the type and level of risk that organizations take on when considering investments. Typically, their most significant priority is helping organizations limit financial losses and making unpredictable situations easier to handle from a financial perspective. As the BLS explains, many risk analysts recommend investing in a range of unrelated stocks or purchasing a combination of mutual funds, stocks, and bonds as proactive approaches to managing risk.
Along with a master's in accounting, risk analysts typically obtain at least one professional license, such as those managed by FINRA. To excel in this demanding position, risk analysts also tend to have excellent math and analytical skills. Because they devote significant time to advising clients, risk analysts should also have strong communication and decision-making skills.
As investments become more complex and organizations have more options to consider, they require experienced, knowledgeable advice to make the most effective decisions.
Risk Analyst Salary
According to 2020 data from PayScale, risk analysts earn an average annual salary of about $64,000.
7. Financial Adviser
While many master's-level accounting professionals work with businesses and other organizations, financial advisers typically serve individuals. These professionals help clients establish long-term financial goals and devise paths to make them possible. Financial advisers tend to take elevated views of clients' finances, enabling them to consult on everything from retirement accounts to loans to insurance to investments. They also assess clients' abilities to take on risk to help avoid overexposure or preventable losses.
Financial advisers typically serve as consultants and educators, as they must help clients understand their assets and how to achieve their goals. These professionals assist clients with creating appropriate financial plans, and they also provide action steps that enable clients to make effective investments and financial decisions. Financial advisers also offer ongoing monitoring services to help clients track investment performance and progress toward primary objectives.
Financial Adviser Salary
Financial advisers earn an average annual salary of about $59,000, according to 2020 data from PayScale.
Pursuing Advanced Careers in Accounting

From financial adviser to forensic accountant and beyond, professionals with an advanced degree in accounting might pursue a range of gratifying careers. Visit Maryville Online to learn how a master's in accounting online could help you achieve higher-level positions in this field.
Recommended Readings
4 Reasons to Get Your Master's in Accounting Online
Are Accountants in High Demand? A Look at the Numbers
How Technology Is Shaping the Future of Accounting
Sources:
Entrepreneur, "4 Key Functions of a Chief Financial Officer"
Forensic CPA Society, What Is a Forensic Accountant?
Investopedia, "What Do Financial Advisors Do?"
PayScale, Average Chief Financial Officer (CFO) Salary
PayScale, Average Financial Advisor Salary
PayScale, Average Financial Controller Salary
PayScale, Average Forensic Accountant Salary
PayScale, Average Risk Analyst Salary
Pennsylvania Institute of Certified Public Accountants, What Does a CPA Do?
U.S. Bureau of Labor Statistics, Accountants and Auditors
Be Brave
Bring us your ambition and we'll guide you along a personalized path to a quality education that's designed to change your life.