Learn to Compete: How to Start a Career in Sports Management
Learn to Compete: How to Start a Career in Sports Management
Learn to Compete: How to Start a Career in Sports Management
A recent college graduate gets a job in a local minor league baseball team's marketing office, helping promote the team and its players to the community. The new hire's marketing and public relations campaigns take off, increasing attendance and profits, and the team has a successful season, partially due to the growing support. Before long, the major league team in a neighboring city takes notice and hires that employee to work in its marketing department. Over time, the professional rises into a management position, running marketing operations, which turns into a job managing all outreach efforts for the franchise and its affiliates. A few years later, now the vice president of marketing, that same graduate moves into overseeing operations, ultimately becoming the general manager of a billion-dollar franchise before the age of 50.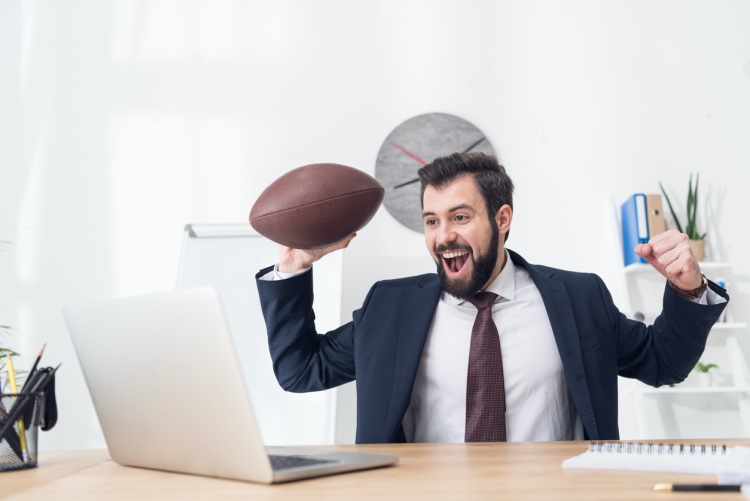 Sports management careers can start in many different ways. You don't have to be a former professional athlete to rise up the ranks into a prominent position. It takes years of experience, the right academic background, and a willingness to do entry-level work, but the result can be a rewarding career in an exciting and fun industry. Continue reading to learn how to start a career in sports management and explore different job opportunities.
What Types of Sports Management Careers Are There?
Many different career opportunities are available under the sports management umbrella, and they often share similar work environments. They also commonly provide opportunities to rise within a company, franchise, or organization and later to manage or lead others. It's often a requirement to work for several years in an assistant role before assuming such a management position.
Sports Data Analyst
The advent of big data has impacted sports, with professional teams and collegiate programs taking advantage of data collection and analysis. They utilize data in a number of areas, such as marketing, sales, and healthcare, and even to gain a competitive advantage on the field, court, or track. Sports data analysts use specialized software to perform detailed analyses of player performance using cameras and sensors that track movement and speed.
Marketing Specialist
Marketing is a major part of sports, as franchises, teams, and players must sell themselves to fans. Sports marketing professionals use their budgets to position advertisements that draw in new fans, boost ticket sales, and sell merchandise, as well as inspire dedication to the team. Sports marketing can involve public relations, facilitating interactions between players and the community or media.
Agent
Sports agents serve as the conduit between professional players and teams, making sure their clients get fair contracts for their market value. They also often negotiate with franchises for extensions and bonuses. Agencies could employ dozens of agents, meaning they also need managers and executives who can oversee operations and keep their staff productive and moving in the same direction.
General Manager
At the top of a sports franchise operations pyramid is the team president or general manager. The general manager is responsible for the entire organization, from on-field performance to marketing and public relations. These professionals hire coaches and executives, sign players, make trades, interact with the media, and more. Sports general managers almost always have more than a decade of experience in sports management, working their way up the sports franchise job ladder.
How to Get a Foot in the Door
Working in sports is a dream career for many people who grew up watching and playing sports, eager to play their part in a league, national, or world championship. With so many interested parties, it can be difficult for applicants to rise above the pack and show their potential value to franchises, teams, or a specific department. Getting started in a career in sports management requires passion, education, and entry-level experience.
Passion for Sports
If you're considering a career in sports, you're likely interested in athletics. Yet, working in sports professionally requires more than an enjoyment of the pastime; it requires a passion that drives an employee to go the extra mile. Sports franchises seek candidates who will devote themselves to the team. Due to the irregular schedule of games and activities surrounding them, professionals in this arena must be comfortable working late hours and weekends, doing whatever they have to in order to generate success.
Education
Getting started in sports management generally means earning a degree that prepares students for the unique demands of the industry. Many careers in this field benefit from a program such as the Maryville University online Bachelor of Science in Sport Business Management. Courses in sports finance, sports marketing, sports business analytics, sales, and operations management give students a well-rounded education in both sports and business and the ways they come together. Developed in partnership with Rawlings, this degree program prepares students for the real-world demands of work in the industry.
Internship
Many sports teams offer internships in various front office departments. Sports interns might work in ticket or advertising sales offices, media relations, game-day operations, administration, or other departments. No matter the specific role, this environment provides them with the opportunity to perform entry-level job duties while learning about a sports franchise's inner workings. During this experience, they observe how professionals go about their jobs so they're better prepared upon graduation to pursue a position in this field.
Explore More with Maryville University
Working in sports management can mean long hours and a lot of travel, especially during the sport's season, but the industry also comes with many rewards. A career in sports management offers employees an opportunity to do something they're passionate about, participating in the success of the teams they love. Explore how Maryville University's online Bachelor of Science in Sport Business Management can help you pursue a career in this exciting industry.
Recommended Readings
Digital Marketing Trends Marketers Need to Know
How Predictive Analytics in Healthcare Saves Lives
What Can You Do with a Sports Management Degree?
Sources
Entrepreneur, "How to Break into the Sports Industry: A Comprehensive Guide for Young Entrepreneurs"
Forbes, "Sports Industry 101: Breaking into the Business of Sports"
Inc., "The Best Ways for Young Entrepreneurs to Break Into the Sports Industry"
LinkedIn, "10 Things to Know About Working in Sports Before You Graduate"
Maryville University, Rawlings Sport Business Management Online Bachelor's Degree
Sports Networker, "5 Tips to Get a Job in Sports Management"
Be Brave
Bring us your ambition and we'll guide you along a personalized path to a quality education that's designed to change your life.