Preschool Director Job Description: Career Outlook
Preschool Director Job Description: Career Outlook
Preschool Director Job Description: Career Outlook
People interested in helping young children get a promising start in their education may find themselves drawn to a career as a preschool director. These professionals serve as role models to the children they work with and help build their educational foundation. Each day on the job offers preschool directors unique experiences and opportunities to cultivate a love of learning among the youngest students.
What do preschool directors do, and what role do they play in shaping children's earliest school experiences? Answering these questions starts with looking at the preschool director job description. Examining the work settings, educational requirements, salaries, and job outlook of preschool directors can also offer some useful insights.
Employers looking to hire preschool directors may prefer candidates who have earned a specialized degree, such as the early childhood development track of Maryville University's online Bachelor of Arts in Human Development and Family Studies.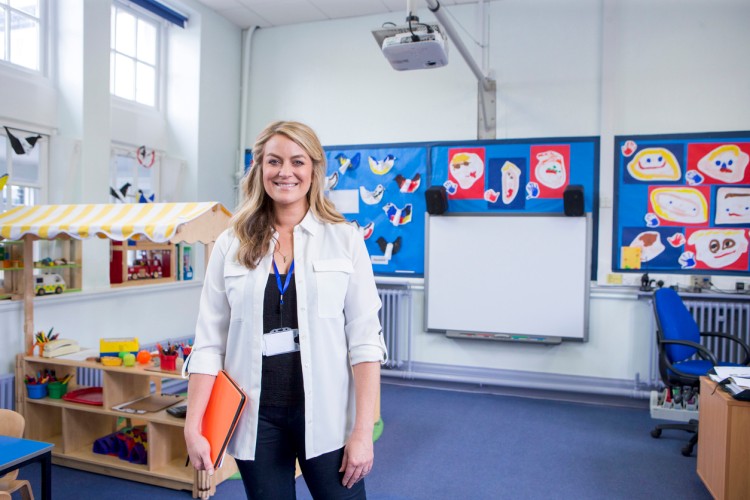 Possible Work Settings for Preschool Directors
Preschool directors work full time, typically in preschool buildings. They spend much of their time in offices carrying out various administrative tasks, including communicating with parents. However, they also spend time interacting with students and teachers. This means preschool directors often go around to classrooms to visit with students, observe teachers, and participate in learning activities.
Preschool directors can find work at private and public schools, nonprofit organizations, and government-run programs such as Head Start.
Preschool Director Job Responsibilities
Handling the day-to-day operations and administration of a school involves many tasks. Whether supervising teachers, developing program plans, or preparing budgets, preschool directors balance various responsibilities to make sure their schools run smoothly.
Duties in a preschool director job description might include:
Overseeing teachers and classroom activities
Hiring and training staff and teachers
Organizing professional development activities
Developing policies and procedures that meet state requirements and communicating them to staff and teachers
Managing and preparing budgets
Creating curricula and standards that support educational excellence
Working with staff to communicate with parents and students
Discussing student progress with parents
Coordinating the maintenance and cleaning of the facility according to state and local standards
A preschool director is in charge of managing all aspects of a preschool, from keeping student-to-teacher ratios appropriate to ensuring the excellence of the curriculum and organizing student enrollment. Though the work places a lot of responsibility on a preschool director, it also offers genuine gratification.
Fundamental Skills for Preschool Directors
Aspiring preschool directors would do well to cultivate their abilities in several areas. By developing the following skills, preschool directors can carry out their duties more effectively.
Communication. Preschool directors will need to collaborate and coordinate with many people as well as effectively convey information to teachers, staff, parents, and children.
Active Listening. Excellent communicators actively listen. Teachers and parents need to feel a preschool director truly hears what they're saying.
Compassion. Preschool directors deal with a vulnerable population. Parents and students may be particularly sensitive as they begin their journey into the new experience of school. As such, preschool directors should be able to demonstrate compassion and concern.
Critical Thinking. Making effective decisions about the various academic and business components of a preschool calls for excellent analytical and critical thinking skills.
Interpersonal Relations. To effectively run a school, preschool directors need to develop relationships with teachers, parents, and children. This requires the ability to build trust and a sense of partnership with others.
Organization. Schools are busy places with many moving parts. Preschool directors need to keep excellent records about children and teachers. They also need to be able to multitask, giving attention to several people and situations at once.
Problem-Solving. Managing an entire school inevitably means addressing problems, which might involve the budget, concerns from parents, or issues with teachers. Preschool directors need to approach problems thoughtfully and with a level head to find effective solutions.
Salary Range for Preschool Directors
Preschool directors earned a median annual income of $48,210 in May 2019, according to the U.S. Bureau of Labor Statistics (BLS). The top 10% of earners made more than $82,590, while the bottom 10% made less than $30,850. Preschool directors making higher annual salaries tend to have more extensive work experience and more advanced levels of education. Those working for state, private, and local elementary schools tend to make higher salaries as well.
Preschool Director Educational Requirements and Job Outlook
Most preschool director job descriptions require at least a bachelor's degree, although educational requirements vary by state. Some states require preschool directors to be licensed, which often means completing specified training and passing a background check. The BLS projects the employment of preschool directors to increase by 7% between 2018 and 2028, higher than the growth projection for the average occupation.
The Path Toward a Career as a Preschool Director Starts at Maryville
Ready to make a difference in the lives of young children? Discover how earning an online Bachelor of Arts in Human Development and Family Studies from Maryville University can help you launch a successful career in early childhood education. The program includes a strong foundation of core coursework as well as multiple specialty tracks, including early childhood development.
Recommended Readings:
Check out our new online degree programs coming this fall
Online Bachelor's in Human Development and Family Studies Curriculum
Protecting Child Welfare and Preventing Abuse: A Guide for Social Workers and Educational Professionals
Sources:
The Balance Careers, "Education-Related Job Titles and Required Skills"
Betterteam, Preschool Director Job Description
Houston Chronicle, "Role of the Preschool Director"
Resilient Educator, "Early Childhood Education Program Manager"
U.S. Bureau of Labor Statistics, Preschool and Childcare Center Directors
Be Brave
Bring us your ambition and we'll guide you along a personalized path to a quality education that's designed to change your life.