How to Become a School Counselor: Job Description and Salary
How to Become a School Counselor: Job Description and Salary
How to Become a School Counselor: Job Description and Salary
School counselors play an integral role in supporting students through their academic, social, and professional development. Whether they work in elementary, middle, or high schools, school counselors can help students navigate complex challenges such as developing organizational and time management skills, coping with issues at home, and applying to colleges.
Still, 1 in 5 U.S. students don't have access to a school counselor, according to 2019 data from The Education Trust. While the American School Counselor Association (ASCA) recommends a 250-to-1 ratio of students to school counselors, the 2020 national average was 424-1. That means there is an urgent need for more trained professionals to fill these roles.
For those interested in the field, it's important to understand how to become a school counselor, including knowing the necessary educational foundation, licenses, and skills. Maryville University's online Bachelor of Arts in Human Development and Family Studies, for example, can serve as a steppingstone for aspiring school counselors who want to make a difference in students' lives.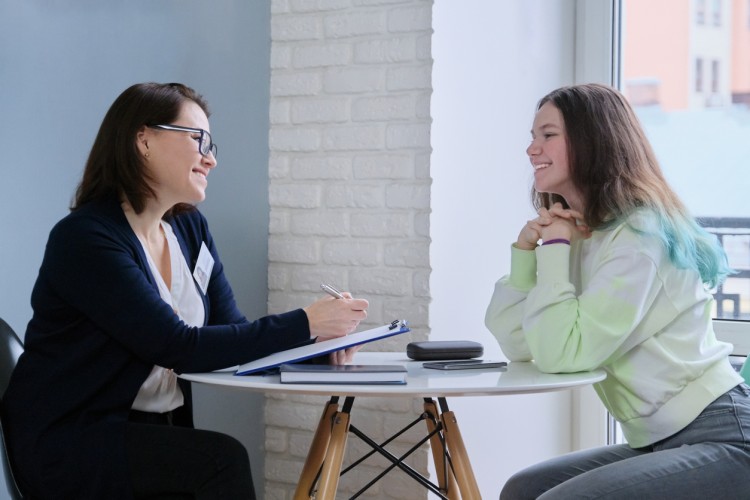 What Does a School Counselor Do?
School counselors help students navigate academic challenges, cope with social and emotional issues, and plan for their futures. They may do so by meeting with students one on one or in groups, as well as virtually or in person. School counselors often communicate and collaborate with teachers, parents, caregivers, and colleagues to provide students with the best guidance and tools for success.
In their roles, school counselors may provide students with different types of support, including the following:
Social and Emotional Support
School counselors can help students navigate social and emotional challenges in school, such as bullying, making friends, and mediating or de-escalating conflicts. School counselors may also aid students in identifying and addressing mental health needs, special needs, and developmental challenges; this might involve referring students to further resources, such as support groups or psychologists.
If students are dealing with issues at home, such as abuse or neglect, school counselors can provide a safe and trusted environment to discuss them. In these instances, school counselors may be required to report certain cases to relevant authorities to obtain additional help for students and their families.
Academic Support
School counselors can help students gain more from their academic experiences by assisting them with:
Time management
Effective study habits
Organizational skills
Communication with teachers and classmates
Adjusting to new schools or courses
If a student has a poor attendance record, for example, a school counselor can help them identify the root of the issue — such as lack of motivation, difficulty sleeping, or a negligent caregiver — and work together to address it.
College Admission and Career Support
High school counselors commonly advise juniors and seniors on future career plans and college choices. They may even act as intermediaries between students and college recruiters, providing potential applicants with the information they need to make their decisions. For example, school counselors may help students research and evaluate different degree programs and financial aid options.
Steps to Become a School Counselor
Learning how to become a school counselor involves understanding the steps to succeed in this role, such as acquiring the proper education, experience, and licenses.
Education
School counselors typically need a master's degree in a related field, such as psychology or counseling. These programs can help students develop strategies to evaluate individuals' social and emotional needs and foster academic development.
An undergraduate degree such as a Bachelor of Arts in Human Development and Family Studies can serve as an important first step toward entering the field of school counseling. The proper program can deepen students' understanding of childhood and adolescent development, as well as provide graduates with a solid foundation in psychology and sociology.
On-the-Job Experience
Certain states require school counselors to complete teaching or counseling experience supervised by a licensed professional. Prospective school counselors should check with their state education department and prospective employer or school district to understand their job requirements.
Licensure
School counselors often have to be licensed or certified by the state in which they work. To obtain this license, applicants must have a master's degree from an accredited college or university and on-the-job or internship experience. They must also successfully complete an exam, commonly administered by their state education department.
School Counselor Salary
School counselors earned a median salary of $58,120 in 2020, with the top earners making as much as $97,910 a year, according to the U.S. Bureau of Labor Statistics (BLS). Advanced skills in leadership, childhood education, problem solving, and crisis intervention can help school counselors earn higher salaries, as reported by PayScale.
The BLS projects the number of jobs for school counselors will grow by 11% between 2020 and 2030, faster than the average rate for all occupations. Roughly 35,000 job openings will be available each year as counselor retirement rates and increased student enrollment drive the need for more trained professionals to address students' developmental and educational needs.
Begin Your Journey with a Specialized Education
School counselors have an opportunity to build rewarding careers that make a meaningful impact on students' lives. They just need the right educational experience and training to begin preparing for these roles.
Maryville University's online Bachelor of Arts in Human Development and Family Studies is designed to help future school counselors study children's social and emotional development and better understand the relationships and experiences that shape their lives.
Program participants can choose between five specializations. The Youth Development track may be the perfect fit for prospective school counselors. This specialized track includes key courses in programming and supervision of youth, child and adolescent psychology, and outcomes for 21st century youth — providing students with the knowledge and skills for success in their field.
Learn more about how to embark on your journey toward becoming a school counselor with the Maryville University online bachelor's in human development and family studies program.
Recommended Reading
Cultural Influences on Child Development
Early Childhood Education vs. Child Development
Impact of Online Education on Families: Understanding the Transition to Remote Learning
Sources
American School Counselor Association, School Counselor Roles & Ratios
Forbes, "Stimulate This: How School Counselors Will Help Save Our Post-Pandemic Future"
Intelligence HQ "What Is the Role of a School Counselor?"
PayScale, Average School Counselor Salary
The Balance Careers, "What Does a School Guidance Counselor Do?"
The Education Trust, "Why School Counselors Matter"
U.S. Bureau of Labor Statistics, School and Career Counselors and Advisors
Be Brave
Bring us your ambition and we'll guide you along a personalized path to a quality education that's designed to change your life.