Analyzing Careers in Data: How to Become a Computer Systems Analyst
Analyzing Careers in Data: How to Become a Computer Systems Analyst
Analyzing Careers in Data: How to Become a Computer Systems Analyst
Data drives nearly everything we do in the modern world. From mobile apps to wearable technologies, individuals, brands, and businesses have become data generators. A DOMO report estimates 1.7 megabytes of new data will be created every second for every person on Earth by 2020. All of this data requires storage and maintenance on secure servers that allow businesses, institutions, and government agencies to translate it into actionable insights.
That's where computer systems analysts come in. Also known as systems architects, these professionals play a critical role in keeping a company's computer systems and procedures running smoothly. They bring information technology (IT) and business divisions together to optimize operations and find creative solutions that promote efficiency.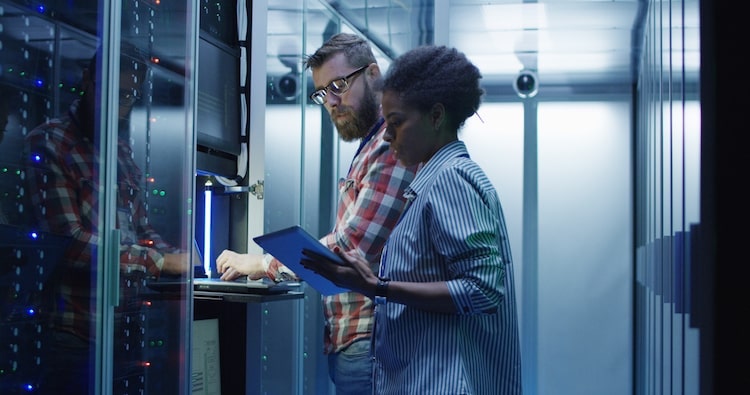 What Does a Computer Systems Analyst Do?
Computer systems analysts serve as a bridge between IT and management teams. They are responsible for diagnosing database and computer systems issues, analyzing systems and processes, advising leadership on new technologies to increase productivity, and maintaining an organization's technological efficiency. To understand how to become a computer systems analyst, it's important to recognize the scope of the role, including daily duties and responsibilities.
On the technical side, analysts choose and configure hardware and software to design and implement new systems. They oversee the installation and configuration of these systems and customize them to meet the specific needs of organizations. Computer systems analysts also conduct tests on systems to make sure they function efficiently and properly. Using their expertise and insight into business needs, they may also devise solutions to add new functionality to an existing computer system.
The role also has communication-based duties, including the preparation and presentation of cost-benefit analyses on IT systems and infrastructure. Computer systems analysts share these reports with management and leadership to educate stakeholders on whether a system or technology upgrade is financially and operationally beneficial. Analysts also conduct ongoing research into new and upcoming technologies to remain informed of all possible tools to help increase an organization's efficiency and effectiveness.
Not only do systems analysts research, select, implement, and manage computer systems and technologies, but they also train company employees and clients who need access to them. Computer systems analysts must have interpersonal skills, such as communication and leadership, to effectively collaborate with all departments in an organization, from leadership to individual employees.
Steps to Become a Computer Systems Analyst
Becoming a computer systems analyst requires relevant education and training, as well as a combination of technical and interpersonal skills.
Earn a Bachelor's Degree
Typically, computer systems analysts have a bachelor's degree in computer or information science. While some firms or companies will hire analysts with a business or liberal arts degree, job candidates with skills in IT or computer programming will remain most competitive. Due to the varied responsibilities of the analyst role, it may be advantageous to take additional courses in business or management information systems.
Maryville University's data science bachelor degree online prepares students to pursue careers as computer systems analysts through a dynamic curriculum that includes courses in Python, SQL, R, predictive modeling, and machine learning. Students develop skills considered fundamental for the role, including analytical expertise and communication competency. As a result, graduates can explore, analyze, monitor, manage, and visualize large data sets using the latest technology. The program also includes an optional — but recommended — business minor to help students learn how to use data to provide fresh business insights rooted in both theory and technology.
Consider an Advanced Degree
Depending on employer requirements, some analyst positions may require a master's degree in business administration with a concentration in information systems. To fill roles that require more complex technical skills, you may want to consider a master's degree in computer science, especially if you would like to specialize.
Explore Hands-on Training Opportunities
Gaining experience in the field will help you grow as an analyst — and potentially advance your career in IT. It is common for computer systems analysts to continue their education throughout their careers with classes, workshops, or other industry resources. Should you choose this path, it will allow you to stay up to date on the latest, most innovative technologies in a rapidly evolving, competitive field.
Depending on the specific industry you're interested in, you may seek additional training. For example, analysts in the healthcare industry need a thorough understanding of the healthcare system, including Medicare and Medicaid, to optimize a system for efficiency. In the finance industry, analysts should have an understanding of banking or related processes to ensure the systems in place are effective and accurate. Industry know-how allows computer systems analysts to communicate with leadership and determine the role of IT in an organization.
Computer Systems Analyst Salary
There are several factors that influence the computer systems analyst salary, including education level, industry experience, and job location. Reports show data scientist and advanced analyst are among the fastest-growing roles in the U.S. — and the most challenging for employers to fill. A report from IBM and Burning Glass Technologies found employers are willing to pay approximately $8,763 above the median bachelor's and graduate-level salaries for professionals with the required skills.
The U.S. Bureau of Labor Statistics (BLS) reports the median annual wage for computer systems analysts was $88,740 in May 2018, and the highest 10% earned more than $142,220. The top industry for computer systems analysts was computer systems design and related services, with a median annual wage of $91,520 in May 2018.
Employment Outlook for Computer Systems Analysts
Systems analysts play a key role in informing an organization's IT infrastructure and strategies. Considering the increasingly heavy reliance on data in modern business, analysts are vital to helping businesses reduce costs, evaluate their IT infrastructure, and increase operational efficiency through the interpretation of data.
The BLS projects the employment of computer systems analysts to grow 9% between 2016 and 2026, about as fast as the average for all occupations. This will create about 54,400 new computer systems analyst jobs. Healthcare is among the many industries the BLS projects to experience job growth, leading to an increased demand for computer systems analysts who can derive insights from electronic health records (EHRs), e-prescriptions, and other forms of healthcare technology.
Learn More About Becoming a Computer Systems Analyst
The world runs on data and technology, making data experts and analysts essential to the future of business. If you're interested in a career as a computer systems analyst, Maryville University's data science bachelor degree online program can show you how to become a computer systems analyst and prepare you to become an innovative leader in the field. You'll do more than study the tools and techniques used to dig deeper into data. You'll learn the skills needed to uncover insights and deliver critical solutions to every type of organization.
Sources
Houston Chronicle, "Job Analysis of a Computer Systems Analyst"
IBM and Burning Glass Technologies, "The Quant Crunch: How the Demand for Data Science Skills Is Disrupting the Job Market"
Maryville University, Bachelor's in Data Science
Be Brave
Bring us your ambition and we'll guide you along a personalized path to a quality education that's designed to change your life.