Online Master's in Business Administration Program Guide

Maryville takes a different approach to the online master's in business administration degree. Led by an accomplished faculty of active professionals, our instructors use actual examples fueled by current events, not their personal research interests. What's the result? You gain practical knowledge that can be applied immediately in your workplace.
This is more than a master's degree. This is an opportunity designed to afford you a career advantage. Complete your degree in as little as one year and stand out from your competition faster.
At a glance
No GMAT, GRE, or application fee
Graduate in as little as 1 year
Choose from 12 concentrations
No previous experience in business required
Curriculum
You can complete your MBA online in as few as 36-39 credit hours. Start at the time that's right for you by choosing one of six admission points. Explore the curriculum below for each of our twelve concentrations. You can complete your MBA in as little as one year of full-time or two years of part-time study.
9 Core Courses
Admission Prerequisite: Depending on your background, a foundational course in accounting or statistics may be required. BUS-501, Survey of Business, will be required if your GPA is below a 3.0 and/or if your undergraduate degree was outside the area of business; however, credits earned in foundational courses (such as ACCT 509 and BUS 501) are considered prerequisites to courses required for the graduate degree.
ACCT 610 Accounting for Managers
BUS 641 Legal Environment of Business
BUS 643 Business Ethics
BUS 676 Global Business
BUS 691 Business Policies
ECON 620 Business Economics
FIN 630 Corporate Financial Policies
MGMT 647 Organizational Behavior and Development
MKT 660 Strategic Marketing
Accounting Concentration (12 Credit Hours):
ACCT 614 Tax Planning and Decision Making
ACCT 618 Strategic Accounting Issues
ACCT 620 Financial Statement Analysis
ACCT 660 Data Analytics
Data Analytics Concentration (12 Credit Hours):
DATA 600 Data Analytics Foundation
BDAT 615 Data Analytics I
DATA 630 Data Visualization
DATA 640 Predictive Models
Cybersecurity Concentration (12 Credit Hours):
ISYS 600 Controls for Effective Cyber Defense
ISYS 670 Ethical Hacking
ISYS 686 Cybersecurity Incident Response and Examination
ISYS 691 Legal Aspects of Privacy and Compliance
Emerging and Digital Media Concentration (12 Credit Hours):
COMM 503 Best Practices: Models and Systems
COMM 571 Integrated Marketing Campaigns
COMM 610 Digital Marketing Metrics & Analytics
COMM 673 Social Network & Search Engine Optimization
Financial Services Concentration (12 Credit Hours):
FIN 620 Financial Statement Analysis
FIN 621 Investment Alternatives and Portfolio Construction
FIN 625 Financial Institutions, Money and the Economy
MKT 681 Integrated Marketing Communications
Health Administration Concentration (12 Credit Hours):
MHA 610 Healthcare industry and Its Impact on Healthcare Management
MHA 615 Healthcare Operations
MHA 651 Healthcare Law, Ethics, and Risk Management
MHA 656 Population Health Management
Human Resources Management Concentration (12 Credit Hours):
HRMG 640 Human Resources Management
HRMG 650 Workforce Management
HRMG 655 Employment Law and Compliance
HRMG 660 Compensation and Benefits
Information Technology Concentration (12 Credit Hours):
ISYS 605 Database Principles
ISYS 620 Agile Analysis and Design
ISYS 650 Information Technology Management
ISYS 660 Data Analysis
Management Concentration (12 Credit Hours):
BUS 640 Project Management
HRMG 640 Human Resources Management
MGMT 670 Interpersonal Management Skills
MGMT 687 Leadership
Marketing Concentration (12 Credit Hours):
MKT 663 Consumer Behavior
MKT 673 Social Networking and Search Engine Optimization
MKT 680 Branding
MKT 681 Integrated Marketing Communications
Project Management Concentration (12 Credit Hours):
BUS 614 Supply Chain Management
BUS 617 Process and Operations Management
BUS 625 Enterprise Planning & Control
BUS 640 Project Management
Software Development Concentration (12 Credit Hours):
SWDV 600 Software Development I
SWDV 610 Software Development II
SWDV 620 Web Application Development
SWDV 650 Software Development Processes, Procedures and Methodologies
General MBA (9 credit hours):
Students may choose any three concentration courses.
To ensure the best possible educational experience for our students, we may update our curriculum to reflect emerging and changing employer and industry demands.
Admission requirements
Bachelor's degree from a regionally accredited institution

Minimum GPA of 3.0 on a 4.0 scale for full admission
Applicants who do not meet the GPA requirement may be considered for provisional admission

No GMAT or GRE required
Official transcripts required for all institutions previously attended
500-word-minimum personal statement
Resume (optional)
International applicants (if applicable): Official Test of English as a Foreign Language (TOEFL with a score of 563, speaking sub-score of 23, writing sub-score of 20, reading and listening scores of 21, and a combined score of 85 or higher)
Click to view our transfer credit policy

The acceptance of transfer credit is at the discretion of Maryville University
Explore our additional resources to help guide your admission journey.
Accreditation and rankings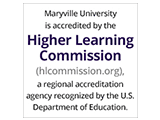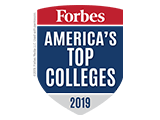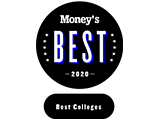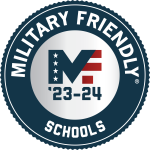 Named an "Apple Distinguished School" for 2021-2024

Ranked a "Best National University" for 2022 by U.S. News & World Report
Why Maryville Online?
We've been progressively challenging the norms of higher education for nearly 150 years. We started as one of the first universities to educate women. Today, we continue to push the boundaries and prepare students like you for a digital world. At Maryville, we understand what it takes to step beyond your comfort zone.
Maryville University is a nationally ranked private college recognized for comprehensive and innovative education focused on student learning, outcomes, and success — both online and on campus. We're located just 22 miles from downtown St. Louis.
Enhance your skills. Broaden your career.
Top 5 skills you can develop:
Accounting for Managers
Business Ethics
Corporate Financial Policies
Organizational Behavior and Development
Strategic Marketing
Top 5 careers you can pursue:
Administrative Services Manager
Accountants and Auditors
Financial Manager
HR Manager
Marketing Manager
Start your journey today
Learn more about the Maryville University online master's in business administration.