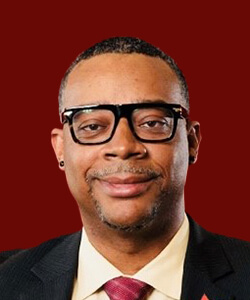 Brian M. Gant
Assistant Professor of Cybersecurity
Program Lead Undergraduate Cybersecurity
John E. Simon School of Business
Academic Bio
Dr. Brian M. Gant is an accomplished information technology, cybersecurity, and critical infrastructure educator and researcher. Dr. Gant serves as an assistant professor of cybersecurity for the Simon School of Business, bringing more than 15 years of teaching experience into his practice. He is a 2003 alumnus of Maryville and continues to serve in various capacities across campus.
Dr. Gant is dedicated to practical instruction and allowing his students to think abstractly about complex problems which require multilayered approaches. His instruction is hands-on, giving his students options to learn at different levels and communicate with each other as future cybersecurity leaders.
Profile
As a highly respected expert in his field, Dr. Gant has given presentations to both government and private industry leaders, participated in cyber research, and analyzed real-world case studies concerning cybersecurity issues. However, his greatest passion is his students, because he believes in the power of access and education to better their lives, especially underserved populations, of which he is a representative.
During his time at Maryville, Dr. Gant has served as an advisor to the Men of Color Brotherhood (MOC), Maryville Cyber Association (MCA), and board member of the Athletics Advisory Council.
"As an alumnus of Maryville and now faculty member, I have been drawn to the commitment of student-first-led instruction and activities. When you have a degree from Maryville on your resume, it holds weight in the cybersecurity field, because we partner with industry leaders on practical application."
Additional Info
Notable Publications and Placements:
Contact Info
Phone: 314-529-6378
Email: bgant@maryville.edu