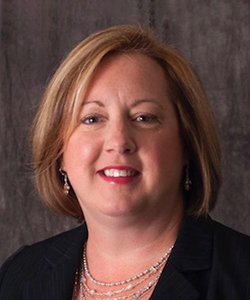 Beth Cudney
Professor of Data Analytics and Program Coordinator for Data Analytics
John E. Simon School of Business
Academic Bio
Dr. Beth Cudney is a professor of data analytics and program coordinator for data analytics at Maryville University's John E. Simon School of Business, where she brings a 25-year career as an internationally recognized expert and leader in data analytics and Lean Six Sigma to her role as an educator.
Starting with her work in industry and graduate research, Dr. Cudney has been heavily involved in the use of data for decision making and prediction using statistical analysis, optimization, modeling, and multivariate analysis. She understands how data is used both correctly and incorrectly to influence the consumer of the data, and she utilizes active learning to build her students' understanding and engagement of the application of course content.
Profile
Dr. Cudney's career in data analytics began in the corporate sector in 1996 with Dana Corporation and in 1998 at Danaher-Jacobs Vehicle Systems as a Six Sigma Black Belt and Senior Manufacturing Engineer. After attaining her MBA and MEng in Mechanical Engineering at the University of Hartford, she joined the academic sector as an adjunct professor at her alma mater in 2000, teaching Six Sigma. In 2006, she completed her doctorate in engineering management at University of Missouri–Rolla (now known as Missouri University of Science and Technology), where she first became an assistant professor. Then, in 2012 and 2013, she was named associate chair of graduate studies and associate professor of engineering management and systems engineering, respectively.
Throughout her career, Dr. Cudney has been a prolific scholar and author, having written and co-written 10 books (with three more soon to be published), 14 anthology book chapters, more than 100 refereed journal articles (with many more under review or in progress), more than 100 peer reviewed conference proceedings, and dozens of conference and keynote presentations. In addition, her work and scholarship has been recognized through multiple international awards and medals, such as the 2022 Crosby Medal from ASQ, which is presented to one individual who has authored a distinguished book significantly contributing to the growth of the philosophy and application of the principles, methods, or techniques of quality management. Other awards include the 2021 Bernard R. Sarchet Award from the Engineering Management Division of the American Society for Engineering Education (ASEE) for "lifetime achievement in engineering management education" and the 2021 Walter E. Masing Book Prize from the International Academy for Quality (IAQ) for her book, The Ten Commandments of Lean Six Sigma. This award is given to one book each year that has made the most noteworthy contribution to the discipline of quality management.
Dr. Cudney is a certified Lean Six Sigma Master Black Belt. She holds eight ASQ certifications, which include ASQ Certified Quality Engineer, Manager of Quality/Operational Excellence, and Certified Six Sigma Black Belt, among others.
Areas of Expertise:
Lean Six Sigma
Data Analytics
Data Visualization
Classes Taught:
Digital Foundations
Business Statistics
Intro to Business Data Analytics
Data Analytics 1
Data Analytics 2
Database Principles
Data Visualization
Data Analytics Capstone
Prior Classes Taught:
Quality
Lean
Six Sigma
Design for Six Sigma
Contact Info
Phone: 314-529-6654
Email: ecudney@maryville.edu