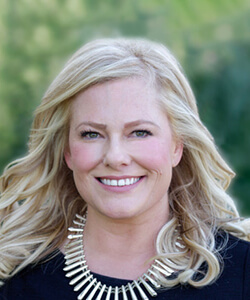 Leilani Carver-Madalon
Program Director and Associate Professor of Communication
College of Arts and Sciences
Academic Bio
Leilani Carver-Madalon, PhD, is the program director for communication programs at Maryville University. She also serves as an associate professor of communication specializing in strategic communication, marketing communication, and leadership. Before entering academia, Carver-Madalon worked for eight years in technology training and development, project management and consulting.
Carver-Madalon also lived and worked in Jilin City, China, teaching and creating curriculum for the New Horizon International Institute. This experience prompted her to pursue her master's degree in communication, with dual emphases in intercultural communication and organizational communication. In addition to her experience in China, she taught university courses in England, France, Italy, Switzerland, Australia, Vietnam and Cambodia and is certified through the Hofstede International Institute in Organisational Culture.
From 2012 to 2018, Carver-Madalon served as the director of Maryville's graduate program in Strategic Communication and Leadership but was inspired to change her focus to women's leadership research. She continues to direct all public speaking courses at Maryville and develops and teaches graduate and undergraduate courses for both online and traditional academic programs. As a researcher and author, Carver-Madalon has lived, taught and traveled around the world to become a respected thought leader in innovation, empowerment, culture, persuasion and leadership. Her expertise has been featured in various media outlets. In 2021, she resumes the Program Director role for the Bachelor's in Communication and Master's in Strategic Communication and Leadership.
As a professor, Carver-Madalon empowers students to become leaders through experiential learning opportunities such as short-term study abroad programs and practical assignments which include real clients. She developed and launched the women's leadership mentorship program at Maryville University, a program involving approximately 200 mentors and mentees annually. The program teaches professional skills like strategic risk-taking, confidence building, salary negotiation, public speaking and career advancement.
Carver-Madalon strongly advocates for students to explore their interests and values during their studies, encouraging informational interviews, job shadowing and internships to learn more about creating a career — and a life — they love. She believes it is impossible to teach a student everything they need to know, but it is essential to teach them how to learn and to inspire a passion for lifelong learning. As Greek essayist, Plutarch wrote, "The mind is not a vessel to be filled, but a fire to be lit."
Additional Info
Notable Publications and Placements:
Carver-Madalon is currently authoring a book on women's leadership best practices. Findings are from a multitude of interviews with highly successful women in the United States and across Europe. The goal is to share strategies, advice and stories to help inspire and instruct rising leaders to achieve a more equitable workplace.
"Innovative Ways to Engage Online Learners," Magna Publications
Reviewer of articles for the Journal of Applied Communication Research. Fall 2018.
Communication Expert on KSDK, News Channel 5, featured at 5pm and 10pm news, interviewed seven times for her expertise from 2012-2014.
"Cultural values presented in Chinese television commercials featuring older adults" Journal of Asian Pacific Communication.
Carver, L., Grill, K. & Bruss, K.. Blueprints for success. Introduction to Public Speaking supplemental text for the University of Kansas. Boston: Pearson Custom Publishing.
Numerous conference presentations both nationally and locally, and consulting opportunities (pro bono) for nonprofits in the St. Louis area (a detailed list can be provided).
Awards:
2018 Maryville University Academic Spotlight Award
2017 Award of Appreciation, presented by Mr. Yacoup Alfiffie on behalf of the Kingdom of Saudi Arabia, Ministry of Defense
2017 Maryville University's Woman of Distinction
2016 Award Nominee for University of Missouri St Louis, Focus on Teaching and Technology Conference, Teaching with Technology Award
2014 Golden Louie Award (student-generated award) for Most Enthusiastic Faculty/Staff member at Maryville University
2010 University of Kansas, Buehler Teaching Fellowship in recognition of exceptional teaching and learning
Classes Taught (just a sampling- Carver-Madalon has taught 28 different courses in the nine years she has been at Maryville).
COMM 223- Professional and Organizational Communication
COMM 232- Intro to New and Social Media
COMM 422- Intercultural Communication
COMM 501- Foundations of Leadership
COMM 597- International Leadership
COMM 522- Global Communication
COMM 525 – Professional and Organizational Ethics
COMM 523 – Organizational (Business) Communication
COMM 565 – Nonverbal Communication
COMM 597 – Persuasion
SPCH 110 – Public Speaking
Areas of Expertise:
Persuasion/Influence
Social media and Innovation
Innovation in leadership/coaching
Women's leadership, mentorship, empowerment and coaching
Generational differences
Career communication including confidence building, salary negotiation, risk-taking, etc.
Effective business communication strategies
Global Communication: how our culture affects how we see and interact with the world
Contact Info
Phone: 314-529-9460
Email: clcarver@maryville.edu
Office: Anheuser-Busch Hall 3219