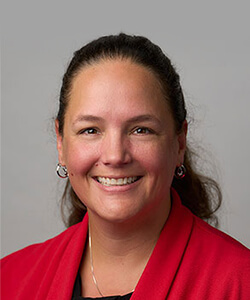 Jaime E. Peters
Assistant Dean of Accounting, Finance & Economics and Assistant Professor of Finance
John E. Simon School of Business
Academic Bio
Dr. Jaime E. Peters is an expert in finance, banking, and the stock market with a decade of experience as a real-world practitioner before switching to a career in academics which, in the summer of 2021, brought her to Maryville University as Assistant Professor of Finance and Assistant Dean of Accounting, Finance and Economics.
As part of her mission to keep academics tethered to the real world, Dr. Peters enjoys integrating the daily movements of the market into her classes and lectures, using recently published quarterly and annual reports as part of her teaching materials. Among the subjects she teaches are investments, portfolio management, and financial statement analysis.
Profile
Dr. Peters' career in finance began as a stock analyst at State Farm Insurance Company, during which time she also earned her MBA from the Booth School of Business at the University of Chicago in 2005, as well as her CFA charter and passed the CPA exam for the state of Illinois. She then became an Equity Analyst, then Senior Analyst for Morningstar, Inc., and specialized in banking. While at Morningstar she made regular appearances in both broadcast and print media, including during the 2007-2008 financial crisis in which she helped the public to understand the stock market's reaction to the housing crisis. In 2021, Dr. Peters' completed her doctorate in Business Administration at the University of Missouri-St. Louis, where her dissertation focused on how the stock market priced share repurchase activity compared to how companies are forced to report it under US GAAP. Her findings led to the conclusion that GAAP is an accurate method in the aggregate, but not reflective of actual use or market pricing of repurchased shares in some sectors.
Her natural affinity for helping people to understand difficult financial and economic concepts naturally led to her transition to an academic career, which began as an assistant professor of finance at Illinois Wesleyan University and has led up to her current role as an assistant professor and assistant dean at Maryville. Believing that data analysis, critical thinking, and extrapolation are critical for jobs in the financial sector, she is committed to cultivating these qualities in her students to equip them to become future leaders of the finance industry. In addition, she is equally passionate about harnessing the power of the media to help the general public as a whole gain better financial literacy and all the elements entailed in it, such as loans and credit, as well as its intersections with tax-related issues, which she has expertise in as well.
Additional Info
Areas of Expertise:
Banking
Investments and portfolio management
Economics
Financial analysis
Financial literacy
Classes Taught (at Maryville):
Principles of Finance
Intermediate Corporate Finance
Financial Institutions
Securities Analysis and Investment Techniques
Prior Classes Taught:
Personal Finance
Investments
Portfolio Management
Financial Statement Analysis
Introduction to Risk Management and Insurance
Contact Info
Phone: 314-529-9677
Email: jpeters@maryville.edu
Office: Reid 2307