Remote Classmate Hangouts: Fun Things to Do With Your Friends Online
During their time in college, students form lasting connections with their classmates — even when they're earning their degrees online. When the Covid-19 pandemic limited our in-person interactions, we learned that there are a variety of ways to have fun with friends in virtual settings. Below are just a few ideas that you can use to plan remote hangouts with your classmates.
Benefits of Online Friendships
Texting, online chats, and virtual hangouts can turn classmates into lifelong friends, however far apart they may live. In fact, some people feel they're better able to express their thoughts and feelings with friends online than with those they see in real life, which makes online environments the perfect opportunity to form meaningful relationships. Here are just some of the many benefits of having online friendships: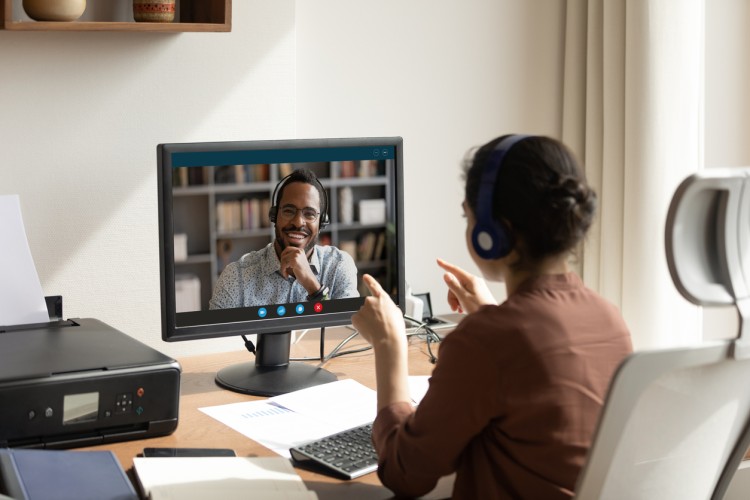 You can connect with people who share similar interests wherever they live. Online friendships can transcend cultural and geographical barriers. Whether you meet virtual friends while taking online classes or chatting on social media forums, these friendships can be as long-lasting and meaningful as those with people you regularly see in person.
It can be easier to schedule hangouts with online friends. Finding time to have coffee or dinner with a friend can be challenging, especially if you both have busy schedules. On the other hand, scheduling virtual hangouts when dinner is over, or the kids have gone to sleep — and without needing to leave the house — may be more convenient.
Social interaction, whether in person or online, is beneficial to your well-being. Social interaction lowers blood pressure, boosts self-esteem, and reduces the risk of depression, according to Boom Health. In addition, both in-person and online interactions improve brain and mental health and your overall well-being.
Tips to Maintain Long-Distance Friendships with Classmates
Maintaining long-distance and online friendships with your classmates is a lot like maintaining friendships with people you see in person. Here are some examples of ways you can nurture your virtual friendships:
Remember their important dates. You likely know (and acknowledge) your best friend's birthday and your closest co-worker's anniversary. In much the same way, it's important to take the time to learn the dates, holidays, and special occasions that are important to your online friends and fellow students.
Schedule regular hangout times. Maintaining friendships requires some effort. When it comes to people you've met online, be sure to plan regular hangout times so you can stay connected. This can be anything from planning a weekly call while you're both commuting to work or chatting by video conference one night a week after family obligations are taken care of.
Find something that you can do together but separately. Planning something you can do together, yet apart, can give you something to talk about. You can plan to read the same book, cook the same recipe, or watch the same TV series and then trade thoughts and opinions afterwards.
Virtual Hangout Ideas: Things to Do Online with Friends and Classmates
Coming up with virtual hangout ideas is easier than you might think. From scheduling a virtual watch party to planning a remote video game night, there are plenty of options to choose from.
Watch movies together online. Get the popcorn ready! There are now several apps that allow friends to watch TV and movies together remotely. Examples include Teleparty (formerly Netflix Party), which allows friends to host watch parties on Netflix, YouTube, Disney+, HBO Max, Hulu, and Amazon Prime.
Schedule a virtual game night. Long gone are the days of needing to be in the same room to enjoy a game night. Apps such as Board Game Arena, Jackbox, and Drawasaurus allow friends to play a wide variety of games together remotely.
Schedule a virtual baking date. This can be a great option for adults who like to bake and cook and who want to schedule a fun online hangout that involves their kids too. Simply choose a recipe, buy the ingredients, and hop on a prescheduled video call where everyone tries to make the same thing at the same time.
Host a virtual birthday party, shower, or other event. Being miles apart doesn't mean you need to miss important dates and events. Today it's easier than ever to host virtual birthday parties, bridal or baby showers, and graduation celebrations. Acknowledging these milestones with new classmates and friends is a fun way to show them you care.
Student Testimonials: Socializing Remotely with Classmates
People tend to form friendships with others when they have something in common. That's why it's no surprise that Maryville University Online students forge deep, long-lasting connections with their virtual classmates. Not only do they share similar interests, they are also working towards a common goal which lends itself to giving and receiving the same kind of support that forms natural bonds between college students ­— regardless of whether they are online or in person. For example, Ashley, a 2022 online Master of Science in Nursing — Family Nurse Practitioner (MSN-FNP) graduate, says the virtual friendships she made prevented her from ever feeling alone.
Other students also shared their experiences with developing and maintaining friendships with their virtual classmates:
Lexy, MSN-PMHNP, 2022 Graduate
Lexy, a graduate of the online Master of Science in Nursing — Psychiatric Mental Health Nurse Practitioner (MSN-PMHNP) program, states the following: "I have met some really close friends through the program. They live all over. It's been fun to get to interact with them, and we've established a really good support group. We message every day. We have study sessions before exams and discuss questions we might have. And now we're all going to meet in Chicago for the first time for a board exam review. So, I'm really excited, and I feel like I've made some lifelong friends through this program. It's been a really cool experience to meet friends from all over the country and keep in contact with them and have that support network."
Samantha, Pursuing a Bachelor of Social Work
Samantha met a fellow student — Alli — when they were assigned to an online Bachelor of Social Work project. Since then, they've been close for almost three years and talk practically every day. One is in South Carolina, and the other is in Pennsylvania.
"I'd been a stay-at-home mom for a while," Samantha explains. "I was dying for adult conversation. When I went back to college online, I was thinking I would miss out on the social side of things. Luckily, with Maryville, I didn't and was able to meet many people. Being able to communicate with people online, I really didn't think it was going to happen, but it really did. It changed my whole perspective on online learning."
Alli, Pursuing a Bachelor of Social Work
"I met a girl in a group project my first year at Maryville University and ended up becoming best friends with her!" Alli
Continue Your Learning Journey and Forge Online Friendships with Students from Around the Globe
Have you been thinking about continuing your education? An online degree can help you advance your career and develop friendships with students who share your interests. Find out how Maryville University's online degree and certificate programs can help you take the next step in your educational, professional, and personal journey.
Recommended Reading
College Student Wellness Guide for Remote Learners
Surprising Facts: Online and On-Campus Degrees
Tips for Taking Online Classes
Sources:
Alternative Travelers, "Maintaining Friendships Remotely"
Boom Health, Health Benefits of Social Interaction
BuzzFeed, "16 Fun Things to Do With Your Friends During Your Next Virtual Hangout"
The Guardian, "5 Ways to Maintain Long-Distance Friendships"
Regain, "Are Online & Real Life Friendships the Same? How the Internet Makes a Difference"
We Are Restless, "Know the Benefits of Online Friendships"