Your Education and Career are Important to You. We Can Help You Prioritize Both.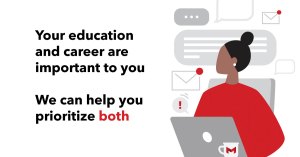 According to a report from the World Economic Forum, more than half of employees (54%) will require upskilling or reskilling to stay competitive in their current jobs. As the job market and economy continue to modernize, new innovations are causing massive changes in workplaces across all fields. It's a seismic shift that can't be ignored.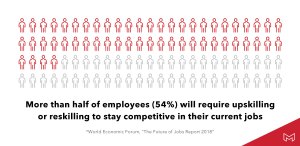 At Maryville University, we're here to help you keep up — and stay ahead — because your success after you graduate is the most important outcome. The return on investment of a college education can be incredible, and it's our aim to help you maximize yours and achieve the best possible outcomes.
To help you achieve your goals, we offer future-focused online degree and certificate programs intended to help you learn the skills and build the knowledge to brave your future on your terms. Our students-first approach can help you get the most out of your education, so you can get the most out of your career.
The inside track for your future and your career
"Return on investment" isn't just a catchphrase for us. We firmly believe that by helping to position you for success with the right education today, you can reap the benefits through a rewarding career. Our dynamic, project-based degree and certificate programs can help you graduate with a relevant, real-world education that you can apply in your career immediately.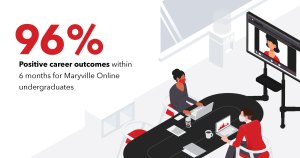 Continuing your education takes courage, but you don't have to go it alone. With Maryville Online, we've got your back. The results speak for themselves:
96% of our online bachelor's grads find a job in their field or pursue further education within six months of graduation.
Kiplinger's ranks us on its most recent list of the "Best College Values."
We're ranked among the top 25% of universities nationally for ROI by Educate to Careers.
We're recognized among the best national universities by publications like U.S. News & World Report, Money, and Forbes.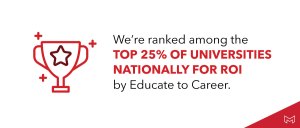 When you earn your college education, you can position yourself to take advantage of higher pay, more professional respect, and better opportunities for leadership and advancement. At Maryville, we know you have what it takes, and we've got your back the whole time.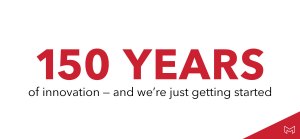 150 years of innovation — and we're just getting started
Ever since we were founded in 1872, we've been a driving force for leadership and empowerment. It's been our goal to make high-quality education accessible to anyone who wants it. Choosing to pursue your college degree or certificate means you're motivated, and if you're driven to succeed, we're here to help you in every way.
The experiential component found in many of our programs nurtures additional skills development that can prepare you for real-world work.
We're also focused on your career outside of the classroom, and we'll help connect you with career opportunities through our virtual career fairs, mock interviews, and Handshake — our career networking tool. Each resource is designed to complement your education so you can move forward in your career with confidence.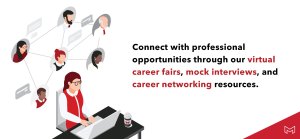 Our degree and certificate programs are designed to meet you where you are and guide you as far as your dreams and imagination can take you. Whether you're making the leap from high school straight into college or redefining your life and career as an experienced professional, we're here to support you and your ambitions.
When it comes to education, one size doesn't fit all
The world has changed, and technology doesn't slow down for anyone. But in this fast-paced world, everyone deserves an opportunity to learn and develop their skills on their terms. We believe your education should be all about you, and we're here to help you maximize your potential.
That's why we helped pioneer and perfect the online learning experience with personalized student support, a user-friendly learning platform, multiple start dates, and 100% online class modules that allow you to balance school with everything else going on in your life. Because sometimes life gets busy.
Your circumstances are unique, and we've designed the student experience to meet your needs. We believe everything outside the classroom should be streamlined and simplified, so you can focus on what's most important: your education. From the moment you start at Maryville, you'll have access to enrollment advice, financial aid assistance, 24/7 technical support, academic help and tutoring, career services, and other resources to help take you where you want to go.
We're here to help you go further
At Maryville, we support you from application through graduation. Getting the best possible results from your education starts as soon as you enroll, when you can transfer up to 60 eligible credit hours toward your bachelor's degree. Not only that, but you may also be eligible for our Early Access program, which allows you to apply some of your coursework toward both your current bachelor's degree and a future master's degree, all at the undergraduate tuition rate.

Saving time and money is a clear benefit, and with Early Access, you can reach your goals sooner.
Want to learn about real Maryville success stories? In our Tales of the Brave series, you can read about real people like you making their professional and educational aspirations a reality. You can get to know students like Logan and Bailey Roehr, brothers who worked toward their online business degrees while traveling through America's national parks, and Brenda Dinges, who was inspired by family hardship to pursue a career helping others as a nurse.
So, what's the next chapter in your success story? At Maryville, we can help make it a great one. Let's turn the page together.
If you're ready to take the next brave step in your education, we're here for you. You can apply in just 15 minutes with no application fees and no entrance exams required. We're here to help you through the process every step of the way.
We know you're brave, and we've got your back. Let's be brave together.