Maryville University Online Transfer Credit Information Session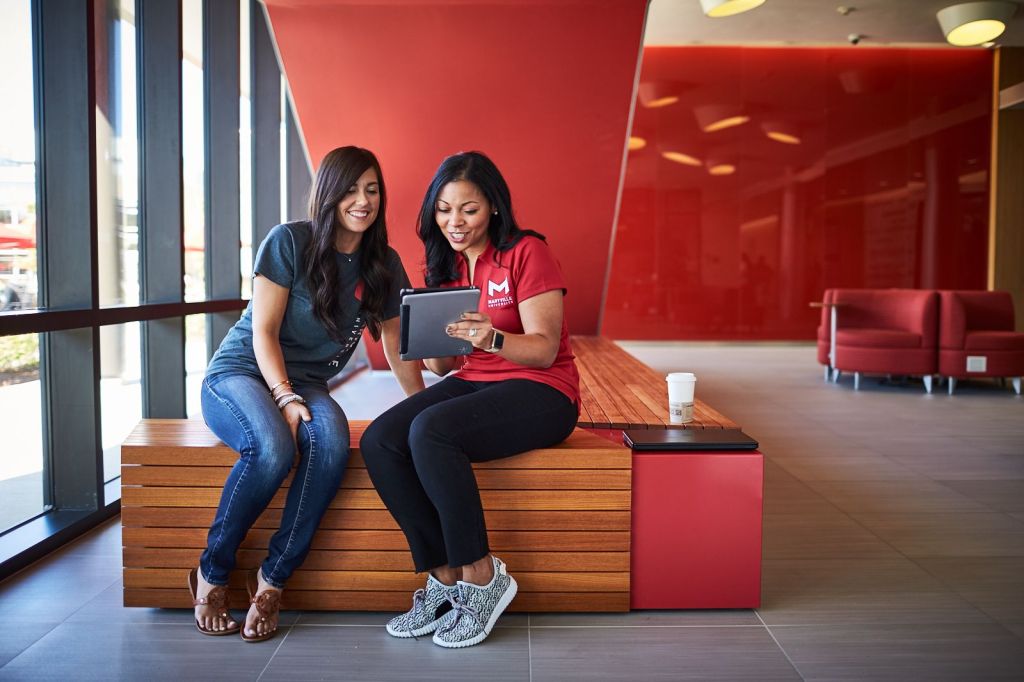 Transcript
Angelica Frias: Hello everyone. Welcome to Maryville University. Maryville University's Online transfer credit information session. Thank you for taking the time out of your day to participate. My name is Angelica Frias, and I will be your moderator for today. Before we begin, I have a few logistics I want to cover. First, you are in listen mode only, so the presentation is being broadcast through your speakers to avoid any background noise. Second, please feel free to ask questions as we go along.
Angelica Frias: You can do so by typing into the Q&A box at the left side of your screen, at any time throughout the session. If we do not get to your question today, an enrollment advisor will follow up with you. Third, you can watch the presentation on demand at any time using the link you used to register. We will also follow up with an email after the presentation. Finally, feel free to use the resource list located on the left side of your screen to save any links that you would like to use after the Webinar.
Angelica Frias: Now what we will cover. Well on today's agenda, we will introduce the presenters. Then talk a little bit about Maryville, and who we are. Discuss both the important points in different types of transfer credits. Review our online learning experience, navigate through the admission process, and then we'll conclude with a live question and answer session.
Angelica Frias: First. Let's meet our presenters. My name is Angelica Frias like I've mentioned before. I'm an enrollment advisor at Maryville University. I've been in education for close to 14 years, so I'm hoping that I can be of some great assistance to you all. I'm now excited to also introduce Angelica Encarnacion, who is also an enrollment advisor for Maryville University. Angelica would you mind sharing a little bit more about yourself?
Angelica Encarn: Sure. Thank you. Hi everyone. So as Angelica mentioned, I'm Angelica Encarnacion. I've been in the education industry for going on six years now Maryville for two, and a half years working with the healthcare program as an admissions advisor, so I'm hoping to also be of assistance.
Angelica Frias: Great. Thank you so much Angelica. Now we have Michelle Padill, student records evaluator for Maryville University. Michelle, would you mind sharing a little more about yourself?
Michelle Padill: Sure. Hi everyone. Like you said, my name is Michelle and I have also been in education for close to 14 years for quite a while. [inaudible 00:03:10] moving over to work with Maryville. So I'm very excited to work with you all today, and my job essentially as student records evaluator, is to work with students looking at their transcripts, and articulating where that transfer credit would go within our university program.
Angelica Frias: Great. Great. Thank you so much. Michelle. You'll hear from both our presenters, very soon. But first, we want to share a little more information about the history of Maryville with you before diving into details. Founded in 1872 in St. Louis, Missouri, Maryville university is one of the oldest private nonprofit universities in the U.S. We started out as one of the first universities in the region to educate women, and today we continue to push the boundaries and prepare students like all of you for a digital world.
Angelica Frias: The university is regionally accredited by the higher learning commission, which is recognized by the US Department of Education, and is also a nationally ranked private college recognized for comprehensive, and innovative education, focused on student learning, outcomes and success, both online and on campus. We have been recognized as America's top colleges by Forbes in 2018, best values and private colleges by Kiplinger's Personal Finance also in 2018.
Angelica Frias: We're among the nation's top four fastest growing universities by The Chronicle of Higher Education in 2018, and we are a US News and World report ranked school recognized as one of the best universities in the U.S. Maryville believes in disrupting the higher education system and has been doing so for nearly 150 years. We believe that this is why we continue to maintain numerous corporate partnerships, and have been named an ample distinguished school, which highlights the university's enormous success in creating an innovative learning environment designed to engage students and support their academic achievement.
Angelica Frias: We believe that learning is very personal and as such you should receive the support that you need every step of the way. We believe everything in the classroom should be challenging and everything outside of it should be easy. We pride ourselves on our supportive and attentive faculty, and have also streamlined the admission process and offer personalized support throughout your educational journey. So let's go some enrollment details.
Angelica Frias: Our online enrollments continue to grow with each semester. As of September, 12, 2018, for our student support group, our enrollments are approximately 9,350 students. The best part is the diversity amongst our student body. Currently our students represent 50 states and 55 countries. Our students take advantage of our degrees at the undergraduate masters and doctoral levels, with over 50 online degree programs, which are a 100% online, and over 115 on campus degree programs. Now this is a great time to discuss our next topic.
Angelica Frias: Transfer credits 101. Nearly one third of first time college students decide to transfer schools according to the national student clearinghouse research center. The decision to transfer colleges is made for a variety of reasons. To discuss this in detail. Michelle will provide us an overview on understanding college credits.
Michelle Padill: So there's a few different reasons why students might choose to transfer schools. One reason might be some students start at a community college and maybe they plan a transfer later to university. Other students don't find that their score program that fulfilling and they decide to transfer to a school that offers the new degree paths of interest. For example, a student might decide to change their major and pursue a different program, but find that out that it's not available at their current institution, so, as a result they transfer.
Michelle Padill: Other students might just want to try the online format. Taking courses online can be much more convenient for a student who has other obligations such as a full-time job or other responsibilities that might prevent them from being able to attend certain class times on campus. And this online format gives students flexibility and allows students to balance jobs and other responsibilities with school at times that work for them.
Michelle Padill: It might also include students in the military. Those who come from military households. These students move around frequently or have a schedule dependent upon military obligations? So switching to a college or university with online program options might be a great alternative for them, as an online format would allow those students to complete their degree from anywhere. Whatever your reason for seeking a transfer the next step is understanding how many of your previously earned credits will transfer.
Michelle Padill: You are considered a transfer students, if you've taken college level courses previously from a regionally accredited college or university. These courses might've been completed after graduating from high school or receiving a GED, or they might be college level courses completed while you're in high school. You may also be considered a transfer student if you earned an associate or baccalaureate degree from an accredited school or university, and this could be an associate degree completed, and now you may want to move on to get your baccalaureate degree, or you might just want to get a second baccalaureate.
Michelle Padill: Maryville University programs are comprised of 128 credit hours with the exception of the Bachelors of Science in Nursing Completion program, which is 129 credit hours, and all the degree requirements must be met to earn the bachelor's degree. 60 of your credit hours must be completed at a four year institution, and the last three credit hours must be taken at Maryville. Students must also complete at least half of the required major or minor credit hours at Maryville in order to fulfill the residency requirement.
Michelle Padill: Maryville is a full disclosure institution, meaning we require complete academic honesty. We require all transcripts from each school attended, even if just one course was completed and even if that credit is listed on another transcript that has being submitted. We want a full picture of academic history, but our admissions decisions are based on a holistic approach. Your transferable credit hours are largely determined by where you are in your academic career. Credits from a regionally accredited school relevant to your major are typically considered for transfer at Maryville's discretion.
Michelle Padill: There are a few different programs which are the most transfer friendly. The youth programs have flexible general education, major core requirements, and large elective pools were credit may transfer. Here's a quick overview of just in a couple of these. The Bachelor of Arts in Liberal Studies is a great program for students who've completed lots of general education college coursework. The Bachelor of Arts in Organizational Leadership, or the bachelor of arts in psychology are both good programs for students who transfer credit that may not be general education or discipline specific such as vocational credit or military credit and these are good program options for those interested in quick degree completion.
Michelle Padill: The psychology program is great for students interested in the psychology field, and the organizational leadership program is great for students that might just want a more blended curriculum. The bachelor of business administration is a good general program for students who want a degree in the college of business but have a wide variety of business credit's not in just one area, or other transfer credits that is not general education or discipline specific. Again, these credits might be vocational or military.
Michelle Padill: Finally, the Bachelor of Arts in History, the Bachelor of Arts with International Studies and the Bachelor of Arts in Sociology are transfer credit friendly program for students who may not be career oriented but are interested in more general fields.
Angelica Encarn: Thank you so much for that Michelle. Now that we have learned a little bit more about transfer credits, we want to discuss with you today what Maryville University can provide. At Maryville, we encourage student interaction and engagement, the small online class sizes allowed for networking and development of relationships with not only fellow students but also our distinguished faculty. Our programs are fully asynchronous, which offers flexibility for working professionals, and is also accessible based on your convenience.
Angelica Encarn: This means that whether you would like to access your assignments at midnight or at 4:00 PM you have the opportunity to do so. That being said, you will have date lengths that are set, so time management skills will be necessary. Canvas is our learning management system, which is accessible 24 hours a day, and puts your course readings, articles, presentations, assignments, discussions and other types of learning activities at your fingertips. Each student participates in an orientation webinar prior to the start of classes to learn more about the system.
Angelica Encarn: Finally, if you're always on the go or just find it easier to access emails, discussions, your syllabus, etc, from your phone, you can do that too. You can take learning anywhere you go. Students at Maryville also have access to a dedicated student support advisor. Everyone learns differently. That's why we provide you with support from a student advisor every step of the way. Together we'll learn your strengths and develop a plan that fits your needs.
Angelica Encarn: Your future is a personalized path, your education should be too. As an online student, you will be assigned a student support advisor to guide and assist you via the convenience of texting, email, or phone, from enrollment through graduation. These advisors are here to assist you with questions and encourage you as you face challenges and connect you to the appropriate resources when you need them. You also have an online life coach team.
Angelica Encarn: Throughout your time at Maryville, at team of online life coaches will connect you to various academic career and campus resources. Your life coach team can support you with your academic and career needs to ensure your success during your time at Maryville and beyond. Whether it's discussing academic success strategies or engaging in career coaching, the online life coaches are there to support you. You also have 24 hour technical support. Our programs are a 100% online and as such, we want to ensure that you have access to support at anytime of the day or night.
Angelica Encarn: Our technical support is available via phone, chat or by submitting a ticket online. Students also have access to a smart thinking platform. You have 24 seven academic support available to you through smart thinking. This is a tutoring service that is offered online 24 seven to help you any day at any time. Smart thinking is a tutoring service acceptable from many of your canvas courses. Our online tutoring provides you with easy access to expert tutors on demand or by appointment across a wide range of subjects.
Angelica Encarn: Lastly, you have the online library. Appointments, maybe scheduled with a dedicated librarian, or a one on one consultation online by phone or in person. There's also a writing studio. You can also access writing resources that may help with developing a thesis statement, an introduction, a conclusion, conquering your writer's blog and grammar and writing. There's canvas tutorials and guides. You will have an opportunity to participate in a live tutorial which will allow you to not only familiarize yourself with our learning platform, but also ask any questions that you may have pertaining to our online learning platform.
Angelica Encarn: All students become part of the, My Maryville Community. You may not be attending classes on campus, but as an online student at Maryville, you'll have a host of resources to help you succeed at every step of your educational journey. Whether it's offering academic success strategies or engaging in our resume review, mock interview, or career coaching. We have resources designed specifically for your needs. And it's important to not forget your professors.
Angelica Encarn: Another great resource for questions on your assignments, your courses, your curriculum, your program, career set you are considering, your professors are there to assist. We want to set you up for success, so please do not hesitate to ask us about the many other services that we offer.
Angelica Frias: Great. Thank you so much Angelica. So now that you know, or now that we know what you would have to access as a student, let's talk a little bit about the admissions process. We're going to cover requirements, transcripts, application tips, tuition and financial aid. For those applying as a transfer student, the requirements include transcripts from all universities or colleges previously attended and/or enrolled, a minimum of a 2.0 GPA. If the GPA is below a 2.0 you may be considered for admission on probation. There are no SAT or ACT exams required.
Angelica Frias: If you have earned your associate's degree, this may satisfy your general education requirements. So it's very, very important to evaluate those transcripts. It is also important to note that the acceptance of transfer credits is entirely at the discretion of the registrar's office at the receiving institution. Our application process is easy and can be completed in two steps. Request your official transcripts, your enrollment advisor is there to assist you if you need additional help obtaining them. Electronic transcripts are always preferred.
Angelica Frias: The second step is complete our free online application. The link provided here goes directly to the application. You can also access it by looking at the resource section on the left side of your screen. You will find a few resources including the link to the application. Once again, there are no entrance exams, essays, or, application fees to apply. Two steps and you're done with the application process.
Angelica Frias: We do have a few tips that we as enrollment advisors like to share. Number one, get started early on requesting those transcripts. Some schools may take longer in processing your request and sending your transcripts and Maryville. Therefore, you want to allow plenty of time to ensure that you meet the application deadline.
Angelica Frias: Number two. If you have or think you have less than 60 college credits, request your high school transcript. After high school, if you have attended and/or enrolled in any institution, those transcripts will be needed too. If you were in the military, those transcripts will be needed, as well on any test score reports. Your enrollment advisor may help request any of these if you need further assistance.
Angelica Frias: Finally, number three, although transcripts may be mailed or mailed by the institution, electronic transcripts are always preferred. Many times these electronic transcripts maybe found via Parchment, the most widely adopted digital credential service allowing students to request transcripts. This ensures it arrives quickly. If they do not offer electronic transcripts, they can be mailed to our offsite admission center.
Angelica Frias: As mentioned earlier, you can access our online application on the left side of the screen under the resources section. When prompted to indicate your student type, please select undergraduate online/on campus. It is the only online option available. An admission checklist may also be found in the resource section. This will provide the requirements that have been listed today.
Angelica Frias: Finally, if you need one on one time with an enrollment advisor, select scheduling an appointment from the resource list to schedule an appointment with an enrollment advisor to discuss the admission process, financial aid options, transfer credits, program formats, and any other questions. They will provide a wealth of information and will be your main point of contact through the enrollment process up to the start of class.
Angelica Frias: Now many of you have been waiting for this section to be discussed. The cost per credit hour at Maryville university is 500 per credit. When speaking to your enrollment advisor, make sure to disclose your employer. If your employer is a corporate partner, there may be a discount applied. There is also a one time, $350 fee per semester. This fee covers your access to all services and resources including technology, transcripts and
graduation.
Angelica Frias: We do offer a few financial or financing options, helping students finance their education. Some of them include federal student loans and Pell grants, monthly payment arrangements, employer tuition reimbursement or assistance, military benefits, a.k.a GI bills, private student loans as well. Enrollment advisors discuss these options in further depth with each student based on their specific interests and situation.
Angelica Frias: So at this time I would like to answer some questions, or we would like to answer some questions that may have come up through our chat room. As we're going through these questions, please do not hesitate to continue adding more. This will be your time to obtain further clarification. So we're gonna go through some of these questions that have come through and as mentioned earlier, if the question is not answered, please know that we will reach out to you, at a later time.
Angelica Frias: First question is do we use books and how do we order them? So it will be determined by your professor, as to whether or not they are providing, or they are requesting books for that specific course. You will know at least two weeks prior to the start of classes, based on your syllabus, and your list of assignments, which will be accessible to you. You will know whether or not books are needed. If so, you have an opportunity to access those books through our Maryville bookstore, or if you choose to purchase books outside Maryville, you do have that opportunity to do that as well.
Angelica Frias: Let's see, we have another question. Is it required to have an associates before we transfer? Michelle, would you mind taking that one?
Michelle Padill: Hi, good question. No, it is not required to have an associates degree before transferring. You can come in with any amount of credits, and that will be applied directly towards your degree. The only difference is the amount of coursework that is left for completion.
Angelica Frias: Great. Thank you so much. Here's another one related to transcripts or transfer credits. So what do you mean by military transcripts?
Michelle Padill: Sure. So for students who have been in the military, let's say for instance, you were in the Army, that training is actually evaluated by the American Council on Education, and they generate a transcript that includes all of your training, and some of that training can be eligible to be transferred into your programs depending on the program, and the training that was completed.
Angelica Frias: Great. Thank you so much. Okay. So, there's another one that's similar to the one about whether or not an associate's degree is needed. But we'll make sure to cover this just to clarify any confusion. The question is, so unless you have 60 credits from another institution in order to transfer?
Michelle Padill: So you do not need a certain amount of credit to transfer over, you can come out and with any amount of coursework completed. All it means is that once you do enroll on and we have your transcript, we'll do a thorough evaluation of the credit coming in, and anywhere that credit can be applied, we will apply it through your program, and that will just leave the remaining coursework for you to complete. So there is no required amounts of credit that has to be completed prior to coming in.
Angelica Frias: Great. These are fantastic questions. Let's see. Let's check out our next one. It has been 40 years since I've been in school. Can I start off with one class to get my feet wet? So you do have that opportunity to do so. Those are circumstances that we can speak to each student about. In this case, we would probably be looking at the student as a part-time student.
Angelica Frias: So please know that that is something that is possible and many times we encourage it, especially if it's been a while since you've been in school, and this way, again, you can get your feet wet, you can get acclimated to our school, our platform, the way our classes are set up, things like that. So we highly recommend that many times. So to that question, yes you do have that opportunity to take one class at a time. Okay. Next question is what is your tuition for online programs? Angelica do you want to take that one?
Angelica Encarn: Sure. So as we discussed before, currently the tuition at Maryville is 500 per credit hour. You also have a one fee per semester of $350.
Angelica Frias: Great. Thank you so much. Okay. Next question is, will I get a student ID card? Those typically are … we'll issue those by of request. So if you would like to request the student ID card, we can definitely, again put in that request and have one sent over. But typically we'll have those available to students especially if they're looking to visit the campus, which is open to all students. So if you live near the St. Louis area or happen to find yourself in that area at any given point, please feel free to stop by the campus. It's a great campus and we would love to you there.
Angelica Frias: Okay. Next question is, do professors designed their own curriculum or work within a preexisting framework? So we do typically have a framework that is listed per class, what it will be determined by the professor as far as like their expertise, a lot of times what they'll do is they'll add a lot of what they … a lot of them aren't masters and experts in their field, right. So they have … you know, there are a lot of them hold PhDs, terminal degrees, so higher learning degrees, and a lot of them are working in their field of study right now too.
Angelica Frias: So a lot of them will add a lot of what they're currently doing into the curriculum as they see fit as well. But please know that for each class typically there will be some offering work so that this way, or each student that's going through the program is receiving the same type of curriculum as well.
Angelica Frias: All righty. Next question. When would I know if I had any previous credits transferred? Like if I took a Math class already?
Michelle Padill: Sure. Question. So once we receive all of your transcripts, we can then do an evaluation and give you a pretty good idea of where that credit is going to be transferred into and the remaining courses that you'll need to complete.
Angelica Frias: All righty. Fantastic. Thank you. Great. Let's look at some of the others here. So the next question is, who are some of your corporate partners for which students would qualify for tuition discount? We do work with a variety of corporate partners. To list them all right now might be quite a bit. So what we highly suggest is that when you're speaking to your enrollment advisor, typically you'll be asked, where you work and all that, specifically because we want to see if there's any of those discounts that we may be able to apply.
Angelica Frias: So if for whatever reason your advisor doesn't ask that question, make sure that you're bringing it up yourself. So that this way they can look that up and they'll let you know if your employer is part of that partnership. A great, great question. Will I have access to the library and other resources at the physical Maryville University Campus in St. Louis? That's a fantastic question. As I mentioned before, you will have an opportunity to visit our campus and take advantage of the resources that are made available to our students on campus.
Angelica Frias: If you ever find yourself there, please make sure to take advantage of that. On top of that, Angelica had brought up some of the resources made available to all of you. Once accepted into the program, we will ask that you take advantage of all those resources. So smart thinking, your advisors, your writing resources, the research librarians, I mean an array of different resources, so we wanna make sure that you are taking advantage of that.
Angelica Frias: And if there's something that may not have been listed, that you feel you might need another question or another topic that you might wanna bring up to your enrollment advisor as well, so that they can discuss how we address those needs as well. All righty, let's see. Question I see is, what if the overall GPA is not a 2.0, what are the options available then? In this case, it seems that for this particular individual it would be for a health care program. In this case I would probably, actually Angelica, would you mind sharing a little bit more information on that?
Angelica Encarn: Sure. So it really depends on the program. If you're looking into the bachelor's in healthcare administration, half a hard requirement about 2.5. On the other hand we have the general studies healthcare program that has the lower 2.0 GPA requirement. So if you are going into the general studies program, and your overall GPA falls, a little below the requirement, you are still able to move forward, writing an addendum explaining to the admissions committee, the situation, what might have cost your GPA to fall below the requirement.
Angelica Encarn: It is up to the admissions committee to review that and accept it and admit it. But you have the opportunity to be admitted on probation, which basically means that you have to maintain your GPA at a 2.0 level by your first semester to be able to continue.
Angelica Frias: Perfect. Thank you so much. All right, here's another one. They ask how many credits do you need to take in order to be considered full time? You wanna take that one?
Angelica Encarn: Sure. So at Maryville University to be considered full time, you're taking, excuse me, at least six credits in one semester. The maximum amount of credits you can take in one full semester after your first semester is 12. You take eight-week classes. If you take 12 credits in one semester, that gives you two classes at a time, you have the opportunity to do nine credits, which would give you one class, one term, two classes the other term. If you do six credits in one semester is one class at a time. Part time at that point will be less than six credits.
Angelica Encarn: So at that point you're building your schedule with your student advisor so that is very individual. Your first full semester for new students at Maryville, we try to keep you at no more than nine credits, help you transition into the school. It's a new environment. We wanna make sure that you are comfortable and successful after that first semester, you can increase to the maximum of 12 if you wish to do so.
Angelica Frias: Great. Thank you so much. All right. I have another one here. Michelle if you could help me out with this one. It asks, I have just received an associates degree in Florida about three months ago. How long does it usually take to know if your school will accept my completed coursework to start in the Bachelor's program?
Michelle Padill: Sure. Maryville typically considers coursework completed from a regionally accredited school during the time it was completed for transferring into the program, and the amount of time it takes will kind of depend on the student. Would depend on when you enrolled and when you were able to get all the college transcripts and once we had all that information we would be able to do an evaluation, as quickly as possible for you.
Angelica Frias: Okay great. Thank you so much. All right. I have another question here. It asks, how long do these degrees take to complete if you do not have an associate's degree or have little transfer credits?
Michelle Padill: Well, if we're looking at, zero credits, if you're coming in as a true freshman, it all depends on whether or not you are attending full time or part-time. So Angelica had brought up, what that actually means, how many credits you would need to take in order to be considered full time or part-time. There's a lot that goes into that. We as advisors would like to talk to each student to make sure that if you want to attend full time, that is something that will be feasible.
Michelle Padill: There are, recommended hours that we provide to students, depending on whether or not they're taking one class versus two classes at a time. So that can have a lot to do with it. If you are coming in with transfer credits, again, like we mentioned earlier on, we would need to review transcripts and see how many of those credits may actually transfer over. And based on any remaining number of credits, once again, depending on what's remaining, we would see, can you attend full time or part-time? That has a lot to do with it.
Michelle Padill: So we can see someone graduating as quickly as four years, possibly even three years if they have transfer credits or as long as six or seven years of they're going part-time, right? In this case, it all depends on you, your schedule, what your current situation looks like. What you're coming in with. Another area that you would want to speak to with your enrollment advisor so that they can give you a clear idea as to what to expect.
Angelica Frias: Let's see. Are there any exams and or quizzes for online courses? So the answer is yes, there may be some exams and quizzes. It all depends on how the syllabus is set up for that class. Whether or not your professor is asking for, again, those exams or quizzes, if they're asking for projects to be completed, papers, things like that. But for the most part, yes there will be exams and quizzes, made available for each one of you online.
Angelica Frias: Most of the time they will timed, and you will be provided a lot more information pertaining as to what goes into those exams and quizzes prior to. Next question. You wanna take that? Are you guaranteed acceptance if you have a 2.0 or higher, is there anything else that can lead to a rejected application?
Angelica Encarn: That's a good question. I mean, if you meet the admissions criteria, you can be confident that you would be admitted into the program. There are no hidden requirements that come out. Your enrollment advisor will disclose everything that is required for the program. So again, if you meet all of the admissions requirements, you can be confident that you will be a good candidate for the program, and the admissions committee will see that.
Angelica Frias: Okay, great. Thank you so much. This one actually goes kind of alongside, except that it's on the opposite spectrum. Where are people with less than a 2.0 previous GPA from another institution even considered for acceptance. I was going through a lot in a couple of years ago. Where the GPA was not great, but I'm ready to get back in the game so to speak and get on the right path. You wanna speak to that too?
Angelica Encarn: Sure. So one thing to note with this is that it really depends on the program. There are some programs that are a little more strict with the GPA requirement. Only very specific ones I believe mainly is some of the healthcare programs. So the majority of programs do have that 2.0 requirement, Maryville likes to give students an opportunity to move forward and be successful in school. If you are going through the application process, and we receive all transcripts, and your overall GPA falls below about 2.0 requirement.
Angelica Encarn: As like stated before, you can still move forward with writing an addendum or a statement for the admissions committee to review. In that statement, you're explaining your situation. What happened before that could've cost your GPA to fall below the requirement. You can explain what's different now. How are you gonna make sure that you're gonna maintain your GPA, at that 2.0 level or above, at Maryville University.
Angelica Encarn: Again, the admissions committee likes to give students chances when you can have the opportunity to enroll on probation and at that point show how things are different now and you're gonna maintain your GPA. So the answer to that is, I mean, yes you have the opportunity to still move forward, but again, just depends on the program you're looking into.
Angelica Frias: All righty, fantastic. Thank you so much. All righty. Let's see if we can find any more questions here. There is a question, am I limited to online classes or can I also take in person classes at the Saint Louis Campus? We do have hybrid, opportunities. Typically for those, we will have you set up with an advisor on our ground campus so that they can help you enroll for our ground campus. And then, set you up for online classes as well, if there are those classes available.
Angelica Frias: There is that opportunity to again, to do a hybrid. It would just be through an advisor through our campus directly as opposed to an online advisor. All right. Let's see. Next question is, do we have to attend full time to receive financial aid? Also, will it affect my standing in the program if I have to switch to part-time? For financial aid, typically what we see is that students need to have at least six credits per semester. Anything less than six credits the financial aid will not cover at an undergraduate level.
Angelica Frias: Super, super important to be able to register or enroll at least as a part-time student, which would be, again, those six credits or a full-time student, which would be a 12 credits. So you do have that opportunity to go part-time or full time financial aid. Of course helping out with that, if you qualify for financial aid. As far as it affecting your standing in the program, it won't necessarily affect the program, but it may affect how much is actually being awarded part-time versus full time.
Angelica Frias: We do have financial aid advisors who would be able to provide further information pertaining to that, seeing as how each student is a little bit different with their qualifications and what they're actually awarded. This would be another thing that we would want to make sure that we cover with your enrollment advisor and make sure that we connect you with a financial aid advisor to cover this in more detail. Are there any other fees other than the one-time fee and tuition?
Angelica Frias: Aside from the $500 pops for credit as well as the 350 semester fee, there should not be any other fees that are assigned or associated with the degree. The only other thing that is, once again that was brought up before that is not included, will be, books. And that is something that gives you an opportunity to purchase books either through our Maryville bookstore or you have opportunities to purchase books outside of Maryville as well. So hopefully that answers individual's question. Let's see. Question is, what's the acceptance process and or registration process once transfer of credits is complete?
Angelica Encarn: If I'm understanding the question correctly, I'll try to answer it clearly. As far as the acceptance process, once we have all of your documents and that includes your Roman publication and all of the needed transcripts, you are submitted for review. At that point, we're just giving the admissions committee time to review that application. Typically, they review those depending on how many applications they have on record to go over, between five to seven business days of the same time your official credit evaluation as being completed.
Angelica Encarn: Once you have been admitted or fully admitted, we provide you with the results of your official credits evaluation. From there, you're completing all the necessary documents as an accepted student who opens up registration and orientation and all that good stuff. Maryville automatically registers you for your first semester following your degree plan and then you are able to self-register every other semester after that.
Angelica Frias: Great. Fantastic. Thank you so much. In terms of, we had a question regarding military transcripts, do they have to be official or can I get a copy and mail to you?
Michelle Padill: We can certainly evaluate, unofficial transcripts for the candidate evaluation, but we do need all official transcripts, which includes military. It's just treated just like a regular college transcript, in order to reward that credit. Unofficial means they cannot go through the student's hands and it does have to be, field, and sent directly to the school to be considered official and have credit awarded.
Angelica Frias: Great. Thank you so much. And just to kind of add on to that, you will once again have the opportunity to speak to your enrollment advisor. They will also be able to assist you in providing you links or whatever is necessary in order for you to request those military transcripts. The next question is, I live on the west coast would you have staff other than the 24/7 tech support available to help me on the evenings.
Angelica Frias: So we do have advisors who are available, late evenings throughout the week. So typically we are able to service students on the west coast. We actually do that quite a bit already. So, please know that throughout the application process, the enrollment process and moving forward, you will have opportunities to schedule appointments and to have advisors reach out to you, during evening hours.
Angelica Frias: Typically, the latest will be somewhere around like maybe six or 6:30, but we can definitely work on that. There are times when advisors will also be in the office on Saturdays. So if there is a specific weekend that you're available and that advisor's gonna be available during that Saturday, highly recommend scheduling those appointments and taking advantage of that time.
Angelica Frias: Next question is, so you can't go above the 12th credit limit? To answer that, yes and no. So yes, in the sense that there are exceptions that can be made in these cases, typically the student needs to show that they can handle the, above 12 credits, so above four classes each semester. Typically, the program director for that specific program, will ask the student to write or provide a letter of some sort of explaining why or how they feel that they are prepared to take over four classes. If that program director agrees and accepts, the student does have that opportunity to take above those four classes or 12 credits.
Angelica Frias: But again, it's something where they need to see whether or not you are capable. Especially if, for example, if you have other commitments, if you're working, are dedicating time to other commitments in general, they wanna make sure that you are able to dedicate enough time for each class and make sure that your grades are not suffering or anything like that. So we wanna make sure that … our main concern is making sure that you're doing well in classes. So it is possible for sure, but it is case by case.
Angelica Frias: Great. Next question is, are all classes only eight-weeks long? For the most part, yes. There will be some courses that are stretched out. Typically, it'll be more so your core classes, some of your final courses, for example, like if it's a capstone or an internship, a lot of times those may run 16-weeks long. But for the most part, classes will run eight-weeks long. So, it's a lot of work to do in a very short period of time.
Angelica Frias: Hence the reason why, again, we're always looking for a certain amount of hours to be dedicated for each class in order for a student to be successful. Again, something else that you and your enrollment advisor will be able to further discuss. All right, we're gonna take a couple more questions. Let's see. The next question was when does the next semester start and the deadline for the application?
Angelica Frias: We will actually cover that in just a second. So I promise that, that will be something that we will cover. Like I said in the next few topics that we cover. So I just wanted to make sure that I let you know that. Next question is, if all the classes are eight weeks long, does that mean you can take classes every eight weeks throughout the year or is it still broken into two semesters?
Angelica Encarn: So you have the typical three semesters in the year, spring, summer and fall. Each semester has two, eight-week terms. So the semesters are pretty much split into two, but you are taking classes, pretty back to back every eight-week term.
Angelica Frias: All righty, fantastic. Thank you. All righty. So, just to be respectful of everyone's time, there are a few more questions that we do have. Again, please know that we will answer these questions personally so that this way no one goes with any question unanswered. So I do wanna thank everyone who has submitted a question. This will close the Q&A-