How to Make the Most of Your Financial Aid Options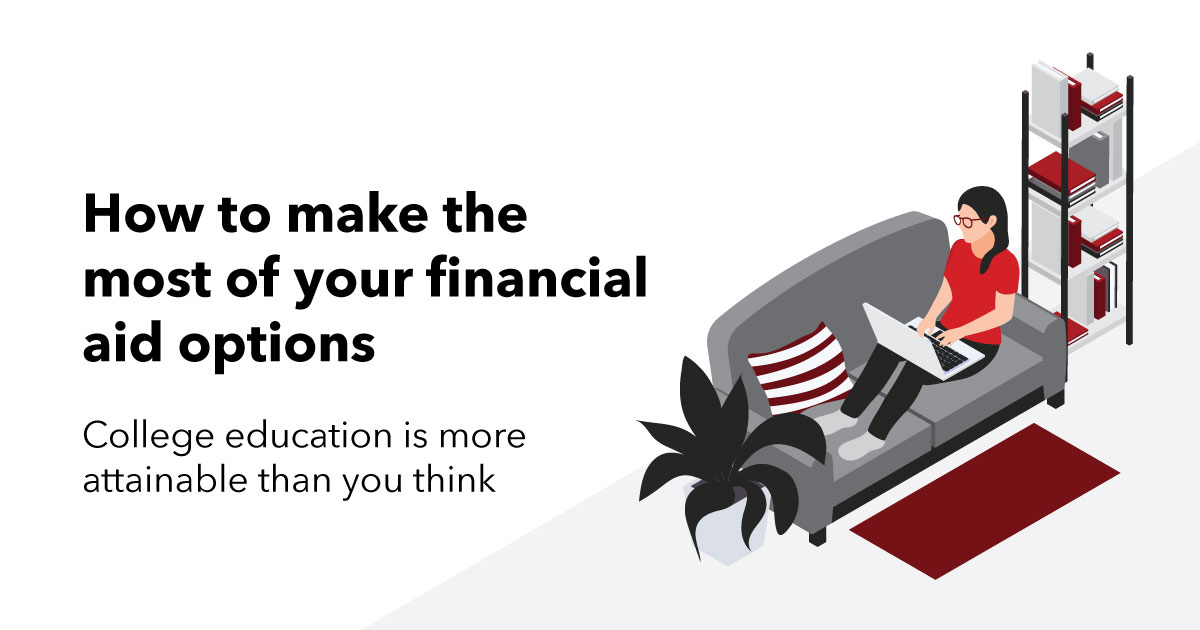 Going to college is a long-term investment in yourself. Your dreams. Your goals. Your future.
And here at Maryville University, we offer a flexible, high-quality education at an affordable cost. That's why we've frozen undergraduate tuition for the past several years — a trend we're continuing through the 2021-22 academic year. Maryville is consistently named a Kiplinger's Personal Finance best value in private college education, and we're ranked in the top 25% nationwide for return on investment by Educate to Careers.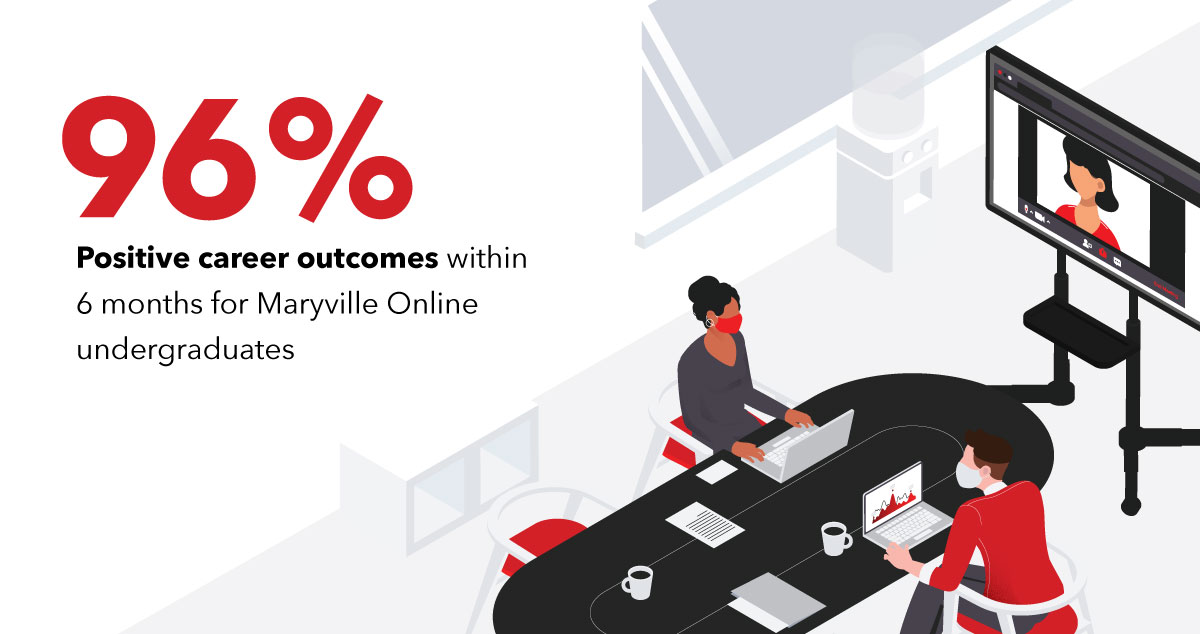 We're committed to helping students plan an affordable path to a Maryville education — and to their personal and professional goals. We're here to support you the whole way. It's part of why 96% positive career outcomes within six months for our online undergraduates.
Data consistently shows that as education level increases, salaries go up and unemployment rates go down. Workers 25 and older who hold a bachelor's, master's, or doctorate degree have the lowest unemployment rates and highest median weekly earnings, according to the U.S. Bureau of Labor Statistics.

Your path to career growth starts with one brave decision. If you're ready to further your education, we'll be here to support you with resources and help to demystify the financial aid process. Let's take the headache out of funding your education.
It's never too early to plan for your future
One of the best pieces of financial aid advice we can share is to be proactive. There's a wide range of opportunities to help reduce your tuition costs. By beginning your research now, you can determine which resources to leverage and what documentation you may need to submit.
And remember — our enrollment advisors are always willing to go the extra mile to connect you with resources that can help you navigate process of applying for financial aid.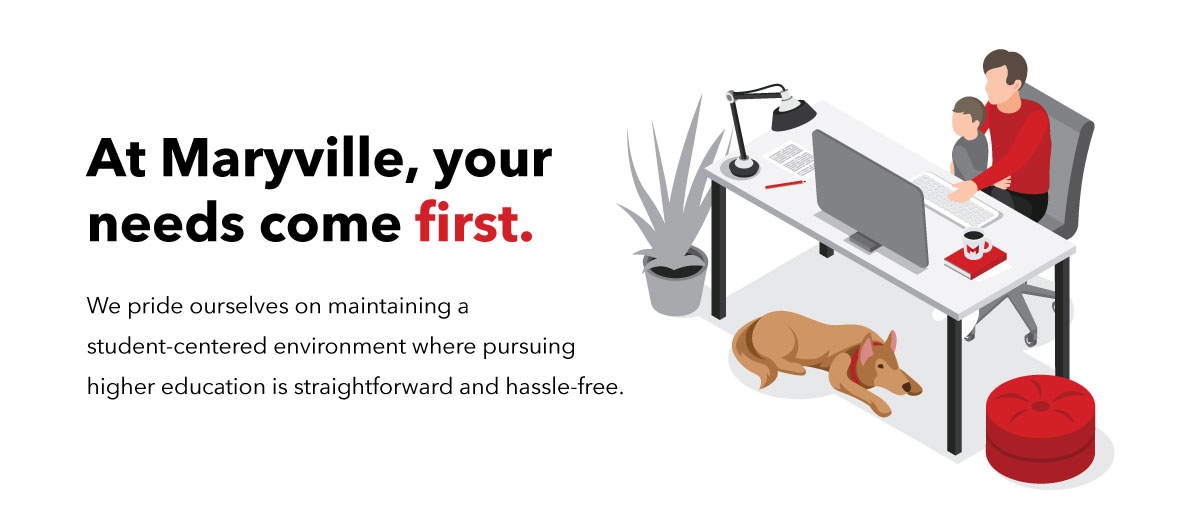 How Maryville can help you finance your educational investment
At Maryville, your needs come first. We pride ourselves on maintaining a student-centered environment where pursuing higher education is straightforward and hassle-free.
Here's how we do that:
Transfer credit friendly admission. If you're one of the 44 million Americans with some college credit but no degree, you're in the right place. When you choose Maryville, you can transfer up to 60 eligible credit hours toward your bachelor's degree, which can help drive down your total tuition. You can also transfer credits into some of our graduate programs.
Tuition freeze. Our undergraduate tuition hasn't been raised for the past several years and will continue to stay the same for the 2021-22 school year.
Employer discounts. Maryville partners with several companies nationwide to offer reduced tuition to employees who enroll in one of our online programs. When filling out your Maryville application, don't forget to complete the employer section so your enrollment advisor can flag any potential partnerships.
Flexible payment plans. Paying all your tuition upfront can be tough on your wallet. That's why we give you the option to split it up into two installments over the course of the semester or five monthly payments — whichever fits your budget.
Early Access program. If you're a bachelor's degree student, you may be eligible to apply some of your coursework toward a master's degree and be billed at the undergraduate tuition rate. That means you can earn your graduate degree quicker and pay less while you do it.
Other forms of funding used by our online students
Federal student aid
The U.S. Department of Education provides more than $120 billion each year to help millions of students pay for higher education. Make sure to complete the Free Application for Federal Student Aid (FAFSA) to see if you qualify for government grants or loans based on financial need.
There's no age limit on eligibility for federal student aid, and funding options exist for both undergraduate and graduate students. Whether you're earning a certificate, bachelor's, master's, or doctorate degree, it's worth your time to complete the FAFSA each year.
Here's a quick rundown of the process:
Create an FSA ID and use it to begin your FAFSA.
Complete your free Maryville application.
Provide transcripts from any previously attended institutions.
Submit your Maryville FAFSA using our school code, which is 002482.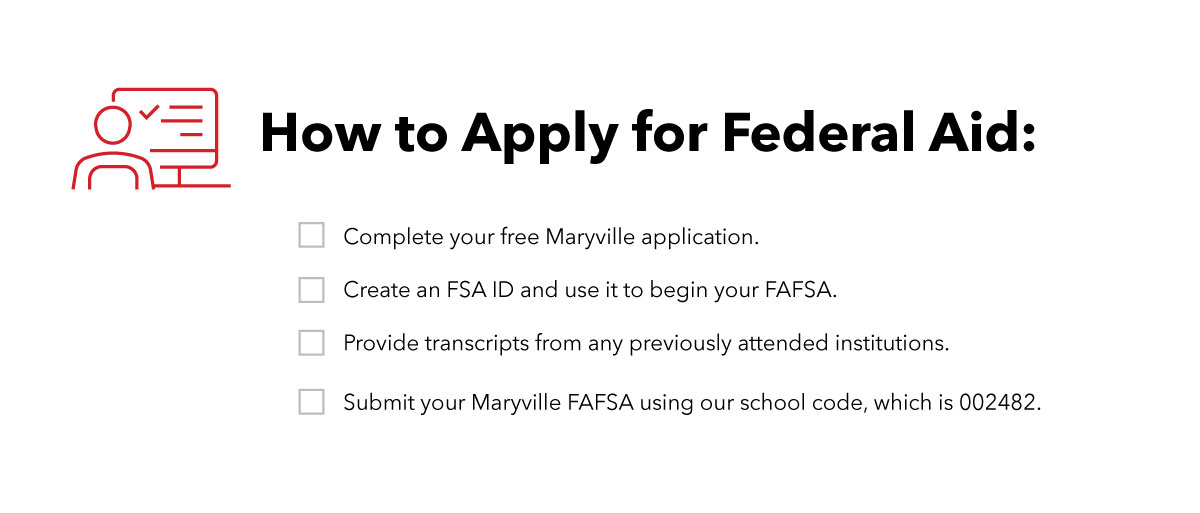 Once you complete these steps, one of our financial aid specialists will determine the type of funding you're eligible for and let you know when your award letter is created.
Federal grants
Government-issued grants are gift aid and are awarded to help eligible undergraduate students pay for school. They're often issued because you have demonstrated financial need of some kind. The biggest plus is that grants typically don't need to be paid back.
Pell grants are need-based awards for low-income students who haven't previously completed a bachelor's program. After our financial aid office applies the funds to your tuition and fees, any remaining balance will be disbursed to you directly.
Federal Supplemental Educational Opportunity Grants (FSEOGs) are awarded on a first-come, first-served basis to undergraduate students who demonstrate extreme financial need on the FAFSA. Maryville University encourages students to complete the FAFSA as early as possible to be considered for FSEOG funding.
Federal loans
Loans are borrowed funds that must be repaid. You usually don't need to start paying off your federal student loans until after you finish your program. However, your loan will accrue interest while you're in school, although the U.S. Department of Education will help cover this cost for certain types of loans.
Direct loans (also referred to as Stafford loans) can be subsidized* or unsubsidized. If the loan is subsidized, the federal government pays (or subsidizes) the interest that accrues during a set period.
Direct Parent PLUS loans are available to eligible parents of dependent undergraduate students and are approved based on credit. If approved, your parent can apply for a loan to cover the remaining cost of tuition for an academic year and then reapply in the following academic year.
Grad PLUS loans are available to graduate and professional students who are enrolled at least half-time in an eligible school in a program leading to a graduate or professional degree or certificate, do not have an adverse credit history, and meet the general eligibility requirements for federal student aid.
*Eligible undergraduate students only
Outside scholarships
Maryville accepts third-party scholarships as a funding source for online programs. We encourage you to visit Fastweb, a free resource where you can search for scholarships that align with your background and interests. Some scholarships are open to nontraditional students or specifically support adult and returning students. We also recommend checking for local scholarship opportunities with credit unions, nonprofits, and other organizations in your community.
Watch out for any scholarship that asks you to pay an application fee. Scammers will often tell you they use a fee system to eliminate less serious applicants, but this isn't a legitimate practice.
Employer-provided tuition assistance
More than 92% of U.S. organizations offer some sort of tuition assistance to help their employees finance their education, based on a 2019 study by the International Foundation of Employee Benefit Plans. Check with your manager or HR representative to see if your employer is one of them.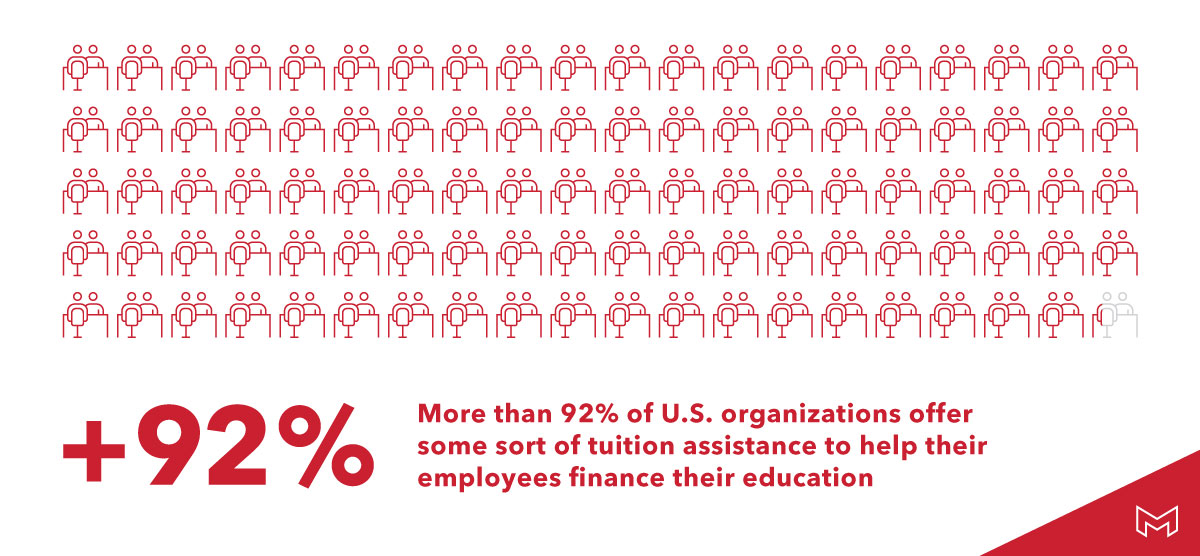 In some cases, your employer will ask you to write a letter outlining your intent to enroll in a specific program. This is your chance to explain the value this new credential will add to your current role as well as the organization. We've provided an example below.
Dear [Supervisor/HR Director/President Name],
I'm reaching out to discuss my interest pursuing my through Maryville University using employee tuition assistance. I have chosen to enroll in an online program so I can continue to work full time and fulfill my responsibilities at COMPANY.
I believe furthering my education at Maryville is right at this stage of my career and will help me add value to my current role. Through this program, I can continue the development of my skills and knowledge, which will allow me to be a more effective team member.
Please let me know if I can provide any additional information about this program that would aid in the decision-making process for tuition assistance. Thank you in advance for your consideration of my request, and I look forward to the opportunity to discuss it with you in more detail.
Sincerely,
[Your Name]
[Title]
[Email]
[Phone]
If approved, you can receive tax-free funds for tuition as well as incidental expenses like textbooks and supplies. Maryville will either defer your tuition payment until the end of the semester or bill the company directly, depending on your employer's preference.
Veterans Administration (VA)/military spouse benefits
Maryville is designated a Military Friendly® School for veterans and their spouses. If you're a military member on active or reserve duty, a veteran, or the spouse of a servicemember, we can help you use your federal educational benefits to offset the cost of an online program. We also participate in the Yellow Ribbon Program, which can help cover up to 100% of any out-of-pocket tuition and fees that may exceed your Post-9/11 GI Bill tuition benefits.
Private loans
You can also apply for privately funded loans. We encourage you to see what aid you can get from federal grants, scholarships, and government-backed loans before you turn to private funding. If you decide to go this route, ELM Select is a free and trustworthy source for finding and comparing loans by term and interest rate.
Ready to get started? Let's make a plan.
At Maryville, we're all about you — guiding you through your tuition assistance and financial aid options and clearing up any confusion along the way. Whether you're a single parent balancing a full-time job, a military veteran, or a recent high school grad, we'll work to find an online program that meets you wherever you're at in your journey. You have what it takes, and we have your back. Schedule an appointment so we can chat next steps. Let's be brave together.
Additional resources
Federal Student Aid Loan Simulator
Federal Trade Commission, "How to Avoid Scholarship and Financial Aid Scams"
Maryville University, "Step-by-Step Guide to Completing the FAFSA"
Maryville University, "Guide to Transferring College and Keeping College Credits"
Maryville University, "Corporate Partnerships"
Maryville University, "Early Access Program"
Maryville University, "Tuition Payment Options"
U.S. Department of Education, "Understanding Financial Aid"
Sources
Maryville Online Tuition and Financial Aid page
Maryville Corporate Sponsorships
U.S. Bureau of Labor Statistics, "Education Pays Handout"
National Student Clearinghouse Research Center, "Some College No Degree report"
U.S. Department of Education, "Financial Aid for Graduate or Professional Students"
International Foundation of Employee Benefit Plans, "Education Benefits: 2019 Survey Results"