Inspiring a Love for Numbers: Qualities of a Good Math Teacher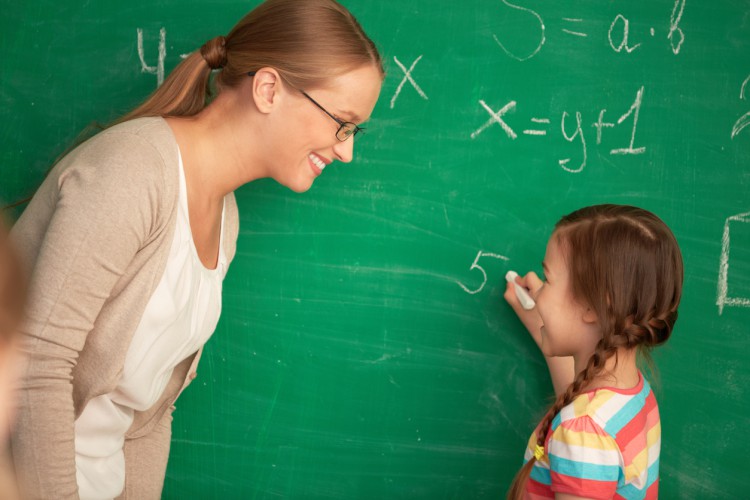 A middle school class is struggling with percentages and adding decimals. The teacher has tried explaining the concept in different ways, such as modeling it and using tools in class to demonstrate it visually, with limited success. The next step in explaining these complex ideas is making the concept relevant to the real world, so the teacher plans a field trip to a local restaurant. The students enjoy a meal together, and then the learning happens. When the bills arrive, the teacher explains how to calculate a tip in percentages, and then the students practice calculating their own tips and adding up their total bills.
The ability to make math applicable to students' lives is just one of the qualities of a good math teacher. Continue reading to find out more about the qualities of good educators and how you can become one.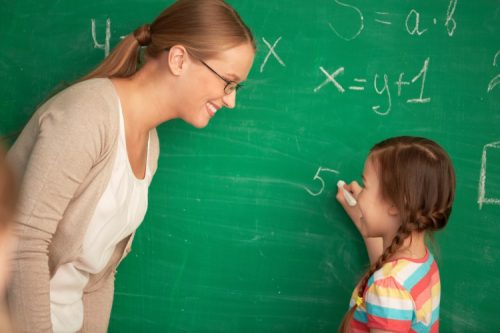 Explore Teaching Mathematics
From creating a supportive learning atmosphere to applying what you've learned in your own education, there are a few key strategies to becoming a successful math teacher. Many of these skills are learned on the path to becoming a math teacher, a stable career that is expected to experience some growth in the coming years.
Steps to Become a Math Teacher
Math teachers usually begin by earning an undergraduate degree in mathematics and then pursuing a teaching license from the state in which they live. Licensure typically involves passing a certification test in the subject area and then applying for a teaching license through the state Department of Public Instruction (DPI).
Job Market for Math Teachers
The U.S. Bureau of Labor Statistics (BLS) projects middle and high school math teaching positions will increase by 3% to 4% between 2018 and 2028, which is in line with the average rate for all jobs. Salaries vary largely by state, but the 2018 median pay for a high school teacher was $60,320 per year, while the median pay for a middle school teacher was $58,600 per year.
What to Expect in Your First Few Years
As a new teacher, you'll be learning a lot on the job, though you will still have many opportunities to exercise the qualities of a good math teacher. Educators are in charge of planning and delivering instruction, making assessments, and meeting with parents as needed to discuss student progress. Many school systems have mentoring programs for new teachers, so you may have an experienced teacher's support early on.
How to Succeed as a Mathematics Teacher
Math teachers must continue to learn, reflect, and improve their practice. Below are some skills and tactics they can employ to create better outcomes for their students.
Connection
An important quality in a good math teacher is the ability to help students form connections with the subject. Teachers must make sure students understand the concepts rather than just memorizing the equations. Instead of teaching math in a series of isolated units, instruction is more effective when it builds on skills previously learned.
Real-World Impact
Good math teachers show their students why the material they're learning matters and how it can be useful in actual situations. Effective math teachers seize opportunities to get students out of the classroom to connect their learning to the real world in real-time.
Classroom Management
Teachers must be able to focus the class's energy on learning by limiting behavioral problems. A valuable quality in a good math teacher is proactive management. Setting up the physical classroom in a way that flows naturally and allows students to access materials and work together can help limit disruptions. Another key to classroom management is maintaining student engagement. Teachers should strive to plan exciting lessons with enough variation to keep students interested and less likely to act out.
Dedication and Flexibility
Great teachers are invested in their students' success and go the extra mile to ensure each one understands the material. They may adjust their teaching strategies to reflect the learning styles of individual students or the class as a whole. Great teachers anticipate problems and plan accordingly.
Inspire a Love of Mathematics
Teaching math is a meaningful career that can make a big difference in students' academic and professional lives. In this role, you can inspire a love of numbers in the next generation of mathematicians, engineers, and scientists. In addition to meeting the requirements for teachers in your state, the right education can shape you into an effective educator with a strong handle on the best qualities of a math teacher. Discover how Maryville University's Bachelor of Science in Mathematics can put you on the path to success.
Recommended Readings
Online Educational Practice Games for Mathematics
Online Science and Mathematics Degrees
Sources
Association for Supervision and Curriculum Development, "The Qualities of Great Teachers"
Houston Chronicle, "5 Important Characteristics to Become a Good Math Teacher"
Maryville University, Bachelor of Science in Mathematics
National Council of Teachers of Mathematics, "Making Mathematical Connections"
U.S. Bureau of Labor Statistics, High School Teachers
U.S. Bureau of Labor Statistics, Middle School Teachers
We Are Teachers, "10 Things I Wish I'd Known as a New Math Teacher"