The Importance of Health Advocacy to Improve Healthcare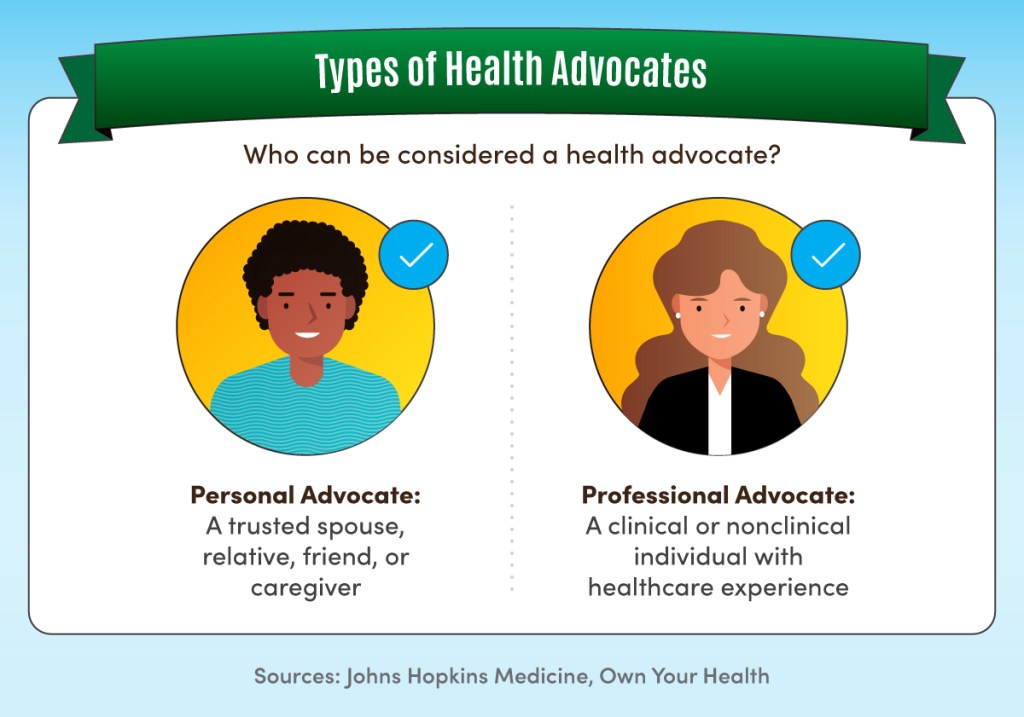 Tables of Contents
Due to the wide-ranging differences in billing, coding, and reimbursement requirements from multiple payers, including privately managed care plans and government-run Medicaid and Medicare, the U.S. healthcare system is one of the most complex in the world. Another primary factor contributing to its complexity is administrative waste and costs. Administrative costs make up 8% of all healthcare spending — surpassing the average of other developed countries by at least five percentage points — according to a study in The Journal of the American Medical Association.
Health advocacy has emerged in recent years to help address the challenges patients face in managing their healthcare. Seeing social workers and nurses serving in health advocacy roles is common. However, a health advocate can be anyone patients trust who can help them navigate the healthcare system.
The primary responsibility of health advocacy is to help patients on their healthcare journey. Typical health advocate activities can include the following:
Helping patients deal with clinicians and healthcare professionals in diverse settings
Providing patients with guidance based on their conditions and treatment options
Supporting patients with health insurance processes, including filing claims and preparing necessary forms
Health advocates empower patients by helping them get access to affordable, effective, high-quality healthcare. The types of patients who can benefit from health advocacy include the following:
Older adults: Health advocates accompany older patients during appointments to talk with doctors, take notes, and manage medical bills. They can also assist with preventive medical care, managing daily medications, and promoting activities that can improve a patient's quality of life at home. The increasing use of digital technologies in healthcare can be a barrier to older adults' engagement with the healthcare system. A health advocate can help older adults with that burden by logging in to patient portals to review diagnostic test results, scheduling appointments online, and renewing prescriptions.
Patients with dementia: Dementia triggers a decline in a patient's cognitive abilities and memory. Health advocates can help patients with reminders for bathing, taking medication, and performing other routines. In healthcare settings, patients with dementia may not understand their surroundings. For example, they may forget that they have mobility issues. With declined thinking and perception abilities, patients with dementia may become anxious and uncooperative, refusing to receive treatment or pulling out their IVs. Health advocates can help patients with dementia become familiar with their surroundings or feel comfortable. An advocate can also communicate with nurses, informing them of a patient's preferences, capabilities, and potential responses to care.
Hospitalized patients: Hospitals typically have patient advocates on staff to help patients and their families deal with a hospital stay. A hospital advocate ensures that patients are informed of their conditions. If patients are incapacitated, the hospital advocate communicates their condition to their families or guardians. Administratively, hospital advocates help patients secure copies of their medical records, understand hospital bills, and complete forms. When treatment or information is delayed, a health advocate can ask the nursing staff for help. In general, health advocates provide comfort to patients and their families during their hospital stay.
Individuals and organizations can help patients fulfill health advocacy's aims, ensuring that patients can make informed medical decisions and receive the care they need. Even employers can play a role in helping their employees receive maximum benefit from their health insurance; a 2020 Intrado study found that integrating health advocacy into health plans helped improve health outcomes and lower costs.
What is public health advocacy?
While health and patient advocacy focuses on helping patients on an individual basis, public health advocacy aims to help entire patient populations, from local neighborhoods or certain demographic groups to entire regions. Public health advocates may also focus on specific groups affected by issues such as alcohol and drug addiction; mental disorders; chronic diseases, such as heart disease and diabetes; food safety; and acute diseases, such as COVID-19.
Public health policy addresses these and other public health concerns by:
Increasing awareness of issues that impact people's ability to access affordable, effective, high-quality healthcare
Influencing decisions at the highest levels of government to help shape public policy
Raising funds to support public health programs, including research and information-sharing campaigns
Access to care is a key area of concern for public health advocates. The factors that inhibit individuals from accessing care include race or ethnicity, age, disability, socioeconomic status, and geographic location. A lack of health insurance can mean that people don't have the safety net to pay for high healthcare costs if they become sick. Structural barriers such as remote geographic locations, lack of access to transportation, or scarce healthcare resources mean people can't get to healthcare centers, clinics, or hospitals.
Other factors driving health disparities include legal obstacles and language barriers, which predominantly affect immigrant populations. Unless immigrants meet U.S. residency requirements, Medicaid can't cover them, and non-native English speakers may have difficulty with English-language health forms.
Other ways to advocate for public health include raising awareness of issues such as protecting funding for core public health programs and services and eliminating health disparities. The strategies for promoting policy changes include marketing campaigns, community partnerships, food drives or walks, and fundraising. Public health advocacy is important because it helps to close health disparity gaps. It can significantly impact the health of underserved populations and helps improve the health outcomes of those with disadvantaged backgrounds.
Resources: Organizations that advocate for public health
Various types of public health advocacy groups exist, some with a national presence and others with a local presence. The following list is a sample of organizations that advocate for public health: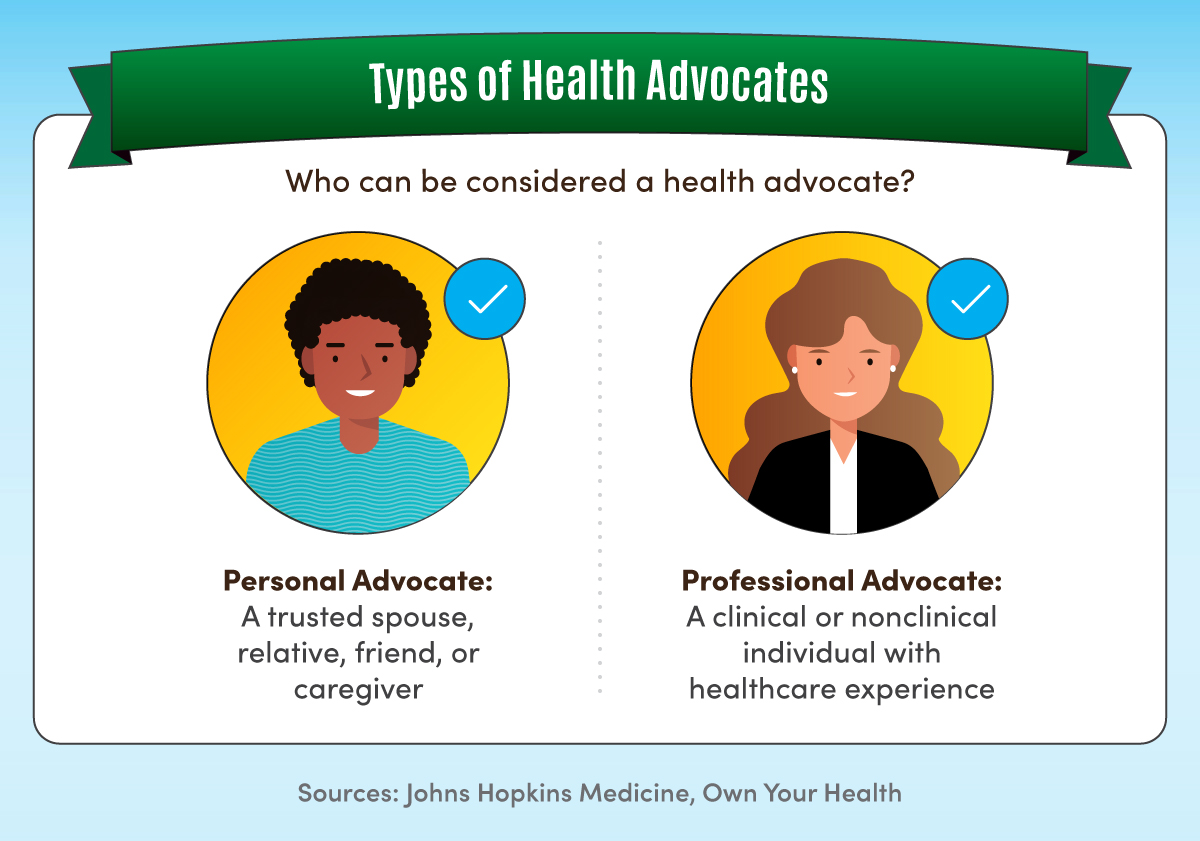 Who can be considered a health advocate, according to Johns Hopkins Medicine and Own Your Health? A personal advocate can be a trusted spouse, relative, friend, or caregiver. A professional advocate can be a clinical or nonclinical individual with healthcare experience.
Who can be considered a health advocate?
Licensing, national accreditation, and certification tests aren't required to serve as a health advocate. Who then can provide patient and health advocacy? A personal health advocate is often a trusted spouse, relative, friend, or caregiver who can advocate for better care. These trusted individuals perform various tasks to support their loved ones, including the following:
Taking notes and helping patients clarify the details of a doctor's appointment
Helping answer questions from doctors about a patient, such as describing the patient's usual condition
Asking questions about medication side effects and follow-up appointments
Expressing concerns and communicating the patient's wishes
Professional health advocates can do all of the above and more because they typically have a background in healthcare, such as nursing experience. Nonclinical professionals include healthcare administrators who use their education and experience in the healthcare system to help patients navigate its bureaucracy.
Because of a professional advocate's background in healthcare, activities can include the following:
Answering patients' questions about treatments, medications, and diagnostic test results
Negotiating payment of healthcare services and arrangements with providers
Coordinating care among multiple providers
Private health and patient advocates also offer services such as home health assistance, eldercare/geriatric care, and health coaching. Many hospitals provide patient advocates or patient navigators to serve patients during their stay. Both for-profit and nonprofit advocacy groups also offer various patient services.
Resources: Organizations that help patients find health advocates
The following resources include organizations and agencies that can help individuals find healthcare advocates:
How health advocacy improves patient outcomes
"Only 12% of U.S. adults have the health literacy skills needed to manage the demands of our complex health care system, and even these individuals' ability to absorb and use health information can be compromised by stress or illness," the Agency for Healthcare Research and Quality (AHRQ) reports. This statement reflects the importance of effective communication between healthcare providers and patients.
The importance of communication in healthcare
To make decisions about their health, patients need information from their care providers. However, when a lack of health literacy means they don't understand that information, they can't make informed decisions. Healthcare organizations must improve their communication and interactions with patients for effective healthcare delivery. The Harvard Public Health Review offers a framework for effective communication in healthcare practice, recommending the following steps:
"Patients need to be able to convey information about their health complaints to healthcare workers."
"Healthcare workers must be able to adequately comprehend and interpret the information in order to treat health complaints appropriately."
"In order to decrease the risk of health complaints from recurring, healthcare workers must convey adequate information to patients to help them take preventive measures in order to maintain their health."
How health advocacy addresses communication challenges
Health advocates can play a critical role in explaining health information to patients, helping them make informed decisions about their health. By working to minimize the communication gap between healthcare professionals and patients, health advocates are key to improving health outcomes. What follows are ways health advocates can help patients become more informed and improve engagement throughout the patient journey.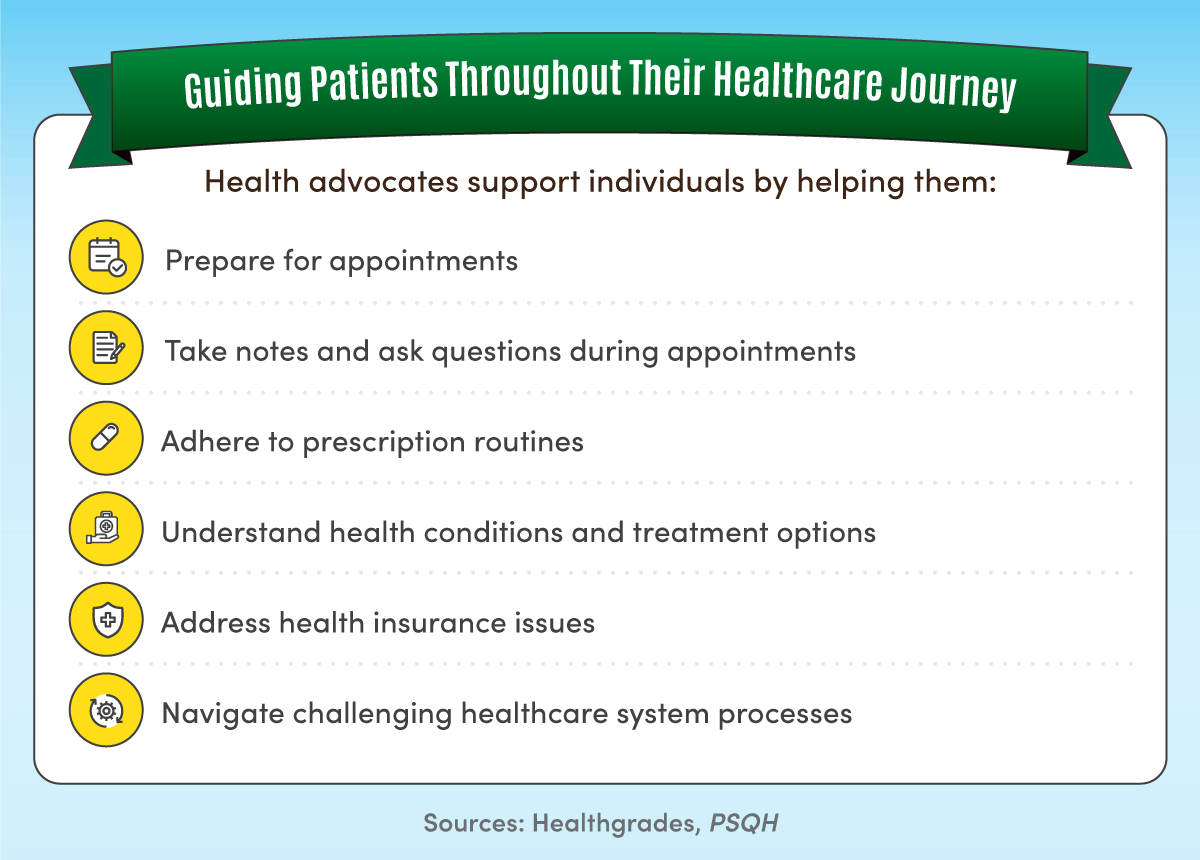 According to Healthgrades and PSQH, advocates support individuals by helping them prepare for appointments; take notes and ask questions during appointments; adhere to prescription routines; understand health conditions and treatment options; address health insurance issues; and navigate challenging healthcare system processes.
Preparing for appointments
Health providers ask health-related questions to learn more about their patients' lifestyles and habits. Common questions probe patients' medical and family histories, prescribed medications, and allergies. Health providers also ask administrative questions regarding health insurance. Effective health advocates prepare their patients' responses in advance so they can share as much relevant information as possible.
Taking notes
Doctor's appointments can overwhelm patients who may be nervous or have difficulty understanding complicated information. During appointments, health advocates take descriptive notes to review with their patients. These notes serve as a benchmark for periodic check-ins to ensure that patients are adhering to a doctor's recommendations.
Asking questions
A common trait of a good relationship between a healthcare provider and a patient is two-way communication. Patients should always ask questions about their care, but with complex conditions or treatment options, asking the right questions can be difficult. Health advocates can ask informed questions to help minimize mistakes, ensure clarity, and avoid hospital stays.
Overseeing prescription routines
Patients with chronic illnesses, such as hypertension and diabetes, often have to take multiple medications, sometimes on complicated schedules. Health advocates help patients schedule and manage their prescription medications.
Encouraging healthy lifestyles
Health advocates support patients on their journey in many ways, including encouraging a healthy lifestyle. For example, a health advocate can remind older patients to take daily walks as prescribed by their doctors, or even accompany them. A health advocate can also advise patients to avoid junk food and unhealthy snacking and instead eat healthy, nutritious meals.
Dealing with physicians and clinicians
Older patients and individuals with chronic diseases often meet with multiple clinicians, physicians, and specialists. Each healthcare provider shares different types of information and has a different communication style. Health advocates can assist in these interactions to help ensure good patient experiences.
Understanding patients' conditions and treatment options
Upon receiving a diagnosis, a patient may worry or experience stress, which can inhibit the ability to understand conditions and treatment options. A health advocate can serve two purposes:
Interpreting medical terminology so patients get a clearer picture of a diagnosis
Providing comfort and emotional support
Address health insurance issues
From communicating with healthcare insurance providers to reviewing medical bills for accuracy, health advocates use their experience with the healthcare system to guide patients. A health advocate can also attempt to renegotiate a statement or complete the necessary paperwork to ensure that insurers pay or reimburse qualified healthcare costs.
Navigate healthcare system challenges
Health advocates use their knowledge and skills to guide individuals and families through a complicated and costly healthcare system, whether walking patients through the clinical process or explaining the administrative aspects of their care.
Understanding healthcare policy
Healthcare policy establishes procedures and sets standards. It focuses on ensuring that patients receive equitable, safe, high-quality care. Healthcare policy often focuses on health and safety requirements, legal liabilities, and regulations.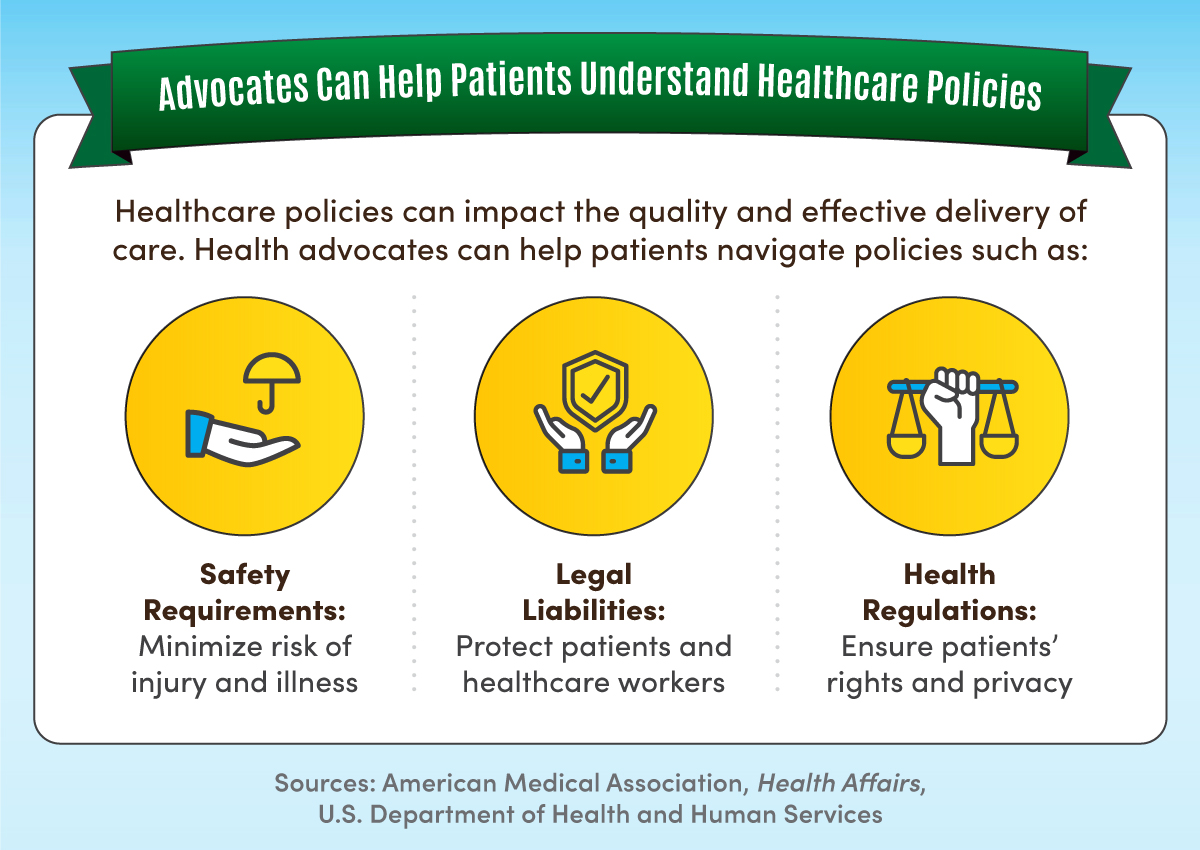 Healthcare policies can impact the quality and effective delivery of care. According to the American Medical Association, HealthAffairs, and the U.S. Department of Health and Human Services, health advocates can help patients navigate policies such as safety requirements, which minimize the risk of injury and illness; legal liabilities, which protect both patients and healthcare workers; and health regulations, which ensure patients' rights and privacy.
Health and safety requirements
Healthcare leaders in hospitals establish health and safety requirements to help nurses and other healthcare staff understand their roles and responsibilities in keeping patients safe. On a broader societal scale, policymakers and lawmakers set health and safety requirements to ensure public safety. Healthcare advocates can engage government and community leaders to enact laws and policies that make people safe and promote healthy living.
Worker safety in hospitals is also crucial. Healthcare organizations can turn to resources from the Occupational Safety and Health Administration (OSHA) to determine what's needed to improve workplace safety, including enhancing patient safety programs, and establish safety and health management systems throughout their facilities.
Legal liabilities
Advancing health through laws and policies has created safeguards for patients. For example, the law guarantees patients' healthcare rights, including access to health records and the right to keep those records private. In some cases, healthcare facilities may be held legally liable for failing to protect patients. Health advocates work to inform patients of their rights and help them resolve violations.
Regulations
Health advocacy can play an important role in communicating key issues that impact patient outcomes with lawmakers. The insight that health advocates, including those who've served as nurses and health administrators, provide can influence public health regulations. Health advocacy is an effective tool for communicating the different rules to patients to ensure that they receive adequate, safe care.
Empowering patients in a complex healthcare system
Healthcare advocates' roles are expanding to meet the evolving needs of patients in an increasingly complex healthcare system. Advocates work to ensure that patients receive the care they deserve and support patients by responding to their needs, improving safety, and optimizing care delivery. They also use their knowledge, experiences, skills, and passion to enact improvements across the broader health care system.
Health advocates help patients access affordable, effective, quality healthcare. They also help healthcare organizations improve patient engagement. According to a 2019 PwC report on healthcare advocacy, 42% of physicians said health advocacy helped improve quality outcomes, 38% indicated that it improved patient experiences, and 26% agreed that healthcare advocacy created cost-saving efficiencies.
Ultimately, the essential role of health advocacy is to help all patients — regardless of racial or ethnic background, socioeconomic status, gender, age, or condition — receive access to effective, equitable, high-quality care.
Infographic Sources
American Medical Association, "Liability Protections for Health Care Professionals During COVID-19"
Health Affairs, "Legal Advocacy to Improve Care for Older Adults with Complex Needs"
Healthgrades, "How to Be a Health Advocate for Your Spouse"
Johns Hopkins Medicine, "The Power of a Health Care Advocate"
Own Your Health, "Professional Patient Advocates: What They Do and How It Works"
PSQH, "Who Is the Patient Advocate?"
U.S. Department of Health and Human Services, "What Are My Health Care Rights And Responsibilities?"