Tips from the Dean: Get to Know Your Student Support Services
At some point as you earn your degree, you're going to need support or guidance. Rather than wait for that moment to arrive, often unexpectedly, it's wise to research the types of available services that are designed for your well-being.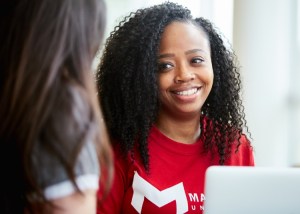 Whether you're looking for counseling, career advice, academic support, or tutoring, you have many options.
Katherine Louthan, dean of the School of Adult & Online Education at Maryville University, is here to explain common and innovative student support services.
Be early. Build an advantage.
One of the bravest things you can do for yourself as a student is to think about your personal needs, Louthan advises. That means understand your many strengths and "any areas where you anticipate challenges."
This exercise can reveal any blind spots — which you can explore with the appropriate support service before issues arise.
Another strategy is to ask about those services during your admission and enrollment process.
"As a new student, you will have multiple champions serving as resources to help you succeed: from enrollment advisors to student support, or success coaches to help you understand all the services available to you, but be sure to ask about options early," Louthan said.
Typical support services include:
Advising and academic support
Counseling center services
Disability services
Career and professional development
Virtual or online tutoring
One of the most common needs for students is tutoring, which students may seek out as they need additional help with a course in real time.
Louthan recommends you understand your options before the rush. "If your institution offers in-person, virtual, or online tutoring, don't procrastinate until the night before a big exam to find help with understanding a concept," she said.
Instead, Louthan advises that you take the initiative to prepare early: Make sure you've checked out your resources, notated any important times of operation, and even tested those in advance, just so you know what to do when you need help. You may find more resources than you expect.
For Maryville undergraduate and Ed.D. students, this includes a free online tutoring service. The innovative service provides exclusive access to individualized support and more from tutors, a majority of whom have a master's or Ph.D.
Career services and professional development
Some support services deal specifically with your career preparation and growth, which can often be overlooked by busy student learners and professionals.
However, these services are important and worth looking into. Again, Louthan says the earlier you research what's available to you, the greater your advantage can be when seeking new career opportunities.
"Don't wait until later in your journey to explore career services and professional development," she said. "Start as early as possible. In doing so, you can build a nice portfolio that includes examples, projects, and experiences as you go rather than leaving more work for you to pull together in the end."
Here are some of the career and professional development support services offered for Maryville students:
Find jobs online with Handshake. Handshake is an online database where you can search and apply for internships, part-time, and full-time employment opportunities. Access thousands of employers via Handshake by using your Maryville credentials to view the online career platform.
It takes a village to earn a college degree.
You've already made a brave choice to get your degree. Now assemble your team to complete it. At Maryville, we bring together a helpful collection of student services designed around your needs. It's all been part of our mission to serve working adults with an online education that is as supportive as it is flexible.
Take your next step toward a future filled with opportunity. Explore Maryville University's online degree programs at the bachelor's, master's, and doctoral level.
Recommended Reading:
Tips from the Dean: How to Return to College as an Adult Learner
Tips from the Dean: How to Manage School as an Adult Learner