The Future of Accounting
While the principles of finance and accounting remain the same over time, the accounting industry is undergoing a transformation as the internet and various types of technology push the field into the future.
Here are five ways the industry may change over the next few years — and advice on how you can update your skill set to increase your chances of finding success in an accounting career.
Big data is making accounting more transparent.
Big data is changing the face of both finance and accounting. Software platforms collect and analyze industry trends, customer data, and third-party resources to paint a picture of the current financial landscape in real time.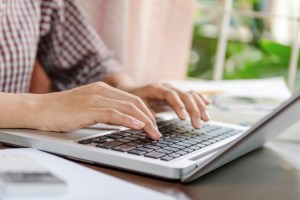 According to Forbes, more data has been collected in the past two years than in the entire history of the human race. Furthermore, by 2020, 1.7 megabytes of new information will be created every second for every human being on Earth.
If humans didn't have the software to analyze all that data, financial analysts would be completely overwhelmed by the sheer amount of information available. Data analytics software and expertise is an increasingly important part of finance-related work, as it allows analysts and advisors to unearth the data they need and separate it from the rest.
Technology is automating more accounting processes.
Automation is expanding into multiple facets of the accounting services industry, particularly in the B2B sector. Technology makes it easier to track expenses and balance books, reducing human error.
Today's accountants have the ability to set up monitors and alerts so they know when their books are off or if their budgets need to be adjusted. Even internal processes are automated, as daily reports are generated and emailed to executives.
Automation frees up time and resources to help companies focus on the bigger picture. Historically, a company may have a team of analysts who spend all day drafting reports. Now, reports are generated with a few clicks and adjusted based on company needs.
That means that as an accounting professional today, you can look forward to spending less time crunching numbers and more time on the higher-level aspects of the job.
Skill sets are shifting toward strategy.
While automation is streamlining many aspects of the finance and accounting industries, this doesn't mean that the demand for analysts, managers, and accountants is decreasing — it simply means that financial professionals have more time to handle the roles that robots and software can't fill.
For example, a bot can process data and report it, but humans still need to analyze the information the machine gathers and give it context. Accounting professionals with strategic and critical thinking skills are in demand and will continue to be. This has led some financial and accounting professionals to return to school to improve their analytical thinking and leadership skills.
Communication abilities are also in demand — and can't easily be replicated by machines — as part of being a financial analyst requires you to present your findings to stakeholders in a clear and concise way.
According to U.S. News & World Report, 98 percent of employers believe business school graduates need to be able to use facts to drive their decisions. Essentially, they need the ability to look at reports that machines generate and make business decisions based on that information.
These problem-solving and critical thinking skills are emphasized in graduate accounting programs like Maryville University's online master's in accounting program. Graduate learning can help prepare you for a career of strategic decision-making, and it can clear your path toward new and exciting careers.
Accountants are offering new services to enhance value.
In light of the client-empowering changes to technology, accountants in 2019 will have to face a series of internal changes to meet this marketplace evolution. These changes can be described in terms of value: Accounting firms have to increase their value to retain clients.
Accountants Daily contributor Lara Bullock sums up the problem nicely: "Over the last probably 10, 15 years, the valuation of fee base has gone down significantly, but also increasingly the younger generation, such as [myself]…, are no longer willing to actually pay for a fee base." People no longer need accountants to file standard tax forms, but they still need an abundance of guidance in the financial realm.
One way firms will be increasing their value is by offering their clients a host of customizable options. CPA.com strategic advisor Greg LaFollette states that "more and more firms will be offering boutique-style, value-priced 'packages' to clients," which may bring more customers who simply want a luxury experience.
Similarly, consulting will be a big portion of added value. That means you can expect to see accounting firms' consulting endeavors grow considerably.
Customers are interacting with AI bots.
Machine learning and artificial intelligence aren't just changing B2B accounting. They are also affecting consumer banking and investing.
According to VentureBeat, 51 percent of people believe businesses should be available to customers 24/7. Furthermore, 45 percent would rather talk to a company through messaging than through email or phone. Messaging via chat boxes and social media is a fast way to get questions answered without spending time on the phone.
To meet customer demand, more finance companies are turning to AI bots to chat with customers. Most AI chatbots aren't able to solve their customers' problems or answer their questions completely, but they gain information that helps customer care teams and bankers.
For example, a chatbot could learn that a customer wants to open a Roth IRA or take out a loan to start a business. The bot can then transfer the customer to the right party for a smoother experience.
Ideally, the customer care professional will already have a solution lined up for the customer before they even speak. This also reduces company operating expenses, because the customer care team spends less time on calls and solves problems faster.
Crowdfunding and peer-to-peer lending is on the rise.
Historically, people, businesses, and entrepreneurs sought out banks and credit unions when they were looking for a loan. For a boost to pay college tuition or seed money to start a business, an institution would negotiate an interest rate and payment plan for the money.
However, the internet has ushered in a new option for lending, and it's one that is consistently growing: crowdfunding.
According to the Massolution Crowdfunding Industry 2015 Report, this type of fundraising accounted for $34 billion, and $25 billion of that represented peer-to-peer funding. The World Bank estimates that by 2025, the global crowdfunding industry will be worth $96 billion.
This source of financing is becoming popular with lenders and borrowers alike because it's more affordable and the risk is lower than some more institutional forms of borrowing and investing. For example, if 100 people each invest $200 to get a business off the ground, the investor risk is lower than if one person or bank invested the full $20,000. When the risk is lower, the interest rate is lower — a boon for borrowers.
While banks are still major players in lending, crowdfunding is a growing alternative. That means as a finance or accounting professional, you may find yourself working at a tech startup or crowdfunding firm instead of a traditional bank after graduation.
In this case, the job duties may extend beyond the traditional financial role: You may have the opportunity to work closely with customer service, development, and marketing teams.
Embrace your future in accounting.
Technology is changing the finance and accounting industries, but that doesn't mean humans are less valuable to the field than they once were. Industry experts are becoming more important than ever, because they have critical thinking skills, ingenuity, and problem-solving capabilities.
If you're interested in furthering your career in these fields, earning an advanced accounting degree can be an important next step. After all, on average, professionals with a master's in accounting earn 37% more than those who hold only a bachelor's.
To learn more about how a degree can help you push your accounting career higher, check out Maryville University's online Master of Science in Accounting program.
Sources
Venture Beat, Three Stats That Show Chatbots are Here to Stay
Crowd Expert, Crowdfunding Industry Statistics 2015 2016
US News, Critical Thinking Skills Business Graduates Need to Succeed
Forbes, Big Data: 20 Mind-Boggling Facts Everyone Must Read
World Bank, Crowdfunding's Potential for the Developing World