Fitness Tips to Improve Mood, Focus, and Overall Mental Health
By Lexy Vreeland
Stress levels are at an all-time high in 2020, because, well … it's 2020! In addition to the environmental stressors that are out there, we also face our own personal struggles and stressors.
I am currently transitioning from being an ICU nurse to an emergency room behavioral health nurse while also studying in the psychiatric mental health nurse practitioner program. I am so excited about my new position and being a graduate student, but man, can it get stressful. I manage this stress through exercise and dedicating time to being active.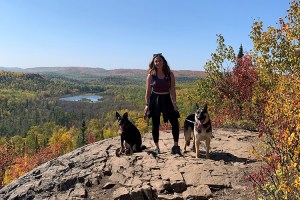 A healthy way to lose the stress and find clarity
I have learned that taking care of my mental health improves performance and structure in all areas of my life. I am a bodybuilder by sport, but a fitness enthusiast at heart. I believe that physical wellness overlaps with mental health. I notice a major difference in my mood and energy if I go a day or two without a workout, whatever it may be. I also notice that I am less stressed and feel more mentally clear after being active or when finishing a good workout. Exercise has been proven to decrease anxiety, depression, and negative moods while also increasing cognitive function and self-esteem.
My advice to you is to dedicate some time to health and fitness. This can be as simple as hiking or walking the dog, or something much more intense such as high-intensity interval training or strength training. Find something that you enjoy doing, and be consistent with that activity for a month and compare how you feel.
Training for your body and your mind
I find that after I get my workout in and eat a good meal, my mind feels ready and I can focus my studies and work. Consistently working out improves my energy and keeps me on track. Bodybuilding and marathon training prior to that have taught me the importance of discipline and consistency. There has never been a run that I regretted starting or a strength training session that I wish I had missed, but there have been countless days where I didn't feel like working out.
I live in northern Minnesota along the north shore of Lake Superior. This time of year is beautiful, with the crisp fall air and the leaves changing — it's the perfect time to be outside. Bringing my dogs for a hike in the woods or along Lake Superior has been very calming and therapeutic for me. After spending this time in the outdoors and being active, I am ready to hit the books and focus on studying.
Making the most of every opportunity
Time is so valuable for all of us, and free time seems to be very limited while in school. Forming habits and rituals to improve our physical and mental health seems to be such a chore, but I challenge you to dedicate some time for yourself as well as for your mental and physical health. Whether it's running, walking, yoga, or weight training, find something that is tangible and that you enjoy doing!
Want more blog posts from Lexy?
Check out her #BraveU ambassador profile.