College Guide for Veterans and Service Members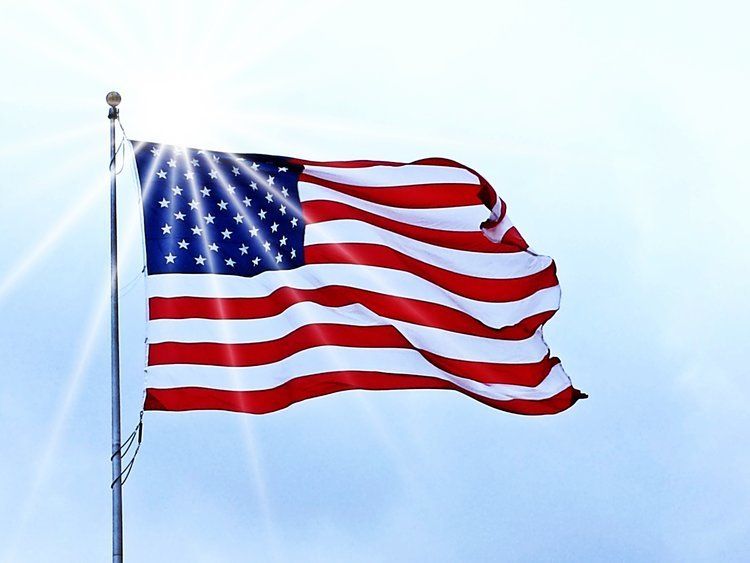 Deciding to go to college after leaving the military can be difficult. There are vast differences between enlisted life and college life. Going from a structured life in service to your country as part of a team to a classroom setting that often finds you working alone can be a difficult adjustment to make.
With your years of experience in the armed forces, it's important to evaluate what you are looking for in a school and degree program. You may be more comfortable in a distance or online learning environment than one where you commute to campus daily.
Created by the Department of Defense, the Defense Activity for Non-Traditional Education Support (DANTES) offers programs and services to veterans and service members who want to pursue higher education. DANTES provides extensive information on higher education and the resources available to you.
Online Education vs. On-Campus Education
Today's veterans are faced with the choice between attending college through the traditional on-campus route or the more flexible online path. Many veterans and service members are choosing to study online because of the ability to plan studying and working around personal and professional commitments.
Attending college online can also ease the transition between the military and college by allowing you to work at your own pace without the high intensity of an on-campus program. This may sound intimidating to some, because they may assume it might be difficult to find the support they need without the guidance of an in-person student veteran group or office.
That's why it's crucial to understand the offices and student organizations available to you. Many colleges and universities have veterans affairs offices available to both online and on-campus students. If your school doesn't offer VA services or isn't able to meet your needs, you may consider reaching out to a local veterans group or making sure that you keep in contact with your friends and family to avoid feelings of isolation.
When it comes to deciding which path to take, it's important to remember the Post-9/11 GI Bill, which can help to cover higher education costs for many. Some colleges may offer tuition discounts for military members, so reach out to any colleges you're interested in to determine if either of these financial aid options are available.
Receive Credit for What You Already Know
After learning various technical and trade skills, it can be unclear whether you should enter a bachelor's degree program or pursue a master's degree. Even if you never completed a college degree prior to your service, your experience in the military can translate into college credits through a credit-by-exams program.
One such program is College-Level Examination Program, or CLEP, which gives you the opportunity to take one of the 33 college subject exams offered through DANTES. These exams are available at 1,800 universities across the country and can be used at 2,900 colleges.
CLEP exams are available at no cost for military personnel. CollegeBoard.org offers an eligibility chart for easy reference.
Resources to help you explore your college options
Paying for College after Serving your Country
Students who choose to attend college online through distance learning can still take advantage of the GI Bill benefits.
Under the GI Bill, you'll continue to receive coverage for tuition, books, and supplies at the traditional rate a student would be allowed if they attended on campus. The main difference between those attending on campus and online is the Monthly Housing Allowance (MHA). Typically, the MHA changes based on the ZIP code where your school is located. Those attending solely online are eligible for half the national average of the Basic Allowance for Housing (BAH) regardless of which school they attend, according to the Department of Veterans Affairs.
The Montgomery GI Bill
In 1944, the GI Bill, also known as the Servicemen's Readjustment Act, was signed into law. This bill affords many benefits to the men and women who have served in the United States armed forces. Whether you are currently serving in the military or are a veteran, the GI Bill can offer more opportunities and better benefits when pursuing higher education and securing a career after discharge.
Montgomery GI Bill Eligibility
To be eligible for the GI Bill, you must meet the two requirements below, along with the requirements from one of four different categories, depending on when you served.
Honorable Discharge

Highschool diploma or equivalent certificate
To view the specific categories and eligibility requirements, visit the Montgomery GI Bill page at Military.com. Most of those who qualify for the GI Bill will now utilize the Post-9/11 GI Bill to pay for education instead of the traditional Montgomery GI Bill, based on when they served.
Post-9/11 GI Bill
The Post-9/11 GI Bill is available to those who served on active duty after September 10, 2001. If you served for at least 90 days after that date and were honorably discharged, you are eligible for this benefit. The percentage available to you is determined by how long you served on active duty. The Veterans Benefit Administration offers the chart below as a reference point.
This chart shows the timeline and the payable benefit for individuals looking to use their GI Bill funding.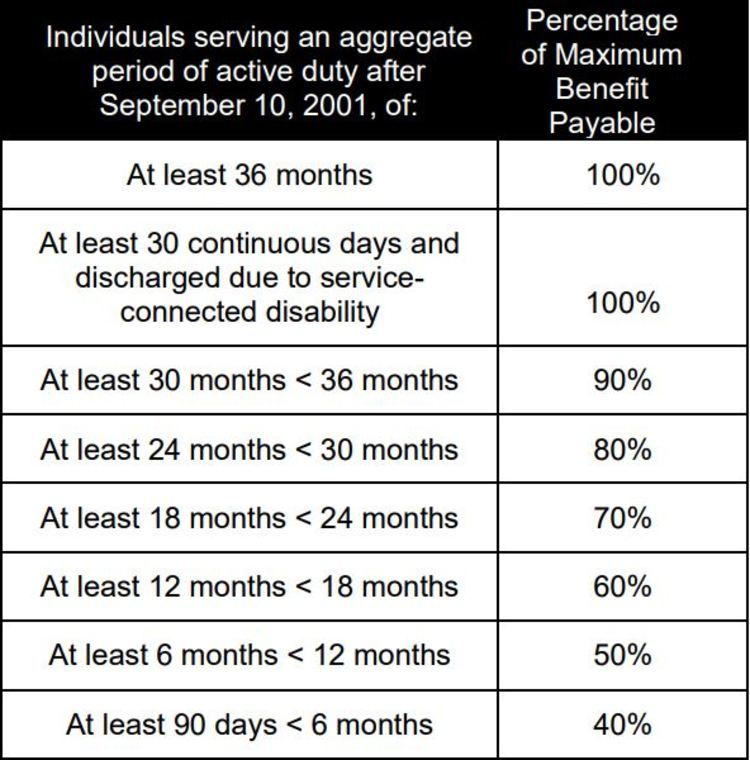 Yellow Ribbon Program
Along with the Post-9/11 GI Bill benefits, some institutions participate in the Yellow Ribbon Program. This program allows colleges and universities that voluntarily enter into an agreement with the VA to fund tuition and fee expenses that exceed the amount payable under the Post-9/11 GI Bill.
The university can choose to contribute a certain dollar amount above those expenses and the VA will match the contribution. To be eligible for this program, you must enroll in an approved program at an institution that participates in the Yellow Ribbon Program. You must be qualified for the Post-9/11 GI Bill at 100% of the maximum payment amount.
The U.S. Department of Veterans Affairs maintains a list of all participating institutions on the Yellow Ribbon Program Information page.
Forever GI Bill
On Aug. 17, 2017, the Harry W. Colmery Veterans Educational Assistance Act, better known as the Forever GI Bill, was signed into law. This enhanced version of the GI Bill expands education benefits for service members, veterans, families, and survivors.
Some of the changes took effect immediately, while others will go into effect by the end of 2022. The U.S. Department of Veterans Affairs website offers an outline of the changes to the GI Bill. We've included it below for easy reference.
Effective from the date of implementation:
Priority enrollment: VA will improve outreach and transparency to veterans and service members by providing information on whether institutions of higher learning administer a priority enrollment system that allows certain student veterans to enroll in courses earlier than other students.
Independent study at technical schools and non-institutions of higher learning (non-IHL): Beneficiaries will now be able to use their educational assistance to pursue accredited independent study (e.g., online learning) at non-IHLs. The non-IHLs must be area career and technical education schools that provide postsecondary level education or postsecondary vocational institutions. Note: This change does not apply to the Survivors' and Dependents' Educational Assistance program beneficiaries.
Elimination of the 15-year time limit to use the Post-9/11 GI Bill: The law removes the 15-year time limit for the use of Post-9/11 GI Bill benefits for those whose last discharge or release from active duty is on or after Jan. 1, 2013, children of deceased service members who became entitled to a Post-9/11 GI Bill benefit on or after Jan. 1, 2013, and all spouses using the Fry Scholarship.
Assistance for students affected by school closure and certain program disapprovals: Students may be able to receive back entitlement charged against them if their school closed while they were attending.
REAP eligibility credited toward Post-9/11 GI Bill program: Reservists who established eligibility to educational assistance under the Reserve Educational Assistance Program (REAP) before Nov. 25, 2015, and lost it due to the program's sunset may elect to have that service credited toward the Post-9/11 GI Bill.
Work study expansion: The law removes the expiration date for qualifying work-study activities.
Effective Jan. 1, 2018:
GI Bill monthly housing allowance: Those who use the Post-9/11 GI Bill on or after Jan. 1, 2018, will receive a monthly housing allowance based on the Department of Defense basic housing allowance (BAH) for monthly housing rates.
Effective Aug. 1, 2018:
Yellow Ribbon Extension to Fry and Purple Heart recipients: Recipients of the Fry Scholarship and Purple Heart may use the Yellow Ribbon Program.
Reserve duty that counts toward Post-9/11 eligibility: The time that a reservist was ordered to active duty to receive authorized medical care, to be medically evaluated for disability, or to complete a Department of Defense healthcare study on or after Sept. 11, 2001, now counts as active duty toward eligibility for the Post-9/11 GI Bill.
Reserve component benefits: The law authorizes service by Guard and Reserve members under 10 U.S.C 12304a and 12304b to receive Post-9/11 GI Bill benefits.
Purple Heart recipients: Service members and honorably discharged veterans who were awarded a Purple Heart on or after Sept. 11, 2001, will be entitled to Post-9/11 GI Bill benefits at the 100% benefit level for up to 36 months.
Pilot programs for technology courses: VA will develop a pilot program to provide eligible veterans with the opportunity to enroll in high technology education programs. Each program, as determined by the VA, must provide training and skills sought by employers in a relevant field or industry.
Monthly housing based on campus where students attend most classes: The law requires the monthly housing allowance under the Post-9/11 GI Bill program to be calculated based on the ZIP code of the campus where the student physically attends the majority of classes rather than the location of the school where the student is enrolled.
Monthly housing allowance during active service: VA will prorate the monthly housing allowance under the Post-9/11 GI Bill.
Informing schools about beneficiary entitlement: VA must make available to educational institutions information about the amount of educational assistance to which a beneficiary is entitled. A beneficiary may elect not to provide the information to an educational institution.
Changes to transfer of benefit: Veterans who transferred entitlement to a dependent can now designate a new dependent pending the death of the original dependent. If the veteran dies, a dependent who received transferred entitlement can now designate a new eligible dependent of the veteran to transfer any of the dependent's remaining entitlement.
Changes to survivors' and dependents' education assistance: The new law decreases the amount of entitlement that new eligible individuals will receive under the Survivors' and Dependents' Educational Assistance (DEA) program from 45 months to 36 months.
Changes to licensing and certification charges: Entitlement charges for licensing and certification exams and national tests under the Post-9/11 GI Bill will be prorated based on the actual amount of the fee charged for the test. This lowers the entitlement charge to benefits.
Effective Aug. 1, 2019:
More benefits for science, technology, engineering and math (STEM) programs: VA will provide up to nine months of additional Post-9/11 GI Bill benefits to eligible individuals who are enrolled in a STEM field program of education.
Effective Aug. 1, 2020:
Consolidation of benefit levels: Eliminates the 40% benefit level and expands the 60% benefit level under the Post-9/11 GI Bill.
Effective Aug. 1, 2022:
Yellow Ribbon extension to active-duty service members: Active-duty service members may use the Yellow Ribbon Program.
Applying for GI Bill Benefits
If you aren't sure if you qualify or have any Post-9/11 GI Bill benefits, you can check your eligibility with a Statement of Benefits available through the VA website. Once you know which benefits are available, you can submit an education application through the same website.
Required information for the Education Benefits Application
Social Security Number

Military history

Information about the school or training facility you want to attend
You will also be asked about your bank account information and your education history, though these items are not required to complete the application.
There are many Veterans Service Officers (VSO) available to help you if you struggle to complete the application on your own. The Department of Veterans Affairs maintains a database of accredited VSO representatives who are there to help if needed.
It typically takes 30 days to process an application, and if they need more information, they will let you know by mail. Otherwise, you'll receive a Certificate of Eligibility once your application has been approved.
Visit the U.S. Department of Veterans Affairs GI Bill website for more information.
Additional Tuition Assistance Programs Available for Service Members and Veterans
Each branch of the military offers internal programs to help its veterans and enlisted members attend college. We've outlined some of the options available for each branch below.
Coast Guard
National Guard
U.S. Marine Corps
U.S. Navy
U.S. Air Force
U.S. Army
Free Application for Federal Student Aid (FAFSA)
Most student veterans assume they don't need to complete the FAFSA since the GI Bill is already covering the costs of their education. Completing the FAFSA isn't just about qualifying for loans. It gives them access to grants and scholarships available through the federal and state governments. There may be a lot more opportunities available to help pay for college than student veterans realize.
Scholarships Available to Military Veterans
There's a wide variety of scholarship opportunities available from private companies and individual branches of the military for service members, veterans and their dependents, such as:
Military Loan Repayment Programs
If you completed a degree without using the GI Bill, there are different loan repayment and forgiveness programs available to veterans and those on active duty. We've outlined some of the most popular ones below*:
*Note: As regulations change over the years, please note that financial aid information as described below is often updated at the source. For the most current and up-to-date information, please visit the direct source for the most current details concerning each particular financial aid source.
Army Student Loan Repayment
The Army offers loan forgiveness at a maximum of $65,000. These repayments are issued for up to 33.33% of the soldier's student loans paid annually, or $1,500, whichever is greater. This is also available for those in the Army Reserves, although the repayment amount is less at only 15%.
Army Reserve College Loan Repayment Program
When you enlist in the Army Reserve for at least six years, you are eligible to receive up to $50,000 for selected specialties to repay college loans.
Health Professions Student Loan Repayment Program
The Health Professions Student Loan Repayment Program (HPLRP) is available to eligible health professionals who have student loans to repay. To be HPLRP eligible, you must meet certain requirements.
Air Force Judge Advocate General's Corps Loan Repayment Program
After you have completed your first year as a JAG officer, you may be eligible for the JAG Corps student loan repayment program. This program pays up to $65,000 toward student loans. Eligible loans include those taken out for undergraduate and graduate programs or law school.
Reserve Student Loan Repayment Program
Each branch of Reserve units — Army National Guard, Army Reserves, Air National Guard and Navy Reserves — offers unique repayment programs that include different eligibility requirements and maximum amounts repayable. They will also have a minimum enlistment period (most often six years).
Veterans Total and Permanent Disability Discharge
A total and permanent disability discharge (TPD) relieves you from having to repay certain federal education loans you may have. These loans include the William D. Ford Federal Direct Loan, Federal Family Education Loan, Federal Perkins Loan or the service obligation for the TEACH Grant.
More information can be found at the Disability Discharge website of the U.S. Department of Education.
Public Service Loan Forgiveness
For those who have already completed their education and are working for the military or qualifying public service job for at least 10 years, you may be eligible for a complete discharge of your federal student loans.
Examples of qualifying public service jobs are:
Law enforcement

Early childhood education

Public safety

Public health

Public education

Emergency management

Military service
The Federal Student Aid website of the U.S. Department of Education offers in depth information on qualifications and eligibility requirements.
It's important to research the repayment and forgiveness options available to you. Most have specific requirements you must meet to be eligible. If you are struggling to figure out your options, reach out to Veterans Affairs for guidance and advice.
Succeeding in College as a Veteran or Service member
Choosing to further your education after military service requires a unique transition and considerations that civilian students may not face. After you are admitted there are ways to help prepare for and succeed in your college career.
Knowing how to manage your time and finding the studying process that works for you can alleviate the stress you feel during the transition and have an overall positive impact on the mental health concerns you may face moving forward.
Transition from Soldier to Student
Making the transition to college from the military can be nerve-wracking. Traditional students just out of high school don't have the same priorities and experiences members of the military have. This can create a sense of culture shock, like visiting a foreign country and not speaking the language.
Coming from the military, you are likely disciplined and structured, with the skills to handle high-pressure situations with relative ease. These skills can also help you find success in a college setting. However, utilizing what the military has taught you and tailoring those experiences to help you succeed in college can be a challenge.
Knowing where to look for support during your path to a degree is the first step. You should take the time to learn about the veteran services offered at your college, and how you can participate in those resources. Most universities understand the differences and unique challenges student veterans face and offer individual departments and student groups tailored to help them succeed.
Deciding to pursue an online degree can lessen the uncertainty you may feel during this transition, since you can study from anywhere. This allows you to remain close to your friends and family without the same culture shock that on-campus students may struggle with.
Student veterans are often more selective in the activities and courses they pursue, since they most likely have more responsibilities in their personal lives than the traditional student. Because many are already business professionals, they often seek online degree programs that can help them balance school with work and important commitments.
Regardless of whether a student veteran attends on-campus or online, they are also more likely to have stronger relationships with the faculty and staff compared to their civilian counterparts, since their experiences lead them to be more mature and seek those who can expand their knowledge.
Utilizing the opportunities available through your college or local veteran groups can help you find your path to success in college, as well as the career that comes after it.
Time Management and Study Tips for Veterans
In the military, most of a service member's day is planned to the minute. But moving to a college environment, even if attending online, can be a completely different experience. Utilizing some of the skills you have learned or are still learning in the military can help you and other veterans or active-duty members improve your college experience immensely.
Add structure to your days

While enlisted, the military provided time management throughout the day. While college doesn't have that same structure. Time management is an important key to the success of student veterans of all types. Creating a schedule can add much-needed structure to your days and give you a feeling of normalcy.

Create a study plan

In the military there is almost always a plan of action. It should be the same for those attending college. When you create a schedule, you should include a plan for studying. Determine goals for the week on Monday, focus on assignments due or areas of struggle and devote time to those tasks.

Have more than one study place

Having only one place that you feel comfortable studying can create a host of problems. If the study space becomes incompatible due to noise or distractions, it can be difficult to adjust to a new space. Take the time to find two or three places where you can study and rotate through them on a consistent basis
If you're on campus, this could mean working out of multiple libraries or study halls. If you're completing online courses, find a local library or coffee shop where you feel comfortable.

Take breaks when you get restless

Schedule breaks frequently. It's easy to become caught up in work and studies. There are apps and websites that can schedule in frequent breaks and keep your mind and body fresh

Focus on the task at hand

It can be difficult to focus on certain tasks, but it is important to find ways to stay engaged in what you are doing. If you're struggling to focus, try splitting your time into smaller chunks with smaller goals so you can feel some accomplishment along the way.

Utilize Apps and Programs

There are many programs and applications available that can help you stay focused. They can block distracting websites as a whole or partially during specific times to encourage focusing on work.

Compromise when things get difficult

Struggling with a task isn't easy for anyone to admit. Recognizing the struggle and knowing how to handle it can be the difference between succeeding or falling behind. If the struggle comes from a specific assignment or topic, reach out to a professor or teaching assistant and see if they can offer any advice or assistance.

If the difficulty comes from a schedule or time management issue, reevaluate the current calendar and see if there are available scheduling changes to allow for more time.

Ask for help if things aren't working

Reaching out to college advisors, fellow students, other veterans, or teachers can help you examine why something isn't working the way you would like them to and find ways to get back on the right path

Form a study group with fellow veterans and classmates

There are student veteran groups or a veterans department available at most universities that can help you get in contact with people who have similar experiences in the armed forces. Having the camaraderie of other service members can add a level of comfort if you're struggling
Mental Health Concerns for Veterans and Servicemembers
Student veterans face unique challenges when it comes to mental health. Many Americans have been deployed to Afghanistan and Iraq over the years, with an increasing number of them returning home with behavioral, health and complex mental challenges. Unlike physical challenges, these are often difficult to spot at first.
Post-Traumatic Stress Disorder
Post-traumatic stress disorder (PTSD), depression, and traumatic brain injury are surprisingly common. Roughly one-third of service members who have been deployed for Operations Iraqi Freedom and Enduring Freedom report symptoms of a cognitive or mental health condition. Knowing the signs of these conditions and recognizing that you need help can move you toward a path of recovery much quicker than ignoring what you feel.
PTSD can be the result of terrifying psychological shock, intense physical trauma, or a combination of both. It is a potentially debilitating mental condition that plagues the sufferer with triggers that can cause flashbacks, nightmares or sleeplessness, anxiety, depression, and more. Both veterans and service members are susceptible to suffering from PTSD.
Here are some signs to watch for if you think you or a loved one may have PTSD:
Hypervigilance

Irritability

Self-destructive behavior

Heightened reactions

Anxiety

Trouble concentrating

Agitation

Hostility

Flashbacks

Fear

Mistrust

Guilt or loneliness

Emotional detachment

Insomnia or nightmares
Receiving treatment before these symptoms escalate can lead to a better quality of life. It's common to think that PTSD will just go away over time, but if you have had symptoms for over a year, this is unlikely. Untreated PTSD not only impacts your day-to-day life, but it can also have lasting impacts on those you love. It's not uncommon for those suffering to pull away from friends, family, and the things they once enjoyed.
It's important to seek treatment for any of the symptoms above. There are many mental health problems that share the symptoms of PTSD. For instance, feeling emotionally detached or having trouble concentrating can be linked to depression. Seeking help from a medical provider can provide a firm diagnosis and point to the correct course of treatment.
Depression
Clinical depression (or major depressive disorder) is a common and serious medical illness. It negatively impacts a person's feelings, actions, and thoughts. Depression can also impact physical health, and its symptoms can vary significantly from one sufferer to the next.
Symptoms of depression in veterans or service members can include, but are not limited to:
Feeling restless

Low self-esteem

Difficulty focusing

Sleeping too much or not enough

Feeling unworthy or guilty

Drinking more alcohol or caffeine than normal

Change in eating habits

Gaining or losing weight

Feeling sad or helpless

Losing interest in or not getting pleasure from daily activities
According to the Army Study to Assess Risk and Resilience in Servicemembers(STARRS) — an ongoing research study began in 2015 and funded until 2025 — the risk of depression in service members is often higher than that of civilians. Returning home after a deployment can create a type of culture shock. Because service members have become so accustomed to the fast pace and circumstances of deployment, coming home and leading a "normal" life can be very difficult.
Traumatic Brain Injury
A traumatic brain injury (or a TBI) is a jolt or blow to the head that disrupts the brain's normal function. The most common form of TBI is a concussion. Traumatic brain injuries can be classified as mild, moderate, or severe. Both non-deployed and deployed military personnel are susceptible to brain injury through a variety of events, including falls, blasts, assaults, sports, car crashes, fragments, and bullets.
Symptoms of a TBI include:
Concentration problems

Gaps in memory

Difficulty finding words

Attention problems

Headaches

Dizziness

Sleep problems

Nausea/vomiting

Ringing in the ears

Irritability

Depression

Mood swings

Vision problems
Those with a TBI face a unique set of challenges. Not only can they experience some or all of the symptoms above, but they're often left more prone to PTSD and depression. This invisible illness can make it difficult to complete the simplest tasks, and doing mundane things can take a large amount of thought for those with a TBI.
Coping with a Traumatic Brain Injury
Here are a few ways you can mitigate the symptoms and effects of TBI.
Carry a small notebook and pen with you to keep track of important things.

Avoid caffeine, which may contribute to symptoms

Take part in a hobby or recreational activity

Have a daily routine

Get enough sleep
Improving Your Mental Health
Most colleges and universities offer some form of healthcare for their students. Services are available for both physical and mental health. Reaching out to the Student Health Services department at your college or university can provide access to professionals who will offer help via their services.
Many universities understand the concerns and struggles that veterans face, and there is often a veterans affairs department or student group that can offer support.
While attending college online, some students may feel like these services aren't available to them. However, many schools offer the same services through online or phone counseling. For those who don't feel comfortable reaching out to their university, veterans affairs departments offer a handful of services to help veterans and service members with the mental health struggles they face. There are also unique organizations whose sole purpose is working with veterans who have returned home and continue to struggle with daily life.
One such organization is the Wounded Warrior Project. It's important to remember that not every wound is visible and that asking for assistance doesn't equate to weakness. It takes a great deal of strength to ask for help.
Mental Health Resources for Veterans in College