Leaders in Two Different Worlds: Business Degree vs. Nursing Degree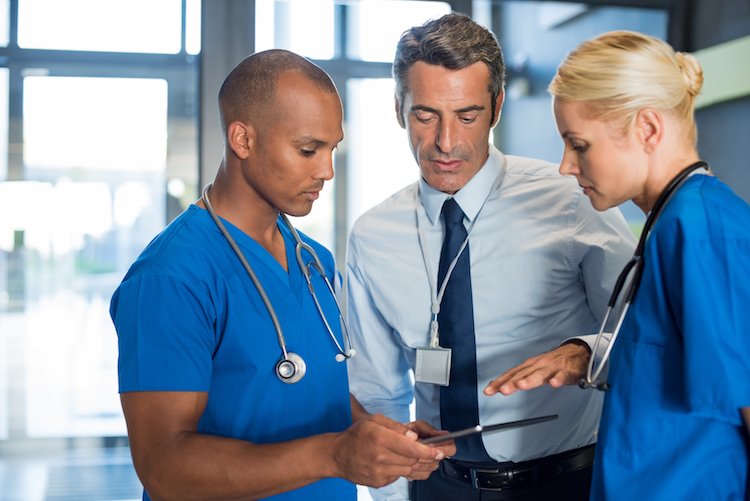 Higher education in the 21st century is incredibly diverse. College students can choose from a multitude of majors, minors, concentrations, and certifications. But two degree programs remain consistently popular. According to the National Center for Education Statistics, business and health are two of the most sought-after degrees. In 2017, they combined for 31% of all bachelor's degrees issued. What's more, according to news outlet MSN, nursing is the sector of healthcare that is projected to have the largest number of job openings in the coming years, making it a popular degree path within the field of healthcare . Read on to find out what makes these disciplines so popular, the differences between business and nursing degrees, what you can expect of the curriculum in each program, and where each degree might take you.
Business Degree Overview
A career in business means entering a complex world of many moving parts, from design and manufacturing to marketing. A degree in business gives those preparing to enter the field an understanding of finance, operations, sales, and management. Business degrees can range from general overviews of the business landscape, such as a business administration degree, to more focused programs, such as a degree in data analytics. Many business graduates go on to receive advanced degrees, such as an online Master of Business Administration (MBA), to gain leadership skills that can prepare students for every level of business.
What Do Business Degree Graduates Do?
Careers vary tremendously based on the degree earned, as well as personal areas of interest and expertise. Business degree graduates can work in financial institutions, such as banks or investment houses, or in large corporations as salespeople or managers. They may also work independently as accountants or financial analysts or by building small businesses from the ground up. Whatever their position, they flex problem-solving abilities, utilize interpersonal skills, and competently make decisions to propel their organizations forward.
Types of careers:
Human Resources (HR) specialist: HR specialists bridge the gap between management and company employees, offering support in recruitment, the interview process, navigation of interpersonal issues, and strategic personnel planning. As estimated by the U.S. Bureau of Labor Statistics, the annual median salary of HR specialists as of 2018 was $60,880.
Marketing manager: Marketing managers oversee all marketing efforts at their companies, analyzing marketing trends, evaluating the success of campaigns, and developing effective ads. The BLS reports that their median annual pay as of 2018 was $132,620.
Management analyst: Management analysts, also known as management consultants, help companies boost revenues by prescribing techniques to maximize productivity and efficiency. They may suggest changes in equipment, procedure, and overall organization. According to the BLS, management analysts made median annual pay of $83,610 in 2018.
Nursing Degree Overview
There are nearly 4 million nurses in the United States, and the demand for these healthcare professionals continues to rise. The National Center for Biotechnology Information (NCBI) estimates the U.S. will need as many as 1 million more nurses by 2020. Becoming a registered nurse (RN) means completing at least a two-year associate degree, with courses in physiology, pharmacology, and ethics, followed by state licensure testing. Many nurses wishing to advance in their careers go on to a further nursing degree, such as a Bachelor of Science in Nursing (BSN) or even a Master of Science in Nursing (MSN) or Doctor of Nursing Practice (DNP).
What Do Nursing Degree Graduates Do?
Nursing degree graduates go on to work in hospitals, nursing homes, schools, private practices, and residential facilities. They can choose high-energy (and often high-stress) units, such as emergency rooms, or more relaxed environments, such as elementary schools. Their primary duties include administering medicine, taking readings, performing assessments, and keeping patients and families informed. Nurses can also choose to advance into administrative roles in which they set schedules, coordinate with other healthcare professionals, and even influence healthcare policy.
Types of careers:
Registered nurse: A vital on-the-ground force in healthcare, RNs interface with patients, explain patients' options, and perform basic care. As of 2018, RNs earned median annual pay of $71,730, according to the BLS.
Nurse manager: Nurse managers are supervisors who make schedules, develop budgets, oversee others' work, and ensure the overall quality of care. All medical and health services managers earned a median annual income of $99,730 in 2018, according to the BLS.
Nurse practitioner: Nurse practitioners, who are required to have a master's degree or doctorate, assess and diagnose patients, write prescriptions, and oversee treatment. The BLS reports that the median annual income for nurse practitioners in 2018 was $113,930.
Similarities Between Business and Nursing Degrees
Nursing and business degrees prepare students for in-demand, challenging careers. The fields of nursing and business both rely on high-level communication and decision-making, and both require detailed record keeping and strong administrative skills. Fast-paced and often requiring a strong foundation in law and ethics, careers in both fields offer the opportunity to serve the community, either through direct action or behind-the-scenes work.
In addition to these similarities, as students pursue post-graduate degrees, they may find further intersections between the two fields of study. For example, a master's in nursing program may feature a leadership concentration  so graduates can step into managerial roles in a healthcare setting, and some MBA programs may offer a healthcare concentration. They are designed for students with different academic and work experience in mind.
Differences Between Business and Nursing Degrees
While business degrees and nursing degrees might teach similar interpersonal skills, degree programs and post-graduation career paths diverge significantly.
Course Content
Nursing programs feature courses on anatomy and physiology, biology, genetics, patient assessment, nursing informatics, and nursing research. The curriculum focuses on preparing students to work as RNs, including teaching the skills required to interact with patients of different ages and backgrounds.
Business programs include courses on finance, marketing, economics, human resources, and organizational leadership. Instead of taking science courses focused on physiology, students study statistics, economics, and data analytics. Throughout their coursework, they learn about the business world, including how to manage people and money.
Differences Between Business and Nursing Careers
Lifestyle
For many, nursing is a calling born of a moral commitment to help those in need. This means many nurses accept demanding work environments that require long hours spent on their feet, sometimes for shifts of up to 12 hours.
Business thrives on competition. This can foster a different attitude among the workforce, and business professionals may also put in long hours as they work toward the goals of creating more profitable returns on investments, developing  in-demand products, or finding cost-savings in budgets. Behind the scenes, business grads may coach one another and junior members of staff, though their job descriptions don't explicitly require that they directly help others. Hours vary tremendously from position to position, as does pay.
A Day at the Office
Nurses spend their days in work environments such as hospitals, outpatient clinics, assisted living facilities, and private practices. Foundational to their work is contact with patients, often at the bedside of patients with critical injuries or life-threatening illnesses. For this reason, nurses must exhibit compassion and empathy and be comfortable with physical contact.
Business graduates, depending on their degree focus, can work in marketing, finance, management, operations, data, and accounting, among other fields. Most careers associated with a business degree entail working at a computer rather than directly with clients. Depending on the position, they may spend a significant amount of time collaborating with other team members or working independently, analyzing spreadsheets and running production models.
Business Degree vs. Nursing Degree: Which Is Right for You?
One reason why business and nursing degrees remain so popular is that they often lead to fulfilling, profitable careers. Students weighing these potential degrees and subsequent career options should consider how each might suit them personally. Some people thrive in the physical, fast-paced world of nursing, while others might find it draining. Some professionals find freedom in the independent work often required in business, while others may find it isolating.
As you consider your talents, interests, and hopes for the future, explore Maryville University's online business degrees and online nursing degrees for more information on degree paths, career options, and specific curricula. No matter which path you pursue, the right education can prepare you for a rewarding career.
Sources
CNBC, "The 6 Most Popular College Majors"
National Center for Biotechnology Information, "Nursing Shortage"
National Center for Education Statistics, The Condition of Education: Undergraduate Degree Fields
Maryville University, Online Business Degrees
Maryville University, Online Nursing Degrees
MSN, "The 10 Best Healthcare Degrees for 2018"
U.S. Bureau of Labor Statistics, Advertising, Promotions, and Marketing Managers
U.S. Bureau of Labor Statistics, Business Careers with High Pay 
U.S. Bureau of Labor Statistics, Human Resources Specialists
U.S. Bureau of Labor Statistics, Management Analysts
U.S. Bureau of Labor Statistics, Medical and Health Services Managers
U.S. Bureau of Labor Statistics, Nurse Anesthetists, Nurse Midwives, and Nurse Practitioners
U.S. Bureau of Labor Statistics, Registered Nurses