Interpreting Analyst Careers: Comparing Business and Data Analysts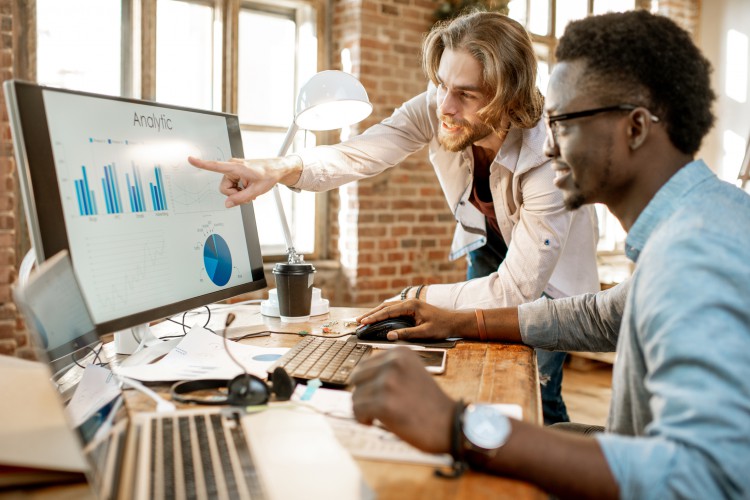 For students with an aptitude for numbers, a love of digging into data to discover patterns, and the ability to recognize trends that others miss, a data-related degree may be a worthwhile pursuit on the path to a career as a business analyst or a data analyst.
Business analysts use data to help companies make the best decisions for efficiency and returns. While data analysts may work for businesses, they don't necessarily bring a business perspective to their work; instead, they gather, analyze, and share data, leaving the resulting decision-making to others. Let's unpack some other differences between a business analyst and a data analyst so data enthusiasts of all kinds can get a sense of what professionals in each of these fields do.
Business Analyst Overview
Business analysts work for companies of all sizes, analyzing data for the purpose of helping to improve both processes and products. To do this, the business analyst often works collaboratively with other departments to identify problems, model possible solutions using technology, and present these solutions to stakeholders. Many analysts have a business degree and a background in some aspect of business operations. They work with high-level management to guide the company to the best possible actions for overall success.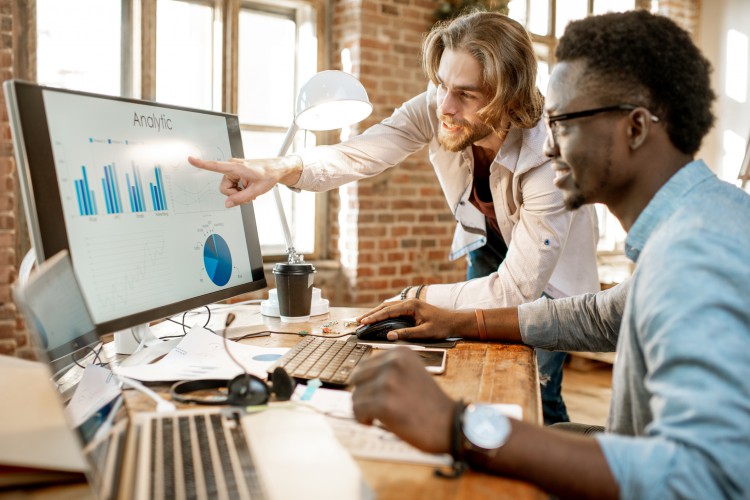 Business Analyst Salaries and Job Outlook
According to PayScale, a website that reports on job salaries and outlook, the average salary for a business analyst is $59,468, though specialized jobs in the field can bring in slightly higher average salaries, such as an IT business analyst with an average salary of $68,332. These jobs tend to exist in cities, though pay can vary depending on geographic location.
According to the U.S. Bureau of Labor Statistics (BLS), the demand for management analysts as a whole, which includes business analysts, is projected to grow by 14% between 2016 and 2026, which is about double the national average for all jobs.
Data Analyst Overview
A key difference between business analysts and data analysts is that the latter focus almost entirely on collecting, analyzing, and organizing pure data. They dig deep into data sets to identify trends and figure out how to communicate these trends to others in an organization. The data these experts work with can include sales figures, transportation costs, or market research. Data analysts often work for businesses, but they can also work for government agencies, healthcare organizations, or universities. Generally, successful data analysts must be meticulous and have strong attention to detail. They also must possess good communication skills, both verbal and written, to be able to clearly explain their findings to other team members.
Data Analyst Salaries and Job Outlook
According to PayScale, the average salary for a data analyst is $59,401, though this number can vary with geographic location as well as experience. A report from IBM indicated a bright future for those working in the field. In fact, the report found that there will be more than 364,000 new jobs in the broad field of data science, which includes data analysts, by 2020.
Similarities Between Business Analyst and Data Analyst
The major similarity between a business analyst and a data analyst is their focus on data. Although they analyze data for different purposes, the day-to-day tasks of both jobs are similar and include collecting, analyzing, and reporting on the numbers. Both careers require a strong attention to detail, organization, and communication skills.
Another similarity between the two careers is the educational path. An undergraduate degree in statistics or mathematics will set graduates up for these careers, as will a program in data science such as Maryville University's online bachelor's in data science.
Differences Between Business Analyst and Data Analyst
While both business analysts and data analysts focus on the analysis of data sets, there are several differences between the two roles. The jobs themselves differ in their purpose, and as such the career paths require different focuses and some slightly different skill sets.
The Jobs Themselves
Data analysts make sense of large amounts of data. They gather, analyze, and interpret data to extract information that's relevant to a business's operations. In a data analysis position, workers flex their communication skills as they convey complex information to key stakeholders. It's through this interpretation that the business leaders they work for can make decisions.
Comparatively, business analysts have a hand in the development of business strategies based on data. They go beyond relaying information and instead use the information to help businesses maintain and grow profitability.
Career Paths
Business analysts tend to find employment in business financial and administrative roles, where they make data-driven decisions around product development, marketing campaigns, investment opportunities, and more. It's the keen eye of a business analyst that leads to more efficient processes and improved technologies.
Data analysts are equally valuable in the world of business, as they can identify trends and simplify complex information. However, they also can expand their careers into other spheres. Often, data analysts work in the tech industry, making use of their ability to understand the elements that drive the creation of data, such as computer languages. They can also find rewarding careers in the healthcare industry, where huge volumes of data need processing each day.
Skill Sets
Business analysts tend to find themselves in a collaborative role. They straddle the gap between information technology (IT) and business functions, and as such they work with team members from a variety of departments. This requires resourcefulness and the ability to apply quick thinking to solving problems.
On the other hand, while data analysts may work in a team, they spend most of their time analyzing data and crunching numbers, so their work is often done independently. In addition to being able to work well on their own, they must possess strong computer skills and the ability to communicate their findings to others.
Pursue a Career Working with Data
Now that you've learned about the specific job descriptions of a business analyst and a data analyst, which one is a good fit for you? If you like working on a team to develop creative business solutions that drive success, you may find that a profession as a business analyst is a good fit. If you prefer to spend most of your time solo, digging deep into data of all kinds and analyzing trends, you may find work as a data analyst to be more fulfilling.
Either way, a strong foundation in data science can help you set out on a rewarding career path. Learn more about how you can build a career working with data through Maryville University's online bachelor's in data science. Equipped with your degree from Maryville, you can step into a future career as either a business analyst or a data analyst.
Sources
Bureau of Labor Statistics, Management Analysts
CIO, "What Is a Business Analyst? A Key Role for Business-IT Efficiency"
Forbes, "Top 7 Skills You Need to Have as a Data Analyst"
Forbes, "IBM Predicts Demand for Data Scientists Will Soar 28% by 2020"
Maryville University, Bachelor's in Data Science
PayScale, Average Business Analyst, IT, Salary
PayScale, Average Business Analyst (Unspecified Type) Salary