Online Marketing and Communication Degrees
Online Marketing and Communication Degrees
Online Marketing and Communication Degrees

Many paths to your future. One starting point.
If you're ready to discover your future in marketing or communication, Maryville is here to help. These two disciplines can go hand in hand, preparing students for the bold leadership needed in the constantly changing business landscape.
That's why we offer 100% online degrees in marketing and communication that give you the flexibility to pursue your goals — on your schedule. Our degree programs feature experiential, relevant coursework designed with input from top employers — so you'll go beyond theory and learn the most in-demand skills and techniques in the field.
It's time to make the brave decision to start your career or take your next step.
Bachelor's in Communication
This online degree is designed to prepare you for a career in advertising, media, public relations, and more. Choose from concentrations in strategic communication or emerging media strategy and social media. Depending on your concentration and chosen electives, you can pursue industry certificates from Amazon, Google, and Salesforce.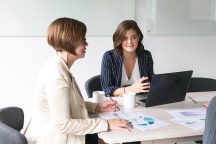 Bachelor's in Marketing
In this online program, you'll create a marketing plan, conduct research and analysis of the external and internal forces that shape market opportunities, and develop marketing strategies directed at a target market.
Master's in Business Administration
Our online MBA program is tailored to provide you with the skills you need to effectively manage whatever industry challenges you may face in your future. Our program and choice of 12 concentrations exposes you to advanced business concepts like networking, technical savvy, analytical thinking, leadership, finance and accounting, and systems-level thinking.
Master's in Strategic Communication and Leadership
This online master's degree is designed to prepare you for careers like communications director, marketing manager, account executive, project manager, digital strategist, and public relations specialist. This experience-driven program features immersive projects and coursework that can be applied in the professional world.

100% online with no campus visits required

Transfer credit friendly

Collaborative learning environment
Ready to get started? Earn your online degree in marketing or communication from Maryville and give yourself the edge that businesses are looking for.
100% online
No entrance exams or application fees
No prior business experience required
6 start dates per year
Get transfer credits for eligible courses
Financial aid available