What Is Audiology: Ultimate Guide for Entering This Booming Industry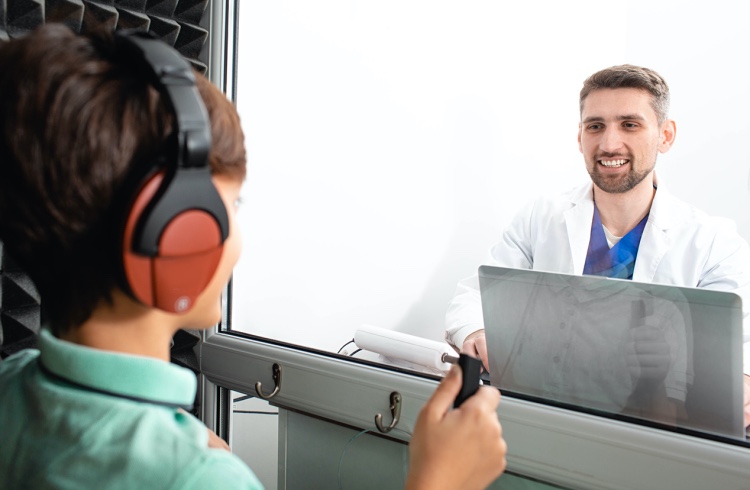 The demand for quality audiology care is growing. Studies indicate that 20% of Americans have some sort of hearing loss. It's not just a domestic challenge, either: Hearing loss increased by 44% around the globe from 2000 to 2015. To put this in perspective, there are more people living with hearing loss than there are people living with diabetes, Parkinson's, Alzheimer's, and epilepsy combined. This translates to a large number of people who face challenges with hearing conversations, listening to music, or picking up on the sounds in their environments.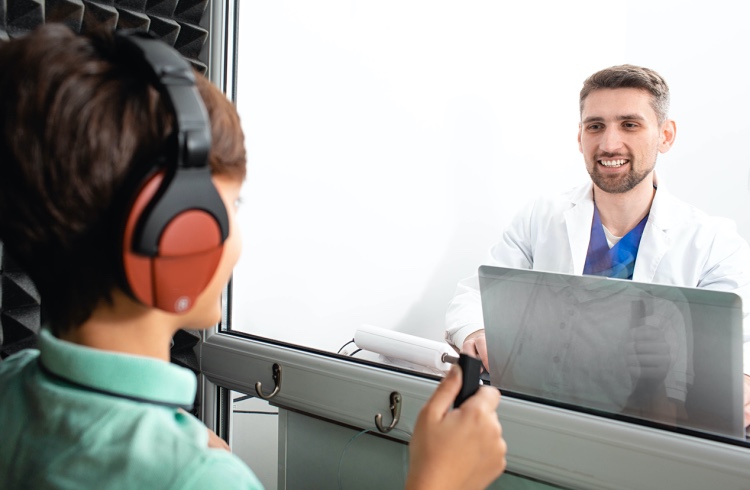 Hearing isn't the only element that drives the need for audiology care. Balance disorders can originate in the inner ear and can cause issues ranging from dizziness and vertigo to falling while walking. The latter issue is of particular concern to older people; studies show that falls are the leading cause of fatal injuries among older Americans, and that one in four adults aged 65 or older falls each year.
These statistics demonstrate the need for skilled audiologists to help deliver high-quality ear care. An audiologist can help people live fuller, more complete lives, ones in which they not only hear the world around them but also are protected from residual issues related to hearing problems. However, individuals interested in learning about a career in this exciting field may be wondering, what is audiology, and what are the steps to entering the profession?
What Does an Audiologist Do?
So, what does an audiologist do? There are two ways to answer that question. The first is by describing the role's essential duties, and the second is by explaining the ultimate goals of those in the role.
Audiologists work to diagnose and treat hearing and balance issues and disorders in patients of all ages, although some may specialize in working with a specific demographic, such as children or the elderly. They can also help patients manage treatment strategies to help with various long-term disorders. Some of the common issues audiologists deal with are hearing loss, tinnitus (that is, constant ringing in the ears), dizziness, and balance problems. Audiologists can also be tasked with helping patients develop proactive, preventive strategies that can minimize the threat of damage caused by noise.
There are a few vital pieces of equipment audiologists use to help them diagnose a patient's hearing issues. For instance, they can use devices such as audiometers and computers to help determine a patient's hearing damage, the root cause of the hearing issue, and at what level a patient can distinguish certain sounds and coherent speech. Some audiology equipment can be instrumental in providing key information on a patient's balance issues as well.
Audiologists also play a vital role in helping patients cope with hearing loss on various levels. Some of this assistance can come before the deployment of treatment strategies, as audiologists will sometimes do initial analyses of patients to determine if their hearing loss has impacted their psychological health. Once this is complete, an audiologist may fit patients for hearing aids or work with physicians to place cochlear implants in a patient. In the case of severe hearing loss, audiologists may help patients utilize alternative forms of communication, such as lip reading or technological devices.
All of these duties are connected to the ultimate goal behind an audiologist's actions, which is to help patients live as robust a life as possible regardless of whatever hearing or balance disorder they may have. While this goal is universal, the approach to this goal is determined on a patient-by-patient basis. Due to the widespread nature of hearing issues, audiologists can work in numerous environments, including hospitals, schools, rehabilitation centers, residential care facilities, or even in their own private practice.
How to Become an Audiologist: Education and Experience Requirements
Those interested in how to become an audiologist should know that the journey is long and includes many requirements to ensure individuals interested in the profession have the knowledge and skills needed to excel in the field. At its end, however, lies the opportunity to make a profound difference in people's lives.
Educational Requirements
A doctoral degree in audiology (Au.D.) is required to become an audiologist. An Au.D. curriculum is typically designed to include a mix of science, healthcare, and communication-driven subjects, such as anatomy, communication development, and diagnosis and treatment.
The first step toward earning an Au.D. — and, ultimately, becoming an audiologist — is earning a bachelor's degree through an accredited undergraduate program. While there is no specific undergraduate degree required, it's generally advised that a bachelor's degree that focuses on the sciences, communication, or linguistics be pursued to start building the foundational knowledge and skills needed to become an effective audiologist.
To that end, earning a bachelor's degree from Maryville University's Bachelor of Science in Communication Sciences and Disorders program can help students complete this important first step while preparing them for the rest of the journey. The courses in Maryville's curriculum cover topics and subjects that relate to core elements of audiology, which can ultimately prepare students to excel in the field. Maryville's curriculum can also help students cultivate the skills considered fundamental to success in an audiologist role, such as critical thinking, analytical, communication, and interpersonal competencies.
Some of the courses featured in Maryville University's Bachelor of Science in Communication Sciences and Disorders program include:
Introduction to Communication Disorders: This core course breaks down the fundamentals and theories behind speech and hearing development, developmental disorders, and intervention strategies.
Speech and Hearing Science: Students enrolled in this core course will learn about assessment and treatment in the fields of audiology and speech-language pathology.
Audiology: This core course covers the ear's anatomy and physiology and the hearing process. It also addresses the elements of hearing assessment and hearing disorders.
Licensing and Certification Requirements
Audiologists must be licensed in the state where they practice. The specific licensing requirements vary from state to state, and there may be additional training or education needed as part of the licensure process. It's important for individuals to familiarize themselves with these requirements as they prepare to explore a career in the audiology field.
Certification may also be required by certain states, as well as by some employers. Certain states may also allow certification to substitute for some of the education or training requirements associated with licensure. An example of a certification is the Certificate of Clinical Competence in Audiology (CCC-A) from the American Speech-Language-Hearing Association (ASHA). Individuals may also be able to earn credentials through the American Board of Audiology.
Otologist vs. Audiologist: What's the Difference?
Audiology focuses on the diagnosis and treatment of hearing and balance issues, making the field a crucial one in ear-related care. It can be easy to lump audiology into similar fields concerned with ear-related treatment, such as otology. When considering a career as an otologist vs. an audiologist, it is best to learn about both fields to determine which path aligns best with an individual's professional goals.
Similarities Between an Otologist and an Audiologist
Some of the fundamental tasks and requirements of an audiologist align with those of an otologist, which is why the two fields may be erroneously categorized as the same. For example:
Both professions examine patients with basic ear-related issues, such as hearing loss and balance.
Those in each role work with patients to build treatment plans.
Otologists and audiologists monitor patient treatment strategies to ensure success.
Both require a doctoral degree and state licensure prior to being allowed to practice.
The Differences Between an Otologist and an Audiologist
While otologists and audiologists have similar roles, the differences that separate the two are vast enough to warrant their own respective categories. For instance, otology is considered a subspecialty of otolaryngology, a field whose practitioners are commonly referred to as ear, nose, and throat (ENT) doctors. Audiologists, on the other hand, are their own separate entity.
Unlike audiologists, otologists are specially trained to treat ear-related diseases that can be associated with other health issues, such as otosclerosis or chronic infections of the middle ear. Otologists may also be tasked with implementing cochlear implants in severe cases of hearing loss. Because otologists are an ENT subset, they can sometimes be trained to treat other conditions related to the nose and throat.
Because audiologists are focused on the diagnosis and treatment of hearing and balance conditions, the path to an audiology career isn't as arduous as the path to becoming an otologist. Those who want to become an otologist must become an ENT doctor before pursuing the otology subset. To do this, they must first complete a four-year program at a medical school, finish a minimum of five years in a residency program, and gain certification through the American Board of Otolaryngology. Then they must complete one to three years of special training.
An audiologist, on the other hand, requires an Au.D., which typically takes four years to complete. Once they meet a state's licensing and certification requirements after receiving their Au.D., they can commence with their practice. It should be noted that individuals must ensure the Au.D. program they enroll in is accredited by the Council on Academic Accreditation, as this program accreditation is required to obtain a license in most states.
What Is the Typical Audiologist Salary?
Helping patients with hearing issues or balance disorders makes audiology a rewarding profession. It is also a field that can be financially beneficial. According to the U.S. Bureau of Labor Statistics (BLS), the 2018 median annual audiologist salary was $75,920. The BLS also states the highest-earning 10% of audiologists earned more than $117,910.
A report created by ASHA breaks down audiologist pay even further. It estimates that 72% of audiologists receive an annual salary, while the remaining 28% receive either an hourly wage or commission.
There are numerous influencing factors that can help determine the precise salary that can be earned as an audiologist. One of these is the level of education. While it's possible to become an audiologist after earning an Au.D. degree and obtaining licensure, individuals who complete a PhD in addition to an Au.D. can boost their earning potential. PayScale lists the median salary for audiologists with a PhD and an Au.D. degree at around $81,000. PayScale also lists the median salary for audiologists with only an Au.D. degree at around $69,000.
The number of years individuals have worked in the audiology field can also play a significant role in their salary. According to PayScale, entry-level audiologists — that is, those with less than one year of experience — earn a median salary of roughly $64,000. Those with 10 or more years of experience earn a median salary of approximately $74,000.
Job location can determine an audiologist's salary in different ways. The first involves the geographic location of the position, as those who work in population centers with a high cost of living may earn a higher salary compared to those in cities or regions with a low cost of living. The second way is the work environment itself. According to the BLS:
Audiologists working in hospitals earn a median annual salary of $83,120.
Audiologists working in educational services earn a median annual salary of $80,240.
Audiologists working in physicians' offices earn a median annual salary of $73,330.
Audiologists working in physical, occupational, and speech therapists' offices earn a median annual salary of $72,240.
Audiology Careers at a Glance
Audiology covers a broad spectrum of treatments that ultimately aim to help patients with hearing and balance issues live as well as possible. Yet there is a wide range of positions within the field of audiology. These include entry-level roles that can be pursued by those with a relevant bachelor's degree, such as Maryville University's Bachelor of Science in Communication Sciences and Disorders degree. These positions can help individuals further develop the type of hands-on skills and experience that can be crucial to successfully pursue a high-level audiology career.
The most prominent entry-level audiology position in the field is an audiology assistant, also known as an audiology technician. Those in this role are tasked with helping a licensed audiologist deliver various services to patients. Working under the supervision of the audiologist, they can assist in completing numerous basic yet essential duties, such as patient scheduling, maintaining supply inventory, and testing audiology equipment. In some cases, they may be charged with responsibilities involving patient interaction, such as conducting various tests or guiding patients in hearing aid usage and care. The job can not only allow individuals to gain experience in a typical work environment, but it can also give them the opportunity to interact with patients and develop the communication and interpersonal skills that are so crucial in an audiologist role.
Once individuals become audiologists, they can apply their knowledge and skills to one of a wide range of specializations. Some are tied to patient demographics, such as children or the elderly. Other specializations hone in on specific conditions associated with audiology diagnosis and treatment, such as tinnitus, balance issues, or hearing aid usage.
Regardless of specialty, audiology is a booming field. The BLS projects a 16% job growth rate for audiologists between 2018 and 2028. This is a faster-projected growth rate than the 13% rate the BLS projects for health diagnosing and treating practitioners, and a substantially faster growth rate than the BLS projects for the average profession.
Embarking on a Career in Audiology
Having the ability to listen to the world around us, engage in conversations with others, or simply walk from point A to point B can often be taken for granted. A condition or disorder that disrupts these life experiences can be a massive source of frustration or, in severe cases, can threaten the ability to function in society on a daily basis. This is why an audiologist can play such a key role in helping individuals with hearing or balance disorders. This role goes beyond mere treatment. The strategies stemming from audiology can help people live as full a life as possible. This makes a career in audiology immensely satisfying.
For those interested in starting their pursuit of an audiology career, it's important to develop a firm foundation of knowledge and skills at the undergraduate level. Doing so equips people with the building blocks that can make attaining a rewarding role as an audiologist possible. Come and see how the courses offered in Maryville University's Bachelor of Science in Communication Sciences and Disorders program can help to develop the fundamentals needed to effectively work toward entering an important field of care.
Recommended Reading
The Future of Healthcare: Trends, Technology & New Skills for Success
Sources
Academy of Doctors of Audiology, What Is an Audiologist
American Academy of Audiology, Fact Sheets
American Board of Audiology, American Board of Audiology Certified
American Board of Audiology, Certificate Programs
American Speech-Language-Hearing Association, "ASHA 2018 Audiology Survey: Annual Salaries"
American Speech-Language-Hearing Association, ASHA State-by-State
American Speech-Language-Hearing Association, General Information About ASHA Certification
American Speech-Language-Hearing Association, Who Are Audiologists, and What Do They Do?
Hearing Health Foundation, Hearing Loss & Tinnitus Statistics
Houston Chronicle, "Audiologist Qualifications"
Houston Chronicle, "What Is the Difference Between an Otologist & an Otolaryngologist?"
Maryville University, Bachelor of Science in Communication Sciences and Disorders
Mayo Clinic, Otology and Neurotology Overview
National Council on Aging, Falls Prevention Facts
National Dizzy & Balance Center, Balance Testing Lab
PayScale, Average Audiologist Salary
PayScale, Doctor of Audiology (AuD) Degree
PayScale, Doctor of Philosophy (PhD), Audiology (AuD) Degree
Salem Audiology Clinic, "The Alarming Hearing Loss Statistics You Need to Know About"